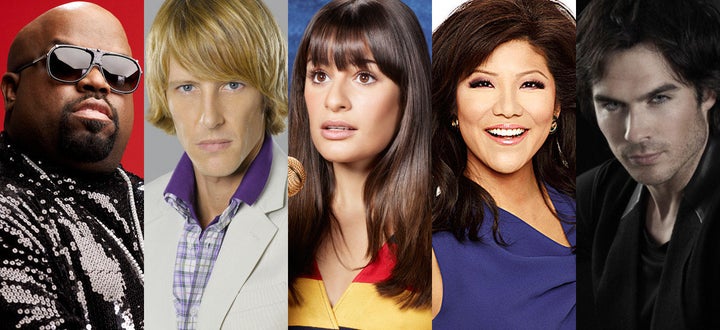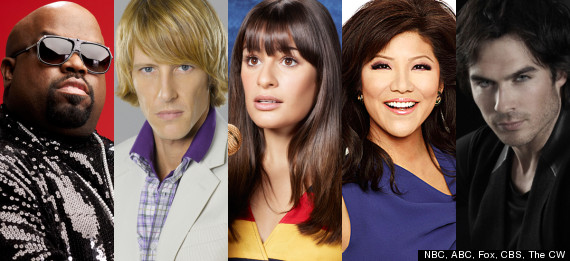 The TV networks officially announced their new programming slates for 2012-2013 at Upfronts in New York City this week. By the time they rolled their first look footage for advertisers and critics, the new series already had dedicated Twitter accounts set up, ready to interact with the shows' first fans.
Social media has become such a huge part of the TV landscape that any network not securing a simple, memorable handle for their new shows is way behind. (Also, any network that lets a show title like "How to Live With Your Parents (For the Rest of Your Life)" get approved is obviously not in the business of listening to their social media team. Good luck with that one, ABC!)
Check out the first looks at new shows from:
On an Upfronts call with journalists, ABC entertainment president Paul Lee stressed how important Twitter has become to the business of television, especially with the TV landscape growing. "There is no show now that doesn't have a massive social media component, even before we launch it," he said. "We get a sort of dashboard of a sense of excitement on the web before we even get to launch. It's not just vital to the shows that are up and running -- it's vital to the launch."
But the Twitter feeds aren't just to promote new shows, new episodes and teasers -- Lee went on to say what the networks get back from it: "We literally get feedback before, during and after launch. It is a critical tool for us to understand how our audience is responding to our shows."
While metrics on the most popular shows on Twitter aren't measured with an exact science just yet, it's only a matter of time. The fact that every network now has a social media division says that TV executives realize the power of fan reactions, live conversations and making shows tweet-worthy.
There's been a noticeable push to get stars interacting with their fans on Twitter, and Twitter even has celebrity outreach teams and "help" pages to get those TV stars and personalities started and in on the conversation in a smart way.
Their detailed analysis includes charts of Twitter activity around certain shows, before, during and after air:
Tweeting around TV follows a fairly predictable pattern: first, anticipatory Tweets appear 15-30 minutes before the show airs on the East Coast; then, the Tweets surge during the episode (with sharp spikes in response to surprises and reveals); finally, there's another 15-30 minutes of post-show buzz and reaction.
Last year, The Hollywood Reporter wrote a piece about "The Voice" (or #TheVoice, as it were) and how it promoted the coaches' Twitter feeds and the show's hashtag, especially during big, buzz-worthy moments of each episode, to keep engagement (and ratings) up.
Twitter agrees that this is the best way to maximize your show's exposure, saying:
Across networks and genres, when TV shows bring hashtags, accounts, or other Twitter elements into the broadcast itself, we see a direct and immediate increase in engagement on Twitter -- anywhere from two to 10 times more tweets created while the shows air.
Sites like Trendrr TV and SocialGuide are designed to help users measure their impact and engagement with fans, but Twitter has a few helpful hints and guidelines for entertainment personalities who want to increase their Twitter presence. Their list includes: tweet in your own voice; use hashtags and @ mention other people you reference; live-tweet events; share special content, photos and videos; ask questions and reply to your followers; and give an insider perspective. After all, that's why your fans are following you.
While each network has certain shows with more engaged audiences on Twitter, the social media teams all agreed that it doesn't mean those shows are necessarily more "social-friendly" than others -- it's all about execution. To paraphrase one exec: Social viability is less about the type of show and more about how seamlessly it's integrated into the show. There have been some really creative executions on both scripted and reality shows, not to mention news and talk shows. The big wins come when the social integrations feel authentic and organic to the core of the show.
Click to Page 2 for a look at where they all stand, with perspective from the networks' social gurus as well.
Below, the networks' social gurus break down their "Biggest hashtag wins," "Biggest live reactions" and offer more analysis on their online engagement.
NBC
Biggest hashtag wins
"The Voice" is the most obvious win in terms of on-air social integration, which has led to tons of buzz and engagement online. Another interesting example is "The Biggest Loser" -- this season was the first where we promoted the #biggestloser hashtag on-air and, as a result, we saw a 30 percent increase in buzz over the previous season. Considering the show is in its 13th season, we think this is a pretty remarkable boost in conversation.
Biggest live reactions
We see the biggest live engagement with finales, especially the live results shows on our reality competitions such as "The Voice," "America's Got Talent" and "The Biggest Loser."
A new kind of writer?
While writing staffs aren't necessarily tasked with making sure there are social-friendly moments in each episode, NBC says having digital writers embedded with a few of their shows has really helped their digital team get out in front of some of the storylines to create engaging and hopefully viral campaigns by the time the shows air.
Even more social
It isn't just about Facebook and Twitter. NBC.com has a ton of content for casual viewers and super fans of all their shows, including NBC Live, Loudest Fan, webisodes, user-generated campaigns (like Subs Across America with Jimmy Fallon or Ron's Mustache from "Parks and Recreation"). They're also on Instagram, Tumblr and Pinterest.
ABC
Biggest hashtag wins
The #DWTS ("Dancing With the Stars"), #GreysAnatomy and #Revenge hashtags are the most popular for the network.
Biggest live reactions
With "Dancing With the Stars," it's a live show, so fans tweet live to connect about it. "The Bachelor" and "The Bachelorette" are also good examples of shows that get a lot of social chatter, but it's not all reality TV -- shows like "Once Upon A Time," "Revenge" and "Modern Family" also do very well with social chatter for us.
Even more social
We are also active on Facebook, Tumblr and Google+.
FOX
Biggest hashtag wins
The big wins have really been episode-specific for us with "madlib"-style hashtags that speak to the storylines within the show. Our most popular being for "Glee," with #saturdaynightGLEEver and #GLEEremembersWhitney; "New Girl" saw surges with #schmidtbaby and #McMouse; and "Fringe" got #WhereYouBelong trending this season.

Biggest live reactions
"Glee," "American Idol" and "Fringe" are our biggest shows for live reactions and are definitely the most social-friendly shows for us. Shows that have a controversy or deep mythology tend to perform really week, as do live events.

Even more social
On top of Facebook and Twtter, we actively update our various Tumblr, Pinterest and Google+ accounts.
CBS
Biggest hashtag wins
#NCIS200 was a big winner timed to the airing of the 200th episode of "NCIS." We've also seen big growth for "Big Brother" since launching and integrating the #CBSBigBrother hashtag last summer (viewers routinely use #BigBrother as well). On a weekly basis, "NCIS," "The Big Bang Theory," "How I Met Your Mother" and "Criminal Minds" are the most tweeted about, as well as reality competitions like "Big Brother," "The Amazing Race" and "Survivor" -- hosts Jeff Probst and Phil Keoghan and select talent also live tweet weekly.
Biggest live reactions
On a weekly basis, competition reality shows are great for live fan reaction: "Big Brother," "Survivor" and "Amazing Race." "2 Broke Girls" has also been gaining traction lately. And this past February, according to Blue Fin, the Grammy Awards on CBS was the most social show ever, surpassing the Super Bowl.
Even more social
Cumulatively, we have over 185 million followers on the official CBS show sites on Twitter, Facebook, Pinterest and Google+.

THE CW
Biggest hashtag wins
We actually don't do any official CW network or show hashtags -- they all come organically from our fans -- but "The Vampire Diaries" fans are vocal, getting things like #Delena and #Stelena trending all day worldwide before and during big episodes.
Biggest live reactions
We get the most live reaction on Twitter for "The Vampire Diaries" and "Supernatural," and "Nikita" is one of the most checked-in shows on GetGlue.
Even more social
We have 25 Pinterest boards right now, and we're working closely with GetGlue for special stickers for check-ins.
Tell us: Which shows do you tweet about most? And which networks or shows, if any, do you follow on social media?
Related
Popular in the Community