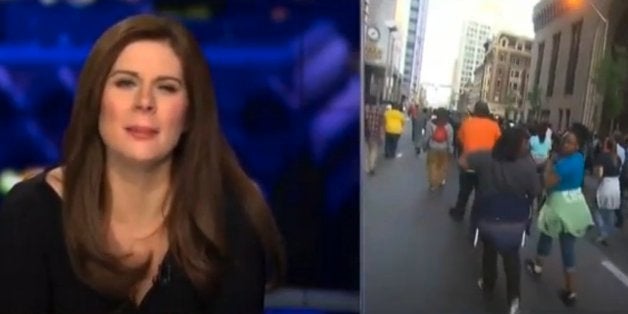 According to new data from iQ media, the word "thug" was used a total of 54,671 times across Twitter, online news sites, television, and other social-media platforms from April 1 to May 4. More than half of those instances occurred on Twitter alone.
Looking at just the top TV broadcast networks, ABC has used the word more than any other network, with 2,523 mentions. That's almost 1,000 more than CBS, which ranked second at 1615 mentions. Fox and NBC followed behind, with 1,324 and 1,069 uses of the word, respectively.
The show that used the word the most was the "CBS Evening News" With Scott Pelley.
Take a look at the charts below, via iQ Media: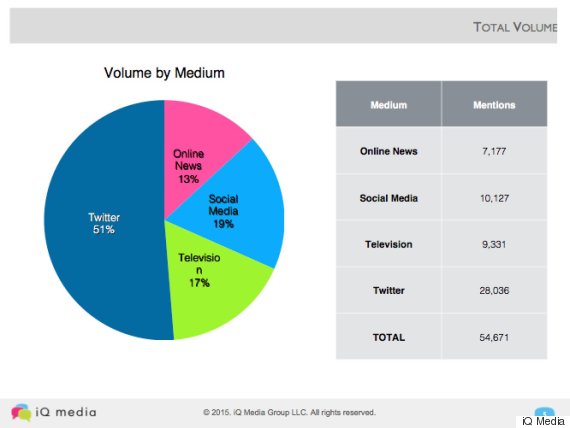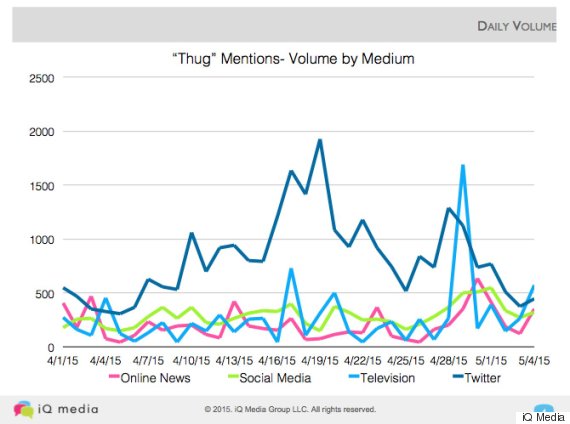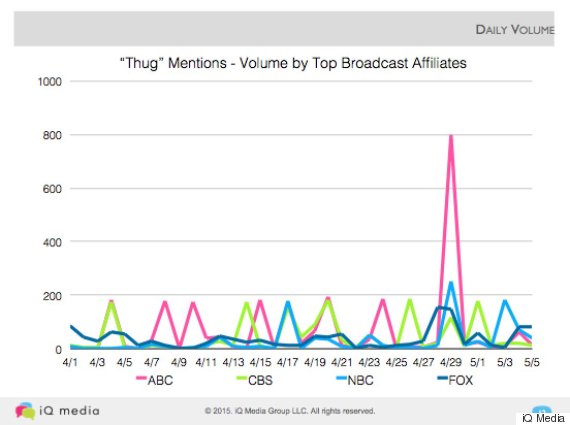 Note that on April 29 -- the day after riots escalated in Baltimore as protesters broke the citywide curfew and clashed with police -- ABC's usage of the word skyrocketed. The 29th was also the day Baltimore Mayor Stephanie Rawlings-Blake (D) apologized for calling the protesters "thugs" during a press conference.
The media has had a tendency to focus only on the negative during the Baltimore conflict, showing disturbing videos and images of destruction on repeat while showing few examples of solidarity within the community or people cleaning up. Fortunately, IQ Media's research found a silver lining: The term "peaceful protest" was mentioned in the news, online and on social media when referring to Baltimore close to 300 times more than the word "thug" (7,090 to 4,391).
NBC's "Today" was a leader in talking about "peaceful protests," mentioning the term 646 times.
Use of the word "thug" has sparked a big debate in the U.S., particularly after President Obama himself used the word to describe those involved in the riots. On Sunday, former CNN host Soledad O'Brian urged journalists not to use the term, arguing that it has become the new N-word. Her warning came just after CNN's own Erin Burnett was slammed for insisting that "thug" was the right word to describe the protesters.
Popular in the Community