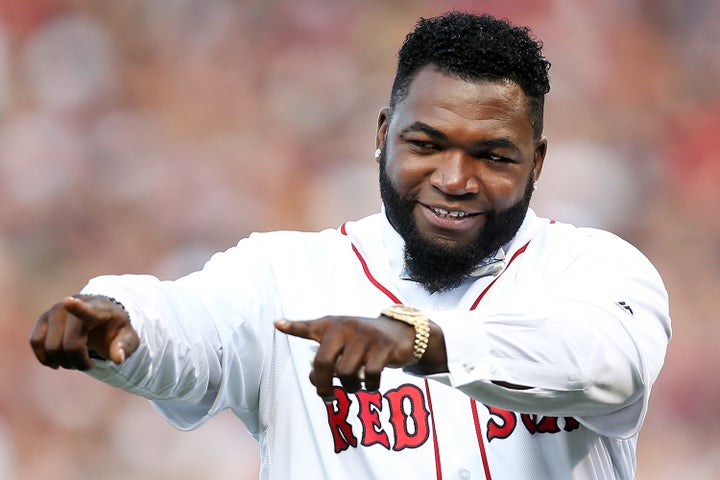 NESN announced Friday that it was dropping the tribute to the recently retired slugger. The Globe noted that some quips had the Boston audience "squirming in their seats."
Addressing actor Anthony Mackie, who played Falcon in the "Captain America" and "Avengers" movies, Gronkowski said, "That's the black guy. You know, who can even fly when he's not being chased by cops. That's his superpower."
As seen in video obtained by TMZ, the NFL star threw in a hackneyed swipe. "You wanna know why Jews do play football?" he asked. "To get their quarter back, you cheap fuck."
Comedian Sarah Tiana, targeted by Gronk in an eyebrow-raising slut joke, also directed some awkward shtick at Mackie. "Anthony is here because we needed someone to be racist to and Adam Jones had a game tonight," Tiana said, per the Globe. Jones is the Orioles outfielder who was called the N-word several times recently at Fenway Park.
The audience booed. Tiana laughed and hurled an expletive back.
After the backlash festered over the weekend, comedian Josh Wolf, who hosted the event, told WEEI on Monday that Gronkowski was unfairly criticized and that the controversy was "ridiculous."
The tribute also featured comedians Bill Burr and Lenny Clarke and touched on other touchy comic fodder, including Aaron Hernandez, the ex-Patriot who committed suicide in prison.
On a positive note, proceeds from the June 22 event went to Ortiz's children's charity. And, no, kids were not invited.
HuffPost reached out to NESN for comment.
REAL LIFE. REAL NEWS. REAL VOICES.
Help us tell more of the stories that matter from voices that too often remain unheard.
BEFORE YOU GO
PHOTO GALLERY
Unused Jokes From The Comedy Central Roast Of Rob Lowe