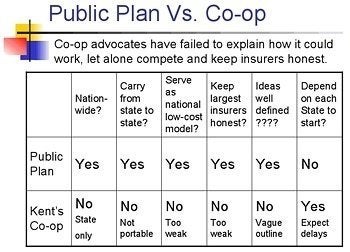 Good morning. My name is Jason and welcome to the 2009 Fall Season Premiere of Your Sunday Morning Liveblog and Critical Examination of Sunday Morning Political Chat Shows. First, let us resolve all of the cliffhangers from the Season Finale: everyone left hanging on cliffs died of easily treatable cliffhanging injuries, because they lacked adequate access to health care. The end.
I am recently returned from vacation, which was totally awesome, thanks for asking. It seemed like a good time to go on vacation. See, here's the thing: staggeringly ill-informed people have been yelling nonsense at politicians since time began, but only this summer did anyone decide that a) this was news and that b) people would get to be on the teevee based upon how mind-alteringly stupid or intensely violent they were. It's been a month of watching the same people who constantly revealed to Jay Leno on the Tonight Show that they didn't know where one could go to find the moon seize the discourse and then act as if they were going to seize the country. All because they hate the thought of their country providing health care for all its citizens.
Anyway, it was time for me to go to a secluded beach to caucus with a bottle of bourbon and a hammock, and lo, that is exactly what I did, for a week. I also read the U.S. Army/Marine Corps Counterinsurgency Field Manual, and Ryan Grim's This Is Your Country On Drugs, both of which were fascinating and excellent. But now I am back, to liveblog this stuff for you all, and then later, maybe go see that movie about aliens in Johannesburg. We'll see.
Anyway, classic Fox-ABC-NBC lineup today, so enjoy. You may, of course, leave a comment or two, send an email, or follow my microbursts of thought on the Twitter. We begin with FOX NEWS SUNDAY: THE RISE OF COBRA COMMANDER. Where did I put my coffee?
FNS is going to "fact check" health care with Kent Conrad, Richard Shelby, and lobbyist hacks from AARP and the AMA? You know, it's not too late: I could just liveblog some old recordings of the Graham Norton Show.
Anyway, blah, blah. Health care is still dominating the conversation, so let's ask these nerds to "fact-check" it. First question, is this a government takeover of healthcare? The answer, naturally, is no. But what's important is that no one ever talks about how crazy popular the public option is. It is INSANELY POPULAR. But Richard Shelby gets to come on and pretend that moving away from the public option is "reading the tea leaves" of the American people. This just isn't fundamentally true. Also, Shelby and Conrad are okay with "public co-ops" which are like the "public option" if you took the public option, broke it into splinters, and then baked it into a pie of dog feces. Or, as The Seminal puts it, less scatalogically:
Anyway, Kent Conrad loves this half-assed solution, because he's been given a bunch of money from insurance companies to support this crap.
The AMA, is supporting a public option. The AARP is in favor of old people, who get socialized medicine and who are old.
Conrad says the public option is dead, dead as doornails. Amazing. This is something that 60-70% of Americans routinely support. It's the anti-third rail of American politics. That the Democrats can't get it done, after bitching and moaning all 2008 to America to give them huge majorities in Congress so that they could do this, basically means that the Democratic leadership in both Houses of Congress and the White House is complete crap.
Meanwhile, OMGZ, TEH DEFICITS. The CBO says it will cost some monies, with maths, and the GOP leadership say it will cost even more, according to their Magicks. Anyway, as Rohack says, the CBO does not score parts of the bill that will lower costs. Anyway, Chris Wallace wonders if maybe we should just let people get diseases, to keep costs down. Once again, the actual doctor on the panel says that's crazy.
What about bending the curve? Shelby says, OMGZ GOVERNMENT COSTS ALL SORTS OF MONEY! IT WILL COSTS BILLIONS! MAYBE TRILLIONS! The GOP is working on inventing a new number, called a "kabillion," and it will costs many jillions of these "kabillions."
The guy from AARP says that "beneficiaries will not be harmed" by any of the President's proposals. Right now, the lobbyist hacks are making more sense.
Will the plan lead to rationing of care? THERE IS ALREADY RATIONING OF HEALTH CARE. How will the head of AARP guarantee its members that it will not lead to rationing? The guy from AARP basically says, "UHM...WE'LL DO IT BY NOT LYING, LIKE CRAZY HYENA PEOPLE."
Naturally, Wallace goes back to Shelby, who says, "BOOGA BOOGA! CANADIANS ARE COMING TO KILL PEOPLE, WITH RATIONING."
What about death panels? The guy from the AMA says these are crazy-ass lies. And they are, super crazy lies, being promulgated by people with Betsy McCaughey and Sarah Palin and Chuck Grassley, who are slavering, rapacious liars who love lies and want to marry lies and have lie babies.
Wallace tells Shelby that similar end-of-life legislation was in bills that the GOP voted for in 2003, and Shelby changes the subject, "When you start rationing health care..." UHM...the U.S. is already rationing healthcare, so basically, you are a crazy, howling-faced idiot liar named Richard Shelby. Can we please hear from Kent Conrad, advocate of idiot "public co-ops?" Conrad says that the "Gang of Six" already dropped the "end of life" portion of the bill from the legislation, because, if you remember, they are cowards.
Conrad says that his is the only plan that's bipartisan, a term that doesn't mean diddly-shit to anyone in the world outside of Washington, DC, no matter how much David Broder thinks about it, while furiously masturbating.
Anyway, Kent Conrad put his own sister on a death panel, but he's going to keep dodging the issue, because he's an unfeeling coward who has a lot of money from lobbyists.
LAST QUESTION: Will there be abortions, everywhere, growing in the verdant fields of our democracy? Shelby says, OH THAT'S THE ONE PART OF HEALTH CARE I AM OKAY WITH RATIONING THE CRAP OUT OF.
Anyway! Panel Time! Crazy idiots with guns and no brains at Town Halls are taking over the world, just as this movie trailer predicts:
That's the red-band trailer, people, so, make sure your kids see it, okay?
Anyway, Bill Sammon says that townhalls have been a "game changer!" And A.B. Stoddard says that the House bill will not pass the House because Blue Dogs, reacting to "town halls" - though Blue Dogs are also having a reaction to the piles of money they are being given, by lobbyists. Krauthammer believes that the protests have had a good effect, also, and that the "public option" which is still crazy popular, is "indefensible." He also goes on to lie, nutbaggily, about death panels, as something bad that had to go from the bill.
Ceci Connolly is here, to offer bland conventional wisdom. Thanks, Ceci. She goes on to suck all the air out of the room, with her boredom.
Anyway, blah: are the Town Halls awesome? Sammon says that they will change votes because the Democrats want to get re-elected, but none of those idiots at town halls ever counted as a potential Democratic Party voter ever, ever, ever. "The public sees through that, and there's been a backlash."
Ceci Connolly says that Democrats didn't count on a small portion of the public being nonsensical and crazy. Stoddard says that Obama needs to get rid of the public option, which is crazy popular with the American people, because it's "politically perilous," which it isn't. And anyway, Obama's probably already killed off the idea of a public option, so God only knows why A. B. Stoddard is on my teevee, saying that Obama's stupid for not getting rid of the public option, even though he probably already has, which is, in itself, idiotic. Are you following all of that> I just got back from vacation.
Anyway, let's hear the panel talk about Michael Vick! Thank God that Washington, whose team is owned by a tiny, midget idiot a-hole named Dan Snyder, didn't sign Vick. I'm honestly surprised. Bill Sammon says, "let's wait and see" because maybe he won't start killing dogs. Stoddard says he should work for the Humane Society. Krauthammer says, "The rules that we have in our society is...if you commit a crime, you do the time, and it's over. We don't have double jeopardy and we don't have indefinite detentions." THAT'S NEWS TO A LOT OF UIGHURS, YOU NUMBSKULL. He also says he wouldn't want to be in a room with Vick, because he tortured dogs, not other human beings, for bogus intelligence in the war on terror.
Ceci Connolly also said some things. She's sitting in Juan Williams seat, so maybe it's the chair that makes the words coming out of her mouth not interesting.
Bill Sammon brings up Michael Vick's brother Marcus, who's stomped on opponents' legs and brandished guns at McDonalds. Why is Sammon criticizing Marcus Vick for this? He just said that this sort of behavior -- attacking people unreasonably and waving guns around in public -- was a POLITICAL GAME CHANGER!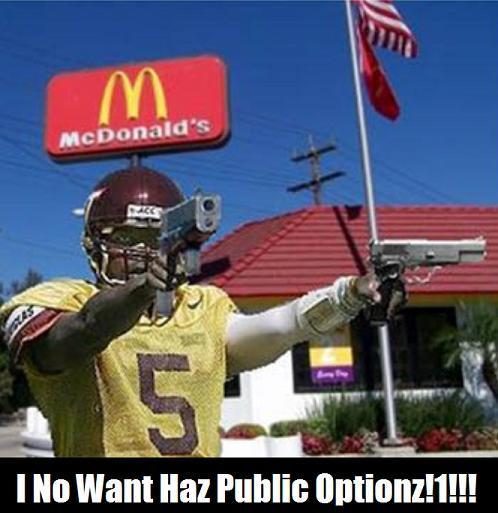 Charles Krauthammer says, "I don't want to be cynical." SURE HE DOES. He says that you shouldn't look up to people who shoot themselves in the leg at night clubs, but I'm pretty sure Krauthammer looks up to Douglas Feith.
Anyway, I want this to end, now.
THIS WEEK, WITH JAKE TAPPER
Jake has Kathleen Sebelius this morning, and he insists that GSteph's vacation is "well deserved." Sebelius is shot today in extreme foreground, looking like one of the still photographs that ran over the end credits of the original Star Trek's.
Jake asks if Sebelius can understand why "critics" are uncomfortable talking about "end of life" rules in the context of cost-cutting. She says, basically, that end-of-life discussions are hard in any context. They are also hard when the context of cost-cutting is raised only because there are a pack of insane liars who want to terrify the American people about "death panels." Anyway, Sebelius goes on about the matter, citing her personal life, and noting that the fact that the end of life provisions are "going to be off the table" is "not good news." She hopes that "at the end of the day," the provision for reimbursing the cost of end-of-life consultations might find its way back in the bill. Jake asks if it's a dealbreaker to not have it in the bill, and Sebelius sort of doesn't answer, though it's clear she's a proponent. "I'll take that as a yes," Tapper says.
What about keeping ones doctors and insurance plans? How can that promise be kept? Sebelius says that as far as doctors go, the "network of doctors" is likely to be "pretty identical," and there's some legitmiate truth to that. I'd also point out, though, that the current system of private insurance is defined by features that include forcing one into specific doctor choices, and no customer recourse if a doctor leaves the plan or the plan leaves the doctor. I think that the idea that we're living in a doctor choice paradise should be exposed as bunk. This effing "public co-op" plan, by the way, sounds like it would be the antithesis of stable doctor-patient relationships.
Woo! Time for Orrin Hatch and Arlen Specter, two Senators whose names sound like James Bond villains!
Anyway, Arlen Specter went to townhalls, and got yelled at, by idiots. Where does their anger come from? UHM, THEY ARE IDIOTS. But Specter, politely, says that people are out of work, and there's no bill yet to cogently defend, but that they're not "representative of America" in general. And this is the unalloyed truth. "We can't let these town hall meetings dominate the process," he adds. And that's also true, which makes me wonder why they keep having these townhalls. Just go and do something else, Congresscritters! Starve this rough beast of its oxygen! I think that they persist in getting yelled at because over the long haul, the sheer hostility and toxic stupidity on display will enable their electoral chances. That's probably true, but it's no way to win an election!
Anyway, Orrin Hatch won't choose between Alaskan ladies. But he won't support a public plan, even though it's crazy popular. Anyway, he wants to compliment Arlen for not going on a Town Hall related killing spree.
Tapper asks Hatch why he supported death panels way back when. Hatch basically says that now, people are really concerned about it, because of crazy lies that he is helping to spread. Tapper says that the only proposals have been for consultations, not determinations. Hatch says, "But that's what they want, Jake!" He goes on to say that he doesn't want "nameless, faceless bureaucrats" deciding how he'll end his life, like they've done for so many soldiers in dumb, illegal wars.
Tapper sets Specter up to spike the ball on Hatch's head, and Specter does. Specter says that "death panels" are a "myth," that the government takeover is a "myth," and that the government option is an "option...the free market will be maintained."
My wife comes into the room and says, "Is that Jake Tapper?" Yes, it is. "I always imagined that he had a longer face, with curly hair." Why? "I don't know, when he wrote for the City Paper, I always thought of him as a tall, long-faced, curly haired guy." Did she know that Jake and his family own a bunch of kittehs? "No! That's nice. Cats are fun."
Anyway, what changed his mind on the public option? Specter says that he doesn't support a "huge bureaucracy" between patient and doctor, but that specifics provided by Chuck Schumer and others helped convince him that this wouldn't be the case.
Orrin Hatch insists that he's still desirous of a "bipartisan" plan, and just doesn't want a public option. He cites the effing Lewin Group -- "one of the best...if not the best" analyzers of health care, according to Hatch -- who are actually health care lobby funded statistical hack hose-jobs. Tapper points out that the Lewin Group are funded by United Healthcare. He goes on to ask why S/CHIP isn't "big government" health care. Hatch's idiotic answer is to say that S/CHIP worked "amazingly well" until the Democrats thought, "WOW, MAYBE MORE PEOPLE COULD BE ENROLLED IN THIS PROGRAM, YOU KNOW, THE ONE THAT IS WORKING "AMAZINGLY WELL" ACCORDING TO ORRIN HATCH? AND THEN MAYBE FEWER CHILDREN WILL DIE?"
He also says that everything is "pushing toward a single payer system" that would "destroy" the current insurance system. I WISH ANY OF THAT WAS TRUE!
Hatch agrees that insurance premiums are too high. I think people should start referring to their insurance premiums as "TAXES" because for all intents and purposes THEY ARE TAXES, and if you start bitching about TAXES being too high, suddenly Orrin Hatch will GIVE A FLYING DAMN ABOUT YOU.
Hatch says that he's "passed more bipartisan health care bills" than anyone. YOU'LL NOTE THAT ALL THESE BIPARTISAN BILLS HAVEN'T HELPED ANYONE WITH THEIR HEALTH.
Jake momentarlity has a little trouble getting the two old coots to stop talking, but finally breaks for commercial.
Panel Time! Today we have Ed Gillespie, Ann Kornblut, Ron Brownstein and Donna Brazile.
Does it bother Ed Gillespie that Sarah Palin is a crazy, idiot liar? It does! But he's got a bunch of dumbasses false equivalencies to go along with it: Democrats said mean things about idiots who yell uninformed balderdash at town halls! Okay, point taken. CHUCK GRASSLEY AND SARAH PALIN LIED ABOUT OBAMA WANTING TO KILL OLD PEOPLE WITH LAWS.
Anyway, Palin is destroying the media, with Facebook. Kornblut says, "She is driving the debate, whether it's honest or not." I'm sorry, Ann Kornblut, but there's no "whether it's honest or not." IT IS NOT, HONEST, INSOFAR AS HONEST MEANS, "NOT LYING."
Ron Brownstein points out that Sarah Palin makes people in the media excited whenever she sends a stupid twitter or has soem aide ghostwrite up a Facebook note, but that nobody wants to vote for her, because she gives normal people the howling fantods.
But maybe this is, as Jake puts it, "a weakness in Obama." Yes. WHEN PEOPLE JUST SIT BACK AND SAY, "OH, LET'S LET PEOPLE LIE, LIKE CRAZY, AND REPORT IT AS 'ONE SIDE OF THE STORY,'" IT WILL HURT PEOPLE WHO ARE NOT LYING.
Ron Brownstein: WHY WOULDN'T INSURANCE COMPANIES SUPPORT INDIVIDUAL MANDATES? This means that MORE PEOPLE WOULD BE FORCED TO PURCHASE THEIR TERRIBLE INSURANCE PLANS. Surely, Ron Brownstein, you have not recently tumbled from a turnip truck.
Ed Gillespie thinks it's significant that the "end of life" provisions have been stricked from the bill, and that Sarah Palin deserves credit for this contribution. YES. Let's all give credit to Sarah Palin: she got something useful taken out of the bill, by lying about it, on Facebook. Of course, the Senate Finance Commitee acted to take it out even before Sarah Palin talked about it, because she was actually a latecomer to the field of "lying about death panels," so in insisting that Palin should get credit, Gillespie is not telling the truth. In short, we have someone lying about the effect of someone else's lies, all of which are beside the point, which is that the bill is not demonstrably worse off for the end-of-life provisions being gone. THIS IS WHAT NATURALLY OCCURS WHEN A BUNCH OF INDEFATIGABLE, LYING DICKS ARE ALLOWED ENTRY INTO A "DEBATE" WITHOUT ANYONE SAYING, "HEY, YOU GUYS ARE INDEFATIGABLE LYING DICKS."
Gillespie says that there were people who protested Bush's town halls. The ones he didn't pre-screen and fill with dimwit sycophants, anyway.
Brazile thinks Obama will have the month of September to exert control over the health care debate, which doesn't explain why he can't do that now, and doesn't address the larger concern that maybe Obama's health care principles are now basically nothing more than: "WHATEVER, LET'S DO SOME SORT OF INCREMENTAL HALF-ASSERY, THAT BILLY TAUZIN WILL LIKE."
Brownstein extolls the virtues of passing crap, so that you can say you passed some crap. This is precisely the sort of attitude that paves the way for the passage of crap.
Anyway, now they are talking about THE BURDEN OF BEING HILLARY CLINTON. Ann Kornblut's analysis: COMPLETE AND UTTER CRAP. What kind of Secretary of State is Clinton going to be? She sort of "looks like a First Lady." She's been "gone for eleven days!" She's been away from Washington, where the "center of action" is! Maybe she'll need to make "shorter trips" that will make her "less tired." SHUT UP ANN KORNBLUT. Here's the truth: YOU AND THE MEDIA could have given a plate of wet turds about whatever Secretary Clinton has been doing at State for the past 200 days UNTIL some tidy bit of hullabaloo over something she said about her husband suddenly got your attention, and now you are rushing to form judgements over her tenure at State, except they're really, vastly stupid ones, which stands to reason, because your typical approach to covering Hillary Clinton is to fixate on whatever is vastly stupid.
Brownstein is also a total dumbass: "The focus on the gaffe is the downside of the upside of her position as Secretary of State. She is a global celebrity...and as we saw with Sarah Palin, when you say something that isn't quite right you get disproportionate attention."
No, Ron Brownstein. The press HAS AGENCY. They can decide what gets attention. Don't pretend that this is some sort of accident. There's been 200 days of Secretary of State SUBSTANCE that could have been covered: it wasn't, BECAUSE OF CHOICES THE MEDIA MADE. Also, Ron Brownstein, Sarah Palin didn't say something that wasn't "quite right." She said something that was ENTIRELY WRONG, by intention and design, because Palin is a LIAR, who LIES. The "downside of the upside" of the "disproportionate attention" Palin has gotten is that people like you, Ron Brownstein, are gutless numbnuts who can't simply say, THAT IS A LIE.
Also, who says things like "downside of the upside?" GAH.
SHORTER RON BROWNSTEIN: Hillary Clinton will struggle, because the media is complete bullshit, and this is a painful lesson that she'll have to learn, because it's all her fault.
More Michael Vick, redemption, forgiveness, blah blah. As much as Vick disgusts me, I feel that there are two important things to consider: 1) He did pay his debt to society, and 2) F--k the Dallas Cowboys, forever and ever.
Jake Tapper and Ron Brownstein are now talking about Woodstock, and I don't think it's possible to measure the breadth and depth to which I couldn't possibly care about Woodstock. WHERE'S MY ALTAMONT SPEEDWAY FREE FESTIVAL MOVIE, BABY BOOMERS? That, and the Manson family, was some of your generation's finest work!
Anyway, while we're on the subject of GIMME SHELTER and HELTER SKELTER, let's watch MEET THE PRESS.
OK, vacation is over, now. We begin with PANEL TIME! So, here we go:
THE MEET THE PRESS PLAYERS PRESENT:

"Who Needs A Public Health Care Option When You Can Just Yell At Arlen Specter All Day At The Behest Of Rich Health Care Lobbyists," a disturbing play in two tragic acts.

DRAMATIS PERSONAE
David Gregory, a ruiner of vacations, destroyer of hope
The Dick Armey, quite literally, an Army of Dicks, nothing but Dicks
Tom Coburn, fearful of lesbians
Tom Daschle, hyper-timid incremental excrementalist
Rachel Maddow, the first authentic liberal commentator David Gregory has ever had on this show, maybe
Me, tanned, rested, ready
My Wife, rested, ready, but not tanned because she's Irish and fears the Sun
Craig Finn, lead singer, The Hold Steady
Charles Rangel, babbling, on and on
The Governor of Colorado, his name is Ritter, I think
Guy From the U.S. Chamber of Commerce, GIVE HIM YOUR MONEY. GIVE IT TO HIM!

[Production note: Seat Maddow next to THE DICK ARMEY, because even though she has lately beaten him about the face and mouth with FACTS, it's still a more civil pairing than seating her next to Coburn, who is a'scurred of Sapphic witchcrafts and their practitioners, so much so that he becomes like the characters in that movie, Bug, with that Ashley Judd woman who's going to take away your aerial wolf-hunting privileges.]

GREGORY: OMGZ! THIS IS A DEBATE, OR SOMETHING? BUT TEH ANGERZ, THEY SCURRZ ME!

DASCHLE: Obviously, I love the panoply of human emotion, it's so helpful. So very helpful.

GREGORY: EVEN TEH LIES, BECAUSE OMGZ THE LIES.

DASCHLE: Okay, maybe the lies are bad.

ME: Talk to The Dick Armey, because he is bankrolling the lies.

DASCHLE: Also, many people do not have health care. It's been an awesome issue to run on, and maybe we'll get to run on it forever, until all the voters dies of not having health care.

GREGORY: OMGZ! THE TONE! THE NAZI REFERENCES! NAZI NAZI NAZI! PEOPLE WITH GUNS! DID YOU KNOW TIMOTHY MCVEIGH OWNED A SHIRT THAT SAID THAT THING ABOUT WATERING THE TREE OF LIBERTY? OMG THIS IS SIGNIFICANT.

ME: I am, in retrospect, thankful that Timothy McVeigh did not wear his "Frankie Say Relax" shirt on the day he bombed that building in Oklahoma City.

GREGORY: OMGZ, COBURN YOU ARE FROM OKLAHOMA!

COBURN: The U.S. Government is a failure, and we have earned many more bombings, from people wearing Frankie Goes To Hollywood tee-shirts. America simply will not relax, don't do it, when America wants to go to it, with guns, and kill my good friend, President Barack Obama.

GREGORY: OMGZ, THE DICK ARMEY, TEH ASTROTURFINGZ.

THE DICK ARMEY: I am not responsible for anything! MoveOn called Bush a Nazi!

ME: What?

MADDOW: MoveOn never ran an ad that compared Bush to a Nazi!

ME: Yes. He is referring to an ad that was submitted to MoveOn.org for a contest called "Bush in 30 Seconds." It was not a good ad and it did not win the contest and it was never sent to air on teevees anywhere in the world and was only seen by anyone as a part of the contest adjudications, in which, I'll remind you again, it did not prevail.

GREGORY: OMGZ, BE QUIET AND LET THE DISTIGUISHED GENTLEMAN DICK ARMEY LIE HIS ASS OFF!

THE DICK ARMEY: "I just looked at the MoveOn.org ad again this morning."

ME: Huh? You did? I didn't even know that was still online! Did you wake up today and say, "Well, I'd better prep myself for MEET THE PRESS by digging through the bowels of old YouTube clips," or do you just keep bad Nazi-fetish political ads around in The Private Stash Of The Dick Armey.

THE DICK ARMEY: Anyway, colorful people come to town hall meetings all the time. FreedomWorks teaches them to yell like fools filled with bilious gas and bring guns.

MADDOW: UHM...I don't think the government has earned the right to be threatened with violence.

COBURN: WE HAVE, WE TOTALLY DESERVE VIOLENCE AND PAIN, BECAUSE OF TEH EARMARKS.

MADDOW: Also, I'm throwing the false equivalence flags.

THE DICK ARMEY: PUT FIRE IN SOMEONE ELSE'S BUNKER.

ME: I think that The Dick Armey prepared for today's Meet The Press by watching old MoveOn clips and putting the fire in his own bunker, by drinking many tumblers of bunker fire. 180 proof liquid bunker fire.

GREGORY: OMGZ! DO YOU REPUDIATE VIOLENCE OR SOMETHING

THE DICK ARMEY: I DO, DRUNKENLY. I AM VERY DRUNK RIGHT NOW.

ME: Note. I have no proof that Dick Armey is drunk, other than the fact that I want to be like him right now, and know that the short way to get there is to quickly finish off the bottle of bourbon that came back from the OBX with me.

MADDOW: Your organization is celebrating the violence on Ybor City, on their website, right this very moment.

CRAIG FINN: Hold steady, Ybor City. You're up to your neck in sweat and wet confetti. If you want to get a little bit heady. It's gonna have to get a little bit heavy. We're jamming jetskis into the jetty now. With some guy who looks like Rocco Sefredi. And I've heard he's been dead once already.

ME: The Dick Armey's party is a Killer Party that might end up killing somebody, with a gun, at a Town Hall.

THE DICK ARMEY: Teabaggers are TEH AWESOME, a grass roots demonstration of pure, mountain-grown uninformedness.

ME: I am finding it hard to summarize Dick Armey, because he makes no sense, probably because he is wasted, off his ass, with drink.

GREGORY: OMGZ, FOR SOME REASON, I THINK CHUCK GRASSLEY IS NOT SOME SORT OF CRAZY LIAR.

DASCHLE: It's fearmongering, I guess, I mean, a few minutes ago I said this stuff was "helpful!" It's quiote possible that I do not have a clue what I am talking about.

ME: And you are obviously sober, which is saying something.

COBURN: OK. We should definitely talk about "the future," but the government shouldn't even "weigh in on it." People with end-of-life needs and wants written up in living wills end up having their wishes ignored, because of malpractice suits.

ME: Well, I grant you, in one famous case, the idiots in government did muck it up pretty badly.

GREGORY: BUT OMGZ, YOU SAID THE DEM PLAN WOULD KILL AMERICANS

COBURN: That's right!

DASCHLE: No. You are doing what's called "crazy talk." Also, the government right now basically cares for seniors.

GREGORY: OMGZ, HERE'S GOVERNOR BILL RITTER, FOR SOME REASON.

ME: Good Lord, there's going to be, like, FORTY-FIVE MORE MINUTES OF THIS.

GREGORY: OMGZ! OBAMA'S APPROVAL NUMBERS ARE LIKE BUSH'S! WHAT WENT WRONG?

ME: Well, if history is any guide, I guess the best thing Obama can hope for is for the WORLD TRADE CENTER TO GET BOMBED. That's great for approval numbers! I can't wait until that Drudge headline on about September 15 that states, "Obama approvals forty points behind Bush's at this point in his presidency!"

RITTER: Uhm, what's going wrong is that you people uncritically report the ravings of complete morons, with guns.

GREGORY: OMGZ, ARE INDEPENDENTS IN COLORADO TOTALLY FREAKING?

RITTER: They are basically concerned that they may die, from not having health care.

GREGORY: OMGZ! ISN'T OBAMA TO BLAME FOR WANTING HEALTH CARE TO WORK?

MADDOW: The president should be more pro-active and not leave this up to people like Max Baucus. He should definitely not be counting on Chuck Grassley's help, because Grassley is crazyfaced liar.

GREGORY: OMGZ! WATERLOO: COULDN'T ESCAPE IF I WANTED TO. WATERLOO: KNOWING MY FATE WAS TO BE WITH THE DICK ARMEY.

THE DICK ARMEY: This is the most hostile takeover of the country, by the government ever! The Ways and Means committee will be ruling on INDIVIDUAL PERSONS LIVER INFECTIONS. They don't have medical degrees!

MY WIFE: HEY, THE DICK ARMEY! You do realize that the people who NOW MAKE THESE HEALTH CARE DECISIONS, at insurance companies, ALSO DO NOT HAVE MEDICAL DEGREES.

THE DICK ARMEY: BLAH! BUREAUCRACY! Some guy called me about his disability insurance! No one knows why! He totally bothered me during my afternoon constitutional of drinking straight vermouth and watching old MoveOn ads.

DASCHLE: The Dick Armey just likes the fact that 18,000 people dying of not having insurance.

COBURN: The quality of medicine is not declining! Life expectancy is going down? SO WHAT? Medicare is killing babies!

MADDOW: That is ridiculously disingenuous.

GREGORY: You will not get to explain that, Rachel!

DASCHLE: We have islands of excellence in a sea of mediocrity.

THE DICK ARMEY: I have islands of English-language words in a sea of vermouth!

END OF ACT ONE!

BEGINNING OF ACT TWO!

ME: Everyone is learning that panels do better ratings, so here we are, in Panel Hell, probably forever.

GREGORY: OMGZ! CONTENTIOUS ISSUES! WHAT ABOUT TEH DEFICITS? HERE'S CHARLIE RANGEL, FOR SOME REASON? ALSO, HERE'S A GUY IN MONTANA.

GUY IN MONTANA: Max Baucus has been in a room, trying to save money, but all we hear are lies.

ME: Guy from Montana, the problem is that Max Baucus has been in that room with piles and piles of health care industry money, proffered as a payment for his dutiful lying about health care. Your Senator is junk.

RANGEL: Maybe we should find out how much the problem is costing us, determine the cost of fixing it, and then just saying so.

ME: Uhm...you don't do that, ever?

RANGEL: HEMORRHAGES! PROCEDURES!

ME: You had some of what The Dick Armey is having, absent the Nazi videos.

GREGORY: BUT WILL THIS PASS THE SENATE?

RANGEL: Uhm...I'm not a Senator! Town Hall Meetings! Yelling! OK, we'll talk to the Senate.

ME: Wow. This was just a fabulous get for MEET THE PRESS. Charles Rangel, yammering about stuff, incoherently. Good thing you interrupted Rachel, twice, forestalling the possibility that someone might make sense or bring clarity.

GREGORY: OMGZ, THANK YOU FOR BEING ON MY SHOW, CHARLES RANGEL.

ME: Yes. At my "death panel," I'll be reflecting on the four minutes Charles Rangel and Dave Gregory owe me.

MADDOW: You know, the public option is so low-cost when it comes to administrative costs.

ARMEY: TAXES WILL GO UP, YAHHH.

ME: Or PREMIUMS WILL GO UP, HIGHER AND FASTER.

ARMEY: OBAMA WILL KILL SENIORS!

MADDOW: So, you think that seniors are wanting to get out of Medicare?

ARMEY: NO I WAS WATCHING MOVEON VIDEOS WITH MY MINISTER AND SOME IMAGINARY RABBITS THAT TEND TO ME BY MY BEDSIDE, AND THEY LOVE MEDICARE.

MADDOW: I am going to make you accountable for things you have said, in the past.

ARMEY: The jokes on you, then, because I was THREE MILLION SHEETS TO THE WIND when I said those things.

MY WIFE: OMG. THIS GUY IS THE WORST.

GREGORY: OMGZ, the PUBLIC OPTION IS SUCH AN AREA ON CONTENTION.

ME: No, David Gregory, you insufferable dumbass. The public option is WILDLY POPULAR. More people support the public option than watch your dumb show. It is, by definition, not even REMOTELY contentious.

GREGORY: OMGZ, PEOPLE DON'T KNOW WHAT THE COSTS OF INSURANCE ARE.

ME: Oh, David Gregory, give the people a little credit. Especially when you are too stupid to connect the dots from HEALTH INSURANCE COSTS $12,000/year----->Current minimum wage = $7.25---------->Annual pre-tax salary on minimum wage = $15,080----------->Money left over for rent = $3,080----------->Where are the apartments that rent for $256/month and come with spigots of free food?

GREGORY: Let's talk about the public option.

ME: Weren't we just talking about the public option? GAH, this show is so incoherent.

DASCHLE: Obama will go as far as he can to get the public plan, until the Congress strips it out, and then he'll sign the bill, forsaking his prior insistence on the public option.

THE DICK ARMEY: The public option is unfair! We should be allowed to purchase out of state insurance.

ME: Yes, that sounds like the model of effciency. My health insurance carrier should definitely be halfway across the world.

THE DICK ARMEY: It would be crazy if people in Michigan couldn't buy cars made in Alabama.

ME: I agree. That would truly, be effing crazy. But I think that the cars made in Alabama are shipped to places called dealerships, and that people then buy the cars from these dealerships. I think that maybe insurance is sold differently.

MADDOW: I think that all states, everywhere, are S.O.L. where health care is concerned. Private insurance companies relentlessly fail to meet the needs of consumers, so we'll need a public option, to force them to course-correct their incentives.

GREGORY: OMGZ, I THINK WE BETTER HEAR WHAT SOME GUY FROM THE U.S. CHAMBER OF COMMERCE HAS TO SAY ABOUT THIS!

GUY FROM THE U.S. CHAMBER OF COMMERCE: GIVE ME YOUR MONEY, ALL OF IT!! I WANT TO SHAKE ALL BABIES UPSIDE DOWN BY THEIR ANKLES, BECAUSE MAYBE THEY ARE HIDING PRECIOUS PRECIOUS COINS. DRAAAYYYYNAGE!

GREGORY: OMGZ! HOPEFULLY OBAMA WILL DROP THE PUBLIC OPTION AND JUST GO WITH THESE DUMB CO-OPS! If he does that, IS THERE ANY HOPE FOR SWEET, SWEET BIPARTISANSHIP?

COBURN: Probably not!

DASCHLE: Probably so!

ME: WHO CARES?

GREGORY: OMGZ, WHAT DO YOU LIBERALS WANT, RACHEL?

MADDOW: UHM, basically they want health care that doesn't suck canal water?

[The Dick Armey babbles incoherently for about two minutes.]

GREGORY: OMGZ, I AM GOING TO LET THAT BE THE LAST WORD.

ME: Were there any actual words in that mess of drunken bleatings?

Jeez. I usually never go this late, but remember, I have been on vacation! Sweet, sweet, vacation! And now it's over, because GAH IDIOTS ARE ON MY TEEVEE, CATERWAULING. But I am back now, mofeaux. And now, I'm going to have some of what Dick Armey's been having! Have a great week, y'all!
Support HuffPost
The Stakes Have Never Been Higher
Related
Popular in the Community