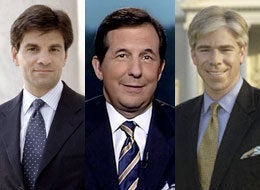 Good morning and welcome to your Sunday Morning Liveblog of the Sunday Morning political shows. My name is Jason. You know, last week, the media was all a-kvetch at how "over-exposed" President Barack Obama was, by foolishly going on teevee and speaking to reporters about adult concerns. This was the exact equivalent of flashing your firecrotch at Harvey Levin, they said! And who knows, maybe they had a point!
But then the media turned right around, after pretending to know something about overexposure and moderation and using their platform for something specific and important, and trained ALL OF THE CAMERAS on Moammar Qaddafy as he blathered on and on and on, for six hours, reading the worst Tom Stoppard play ever written, dressed in old draperies, never making a lick of sense, and it was just like we hadn't just had a national conversation on overexposure! Was there a minute of that rambling wreck that needed to be shown, or was everyone just experimenting with punitive screensavers?
Anyway, there are people on all sides of all sorts of debates who try to speak as if the listeners' time was valuable and their support important. Please show more of them and less of idiot blither. My God, but that Ghadafi just went on and on and on. And yes, I will be spelling his name different every single time today. Be warned.
Anyway, time to start with this:
OH BOY I THINK WE'RE BOMBING PLACES ON FOX WITH DIFI and Christopher Bond! Plus, Bob McDonnell gets a campaign ad, and Dana Perino? Oy.
Anyway, IRAN. Building secret nuclear facilities like they are going out of style, and you know what? Secret nuke facilities really should have gone out of style. DiFi says that "this is the moment of decision" for Iran. How confident is Bond that Iran might stand down? Not very! And he says that the test firing of missiles is a poke in the eye. Then he shouts out "the Show Me state" saying he's been shown enough. Do try to take this seriously, Christopher. Anyway, serious sanctions, he says, will have to have Russia and China on board.
Chris Wallace has a sad that everyone is so pessimistic about the use of the military action. DiFi points out that to take the facilities by force would be long and hard and expensive and painful. Bond points out that the unrest in Iran indicates widespread dissatisfaction with the regime, and that it makes one hesitate to start bombing the country. Good for Bond, not treating the Iranian people as abstractions.
What about TEH TROOP LEVELS? Bond wants more, and he wants something COINy in Afghanistan. "We need more troops...the next nine to twelve months will be decisive." DRINK, and DRINK. And let's recall: didn't McChrystal say that the crux of the mission was strategy, not resources?
DiFi asks, "Is there an alternative to a ten year COIN strategy?" She hopes so! Bond thinks that McChrystal needs to hie thee home to testify, and that we need a full-blown COIN strategy, as soon as possible. Bond basically thinks Obama is dithering, DiFI wants him to take his time.
Meanwhile, don't we need the PATRIOT Act to stop all the TERRORS, in Decatur and stuff? Bond says yes. Surely Quantico would have fallen if anyone would have required a warrant or something!
Will Congress allow GITMO detainees to come to the United States to live in prisons? Seriously, why the hell not? These people are not THE X-MEN. Bond worries that other criminals will get radicalized, because terrorists emit powerful "become a terrorist and live this glamorous lifestyle like me" beams from their eyes, and then suggests that they could go to Alcatraz, which is a MUSEUM. Why is Chris Bond so unserious and misinformed on this important topic. Anyway, Chris Bond then basically impugns the entire state of Missouri, for being delicate, spineless wusses.
He'd really like to come back on the show, though! PLEASE ASK HIM TO PROM, CHRIS WALLACE.
Woo! Here's Bob McDonnell's campaign commercial on Fox, because Creigh Deeds wouldn't come on for a "debate." Anyway, look at his HAIR! It's like three colors! Radiant! Hypnotic! Also, something about him cutting money from an "Opportunity Fund." "Times now are much different," he says "We're in a global, competitive environment, competing against the Carolinas, Tennessee, the Pacific Rim..." Uhm, first, we've been in a global competitive environment MY ENTIRE LIFE. Second...that's an oddball collection of competitors! "Once we've dispensed with Tennessee, we MARCH ON OSAKA, MY VIRGINIANS!"
Chris Wallace says that Virginia's biggest problem is a "decaying transportation infrastructure" by which Virginians can drive away from the vicinity of Chris Wallace at high velocities. Also, Richmonders drive far too slow, and STILL run every red light they encounter. WHY IS THAT? McDonnell will make cuts to NOTHING to add to the budget. McDonnell wants to add jobs, for revenue. I imagine that all the people working all those new jobs will be excited to use our crumbling transportation infrastructure to get to work. Anyway, Virginia's undergone some strong periods of economic development, during which no one wanted to contribute money to transportation.
HIS BANGS BOUNCE IN INTERDEPENDENCE FROM THE OTHER PARTS OF HIS HAIR!
McDonnell gets challenged on the more radical weird crap in his thesis. Wallace is right to bring this up, but the salient issue is that he went to that crazy Pat Robertson college, Regent, which is an academic welfare program who think evolution is bunk.
McDonnell says that his radicalism is mitigated away by the fact that he and Deeds vote so similarly, then he wants the differences to be highlighted, but that's all the weird stuff. And he says some of Deeds' ads are outright lies! That's going to make the next few months of television advertising AWESOME.
Holy crap! McDonnell wanted to have TEN DEBATES WITH CREIGH DEEDS? GAH. No one in the world needs to have that many debates with Creigh Deeds! Talk about overexposure! Though McDonnell's magnificent mystery hair does deserve more exposure to the world.
Anyway, here's Dana Perino and Charles Krauthammer joinging Mara and Juan. Krauthammer hated everything Obama said to the UN, a "sorry performance" that did not end with anyone getting bombed or slaking their great thirst for bloodshed in the viscera of other nations' representatives. Juan Williams says no the speech was about engagement, and the results are already stacking up, getting Russia on board with Sarkozy and Gordon Brown to confront Iran. (Still need China, though.)
Dana Perino says that a decision needs to be forced by October or the U.S. should walk away. Liasson says that the game-changer was the surprise revelation of the new nuke facility, though I'm not entirely sure who was surprised, other than those of us who weren't in the position to know about it.
Krauthammer's entire strange view of the Israeli-Palestine situation -- in which Obama's the first person in the world to ask for a settlement freeze and where Israeli leftists are just as intransigent about it and in which Palestinians view the U.S. demand for a settlement freeze as a bad thing, too -- is like the prettiest pink neo-con pony to have ever galloped forth from the fevered mind of man.
Meanwhile, WHY WON'T OBAMA SEND ALL THE TROOPS TO AFGHANISTAN? The panel wants more COIN. Perino seems to think that Obama has "repudiated COIN strategy," which is a stretch, Armstrong! Charles Krauthammer seems to think he is the one who got WARS right, in his many WARBLOGS. Juan Williams want to know why you can't just take stock of the situation and make an informed assessment. He also points out that the U.S. citizenry is more or less ready to pull the plug on Afghanistan.
Wallace derisively refers to Williams as "General Williams," as if Krauthammer ever got a word of war talk right in his life, and effing Dana Perino doesn't even know what the bloody Cuban Missile Crisis was.
Anyway, you can apparently watch more of this panel on Hulu, so THREE CHEERS THAT HULU GOT INVENTED!
GSteph and Robert Gates, right up front. They start on Afghanistan. GSteph has a more nuanced view of the issue than the people at Fox, who basically concluded that Obama needs to say nicer things about American awesomeness in order to make Iran, do...something...I don't know, it makes little sense. Still :Why the second thoughts on the strategy, GS asks. Maybe because BAD STRATEGY+MORE TROOPS=YEAH, STILL...BAD STRATEGY? Gates says that this is all in keeping with the idea to reassess where things stood post-Afghan election. And the election was flawed. And McChrystal's concerns were larger than he anticipated. Gates basically supports this approach.
Is the U.S. rethinking whether it can bolster Karzai's government? Gates says that the "key" is that the Afghans need to see their government is legit. But all the generals say, more troops! Is there a rift? Gates says no, there's no rift, Gates says McChrystal supports the ongoing review. He reminds that the Bush administration dicked around with whether to Surge or Not To Surge for three months.
GSteph builds himself something of a strawman here: "The clock really does seem to be ticking...McChrystal says if we don't turn the tide in the next twelve months, we risk failure. So every week that goes by put the soldiers on the ground at risk." That's just high-strung solipsism masquerading as a question. Three or four weeks is a tiny time frame compared to twelve months. Being successful in that "twelve months" of "doing stuff" in Afghanistan is conditioned upon having a sensible strategy in place. Te troops on the ground will be at great risk throughout, regardless of what happens when. In fact, COIN by its nature puts troops in greater risk. So sending 40,000 more is not going to alleviate risk right up front, or, potentially in twelve months.
It's a nice way for GSteph to beat a drum for more troops today, and then ask a year from now if everyone was crazy to have done so.
Gates: "Having the wrong strategy would put even more soldiers at risk." Also: the first new forces won't get to Afghanistan until January.
GSteph puts words in McChrystal's mouth: "He wants a full-blown COIN campaign." Gates clarifies: "I think people are so focused on the comment in General McChrystal's report about additional resources, that they are neglecting to look at what's in the rest of his report, where he talks very explicitly about where a pre-occupation with the resources or with additional forces, if you don't have the strategy right, is a mistake."
GSteph, I'm not sure can read, or even understand what he is reading when he reads it, as he finds a passage where McChrystal (and I'm getting tried of typing that name) says pretty explicitly that "resources" do not mean "more troops," and tries to go concern trolling with Gates. Gates says that he hasn't even given Obama the resource request, and that he'll sit on it until such time as he thinks it should be brought into the discussion.
Gates seems a little exasperated now, trying to explain that MORE TROOPS + NONSENSE does not equal PONY.
Gates says the United States is not going to apologize to Iran: "not a chance." He accuses Iran of following a "pattern of deception and lies." Is this the only secret site that we know of? Gates is not going to reveal this, on the teevee. Can the weapons programs be stopped with sanctions? Gates says that Iran needs to understand that their security will be diminished, not enhanced, by weaponizing uranium. He notes internal political fissures that threaten the regime, and notes that the disclosure of the secret site, "creates a problem" for Iran. Gates says we have about 1-3 years of time to stop any weapons program through negotiation, and that after the P5+1 talks, severe sanctions may be on the table (but I think Gates understands that you have to be careful about who you hurt in Iran and how you go about hurting them...one of the tricks to making sanctions work is to keep exploiting the internal political division and wedge the two sides further apart, not bring them together.)
Gates says that he supported a deadline for closing GITMO, for the sake of getting the bureaucracy to accept the reality, but that if obstacles got in the way of reaching that deadline, the development of a good closure plan needed to be developed.
Gates says he's in for now, no countdown clocks:
And now Parallel Universe President John McCain is here, who hopes Robert Gates is the SECDEF for a "long time." Now, let's see if and how hard McCain undermines Gates.
McCain says GITMO should be closed but disagrees with Gates that the policy should have come ahead of the deadline, which he thinks they won't make. And yet, he thinks GITMO should still be closed.
McCain says, the he trusts the generals and appreciates that the President has a lot to balance, but...uhm....then he says "SURGE" and sort of trails off...OK, he's back now. And he's basically talking about having a good strategy, and that there's a difference between COIN and pursuing terrorists from a distance. ALL OF THIS DOVETAILS WITH GATES.
"Nothing helps morale more than victory," McCain says. And that's true! Nothing helps a lottery winner win the lottery more than winning the lottery. Nothing will help the Redskins win their football game today than to look up at the scoreboard after the final whistle and see that they've scored more points than there opponents. SO YES, PEOPLE ENJOY WINNING, AND WE SHOULD BE FOR IT.
McCain is "very hopeful" that the President will send more troops, specifically, the Kagan Number of 40,000. Anyway, that's what this debate is: one side wants to have a strategy in place before we commit troops and the other side says that more troops should be ladled on the situation as soon as possible. WHO YA GOT?
Also consider this: Say tomorrow Obama was to follow the advice of McCain, send troops, and the whole thing ended very badly. For how many seconds do you think McCain would stand by as a supporter of the original decision, which he applied as hard as he could, as the new President Bartlet? OBVIOUSLY MANY SECONDS, BECAUSE THAT'S WHAT MEN OF SURPASSING PERSONAL HONOR DO, I GUESS!
Anyway, the scorpion and the toad, look it up, and then, I guess, let Glenn beck boil them.
Let's go panelling with George Stephanopoulos! Are there parallels between Afghanistan and Vietnam? Will says we are at a similar "inflection point" and that the carnage to come could be greater than what's come before. Woodward says that the good news is that the Obama foreign policy team will have more serious discussions about these matters than the Bush team, who used "guts" and that Obama doesn't have a "gut" that makes decisions. Tom Friedman disagrees that Obama doesn't have a "gut" because that's a metaphor he'd like to destroy in the fullness of time.
Friedman says that examination needs to be made before we assume that what worked in Iraq and what will work in Afghanistan. Martha Raddatz says that there are things that will be applicable.
Now Woodward is saying Obama has a "gut." So confused right now. Why are we talking about guts? Is this a race to to bottom of not making any sort of sense?
Friedman says that the problem is that our "Afghan partner" is "rotten to the core." Maliki was "good enough to build on" but Karzai is junk. Will says that Karzai gives Obama an out -- that corruption allows Obama to "change his mind in public." Raddatz points out that no one in the world thought Karzai was the Golden Child exactly. Woodward and Raddatz then fall out over whether you can do Iraq in Afghanistan or whether or not the "middle ground" solution that Joe Biden has put forth is workable.
OH JESUS TOM FRIEDMAN IS CALLING THE INTERWEBS THE "VIRTUAL AFGHANISTAN." Watch for his next book!
Raddatz is all: GAH MORE TROOPS, DUH! And that causes Woodward to say, "When you build a house, you get a plan, then you get your "troops." Then you build the house. Later, the guy comes to install Verizon FIOS, and BOOM! GUESS WHAT! VIRTUAL AFGHANISTAN IS IN YOUR HOUSE. So, the solution is to knock down all the houses, all of them!
Tom Friedman says that dilemmas have horns and Woodward says "middle ground" and no one thinks Obama's made a desicison just yet, and then THIS WEEK has the strangest camera angle in the world, showing the back of Raddatz's head.
Everyone thinks that having Russia and China on board to help impose sanctions is important and unlikely. Woodward says that the idea of convincing Iran that nukes will bring less security to Iran is a fantasy.
Bill Clinton, and David Paterson, which basically runs the entire gamut of New York-based competence. Jim Webb and John Kyl are here to talk about it, but they'll have to cool their jets while MTP shows their interview with Bill Clinton.
Should Obama engage or "get tough" with Iran. Clinton says it's time to do both. "My view is this is the very time to talk to them." That doesn't mean we "trust them" -- we've already demonstrated the extent to which we distrust them. Gregory asks if it's time for Obama to pull a "GOTCHA" on Iran, Clinton gently explains that this is exactly what has happened, in "the news."
"I think it's healthy that this has broken," Clinton says.
What about adding "tens of thousands" of troops? Will that make America safer? Clinton says maybe, that Obama is saying, without saying is that a troop increase may be "necessary condition of success" but wants to see how the Afghanistan election plays out. Obama has not "dissed" the general, Clinton says, he's just deciding whether Afghanistan offers a partner that could lead to victory.
Clinton also points out that the Iraqis had a portion of the population willing to join in the fight against the insurgents. If you recall from previous Sunday liveblogs, Afghanis are known for their "reversible turbans" -- a rather blunt term that describes their facility for switching sides when survival depends upon it.
I love how Condi Rice is briefing on terrorist certainties now. If she wrote her concerns about likelihoods into, say, a Presidential Daily Brief, would she even read it?
Clinton places a lot of emphasis at the CGI's achievements in building up "civil society initiatives" -- by which he means that more than dollar donations have flowed out to bring up quality of life for millions around the world, the real important work that's being done is bolstering a building up civil institutions and a support framework by which ordinary citizens can have a political impact without necessarily being elected to office.
On health care, Gregory returns to his default position: shrieking about paying higher taxes. Clinton notes that he supports what Obama is doing and doesn't accept the premise that it's going to cost a lot of money. Clinton says that any start to health care reform process will benefit business and be a boost to the economy. "I don't think it's fair to say that the American people will have to pay a lot more," long term. The costs are all short-term.
Gregory wonders if the era of big government being over is over. Clinton points out that people need to be put back to work, and the only strategy to accelerate that process is to get involved.
Clinton says that there's no reason that the White House should get concerned with poll numbers, that it's important to keep working. He's convinced that there will be a health care and an energy bill. He says that right-wing opposition is smaller but more virulent. He adds that "fundamentally, Obama's team has a positive agenda" and that blanket negation is not a winning opposition strategy.
Is he worried about a repeat of 1994? Clinton says no: the country has a different mindset, and Obama's not drawn down on a losing hand like "taking on the gun lobby."
Clinton says he has no plans on leaving the non-governmental world, and won't say whether Hillary Clinton will be running for President again.
And now, Jim Webb and John Kyl get to speak. Gregory asks Kyl if Iran has "upped the ante." Kyl says he wouldn't use those terms, but their actions illustrate that talking is not productive. SOLID ACTION is what Kyl wants. No more GASEOUS ACTION. Do something SOLID and ACTIVE. Squeeze something out!
Webb says that it's important to get the International Community involved. Russia's statement offers encouragement, but China needs to be involved.
Kyl says that eventually, the goal is a regime change that would bring an Iran regime more reflective of the people of Iran who want to engage with the world. Both Webb and Kyl say that military action should not be taken off the the table. Kyl thinks that sanctions should be levied right now, and talk later. I'm not sure that accounts for those Iranians that he was just talking about, for whom he desires a regime change. A diplomatic attempt in the first place could be the difference of sanctions widening a wedge between Iranian opposition and the Ahmadinejad regime and bringing the two sides together.
Gregory asks: "OMGZ WE NEED MORE OF THE TROOPS?" Webb says, first you have to have a strategy that will work. Adding troops to a COIN strategy is pointless if there's no way to compete with insurgents on basic governance or provide sufficient security. The lack of government viability requires an examination before a troop commitment.
Webb launched into a thoughtful discussion on counter-terror strategies and their outcomes, between Somalia, a hopeless failed state into which Special Forces were nevertheless able to operate against al Qaeda effectively, and Iraq, where al Qaeda bugged out.
Kyl suggests that more numbers are what's needed because of CLEAR-HOLD-BUILD, and that's probably the most convincing way you can make the case for more troops. It does entirely gloss over McChrystal's larger point, that the crux of the mission depends on strategy, not resources (and that the crux of resource needs are not necessarily more troops), but that's what it takes to box in Obama: ignoring McChrystal's first-order concerns. At any rate, I just don't understand the abstract bellicosity that comes from believing that any idea works so long as more people are thrown at the idea. I don't believe that bad strategies are made better because 40,000 more people are doing that bad strategy.
I imagine that if we could draft all of John Kyl's loved ones into the armed forces and send them surging, he would have a less blinkered perspective on this.
I also have to say, John Kyl: at any point in the past did you say something like, "The U.S. defeated the Taliban?" Better check that!
David Gregory: he's the type of guy who'll always ask a question like: "Was it a mistake to set deadline to close GITMO?" but wouldn't, not even for a minute ask if it was a mistake to detain people there in the first place.
Kyl closes things out by suggesting that any wranglings with strategy on Obama's part, short of immediately committing the Kagan Thousands to the fight, are a sign that he's looking for the "perfect solution" which he says cannot be done during a war. (Maybe it should be done before wars start!) So, remember the Kyl Alternative is to Do Something, Anything, With More Troops.
Kyl goes on to suggest that if Obama acts now, he'll have Republican support. That's meaningless currency. Acting now, on nothing more than the blanket recommendations of people who've gotten this all wrong and who continue to suggest that an excess of bellicosity is a substitute for an actual strategy, could very well lead to failure. And if Obama were to follow their advice and fail, none of these people, like Jon Kyl, would then come forward and say, "Look, give the President a break, he did exactly what we advised and we're all responsible for getting it wrong."
And here's good reason to just write John Kyl off. A few minutes ago, I said: "John Kyl: at any point in the past did you say something like, "The U.S. defeated the Taliban?" Better check that!" Well, i checked:
Jon Kyl, January 25, 2005:
SEN. JON KYL: Well, of course the goal in Afghanistan and Iraq was not simply to create an opportunity for democracy though that has been one of the great benefits and results of it. The case in Afghanistan -- one of the most effective operations in the history of warfare -- we defeated the Taliban and kicked those people out of the country.
So, really, why is this Jon Kyl on teevee, giving us his ideas about war? He belongs in a goddamned landfill!
And speaking of Fresh Kills, here's David Paterson!
Gregory gets right to it. WHAT HAPPENED TO YOU? Now he's saying that the President has "never told him not to run for Governor." Was it people from the President's team? Paterson says he doesn't know and anyway, he won't say. My wife says, "This is really fascinating." I agree. It looks as if Paterson maybe wants to have that cushiony post-office landing after all. As well he should: being advised to not run was the best advice he never theoretically received, were he able to remember not receiving it and/or was at liberty to discuss matters he does not remember never having happened. Also, FRED ARMISEN HAS HIM PERFECT.
Hopefully, David Gregory will ask him if he's running for President eight or nine times.
When it comes to asserting that he wasn't stunned, Paterson is great at appearing stunned, like, from a blow to his head. Anyway, he is running for Governor! Maybe? Make him a deal, perhaps? Save him from himself? David Paterson will put New York first, who will put him last.
Aren't you a drag on your party? No, he says, he is standing up for his party's priorities, and the fact that he managed to appoint a Lieutenant Governor shows that he is the most potent man in New York politics. Also, someone should have told him he was going to become governor. Anyway, there'd be lots of states that would be really lucky to have him as governor!
What s strange and noncommittal way to end MEET THE PRESS! But then, I think this was all booked before Paterson decided to launch his, "HAHA OBAMA NEVER TOLD ME TO DROP OUT OF THE RACE WHY DO YOU ASK" campaign.
Well, I'll leave you all to insert the "New Jersey!" joke that you wanted to hear. And by the way: last night's SNL debut? Just okay!