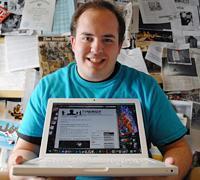 Remember six months ago when it was announced that TVNewser's Brian Stelter would be leaving the blog he created and shepherded into an industry must-read in order to begin a career as a media reporter for the New York Times? At that time, everyone wondered: Would Stelter be taking his contacts, bottomless tips box and obsessive-compulsive bloggery to the NYT, leaving TVNewser behind like an empty husk? Well not exactly: As it turns out, Stelter had a non-compete which prohibited him from writing abou the cable news biz (though network has been fair game). Though Stelter's last day at TVNewser was July 20, 2007, the non-compete ran from June 12, 2007, the day he officially resigned and the announcement was made — which makes today the six-month anniversary of that resignation, and thus the day that non-compete officially expires.
For those expecting high drama and locked-horns battle of Newser vs. Newser, don't get too excited. In those intervening six months, the TVNewser structure has changed, concentrated less now in one obsessive-compulsive blogging machine and distributed amongst a staff, comprised of TVNewser editor (and MediaBistro exec producer and managing editor of news) Chris Ariens, new associate editor Steve Krakauer, and contributors Gail Shister, Alissa Krinsky, and Diane Clehane. Under its new stewardship, TVNewser has introduced a few new features like their "5 Questions" for media luminaries (hey! So that's where Katie Couric got the idea!) and is clearly still enjoying the fruits of the tips box. Meanwhile, in addition to reporting on a much broader range of media for the NYT (from MTV to Current TV to how network news is translating to the web to web media in general to — gasp! — radio, Stelter is the lead contributor to the NYT's TVDecoder blog — with a mandate encompassing a much broader range of TV issues (for example, most recently Stelter has been generating a lot of coverage about the writer's strike). In the meantime, there are other people at the NYT to cover cable.
Ariens says that he's not worried about Stelter's return to the cable news front — quite the opposite, in fact. "Like a fine wine and great steak, TVDecoder and TVNewser have become more complementary than competitive," said Ariens in an email to ETP. "I'm proud we've been able to pick up where Brian left off delivering breaking news, scoops and gossip related to the TV news business."
Well! With that said, send tips to Stelter at TVDecoder here, tips to TVNewser here (and anonymously here), and — what the heck — tips to ETP here! We watch the telly too y'know.
REAL LIFE. REAL NEWS. REAL VOICES.
Help us tell more of the stories that matter from voices that too often remain unheard.