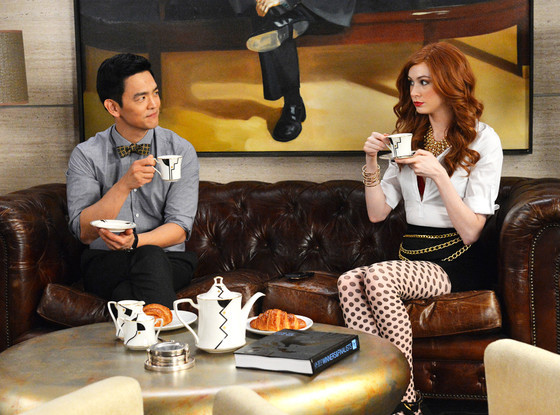 When I was growing up, Asian American men were virtually absent from television and popular culture. And when they were present -- Bruce Lee or Lieutenant Sulu, for example -- they never got the girl. While Asian faces are better represented today on shows such as The Mentalist, Glee, The Walking Dead and Hawaii Five-0, they are not shown as romantic leads, particularly when it comes to non-Asian women, even though we know that it happens in real life (for the record, that's how I came to be on this planet.) But ABC's new series, Selfie, which stars John Cho and Karen Gillan, could be the first show to make the Asian male romantic lead a "thing" in Hollywood.
A modern retelling of My Fair Lady, Selfie follows the self-obsessed, twentysomething Eliza Dooley (played by the wildly charming Gillan) who is "Insta-famous," and in desperate need of a real-life makeover after an unflattering video of her goes viral. She enlists her co-worker Henry (a self-assured and slightly grumpy Cho), a marketing expert who abhors our social media-obsessed culture, to help her revamp her image. The pilot episode, which features more than a few laughs and expertly hits on the Zeitgeist, is rife with chemistry and hints at a possible romance down the road.
Selfie is just the latest series in ABC's impressive lineup of groundbreaking shows. There's Shonda Rhimes' Thursday night block of dramas, including the ethnically diverse Grey's Anatomy, along with Scandal and How to Get Away With Murder, with their respective African American leads, Kerry Washington and Viola Davis. Then there's The Goldbergs, featuring a 1980s Jewish family, and the network just debuted Black-ish with Tracee Ellis Ross and Anthony Anderson, which follows a middle-class, black family. In October, ABC will introduce the Mexican American family comedy Cristela and coming at midseason is Fresh Off the Boat, the first Asian American sitcom since Margaret Cho's ill-fated All-American Girl 20 years ago.
What ABC is doing right now -- reflecting America as it actually looks -- is considered revolutionary. "It's certainly a personal revolution for me," Cho has said of Selfie. "Asians narratively in shows are insignificant. They're the cop, or the waitress, or whatever it is. You see them in the background. So to be in this position... is a bit of a landmark." Show creator Emily Kapnek (Subergatory) never intended for the role to go to a Korean American, as the part called for an older, British actor, until ABC suggested the idea of colorblind casting.
The fact that race does not figure into the plot of the series gives Asian Americans everywhere hope that Asian male portrayals could indeed be shifting away from doctor, martial arts expert and computer geek tropes. Kapnek, ABC and its executives deserve credit for creating an environment for ethnic minorities to see themselves represented. And having a likable, attractive and funny actor like Cho star in a mainstream sitcom will undoubtedly impact the way Asian men are viewed in this country for the better -- and he just might get the girl too.
This revolution will be televised.
Selfie premieres Tuesday, September 30, 8/7c on ABC.
Photo: ABC/Eric McCandless
Popular in the Community