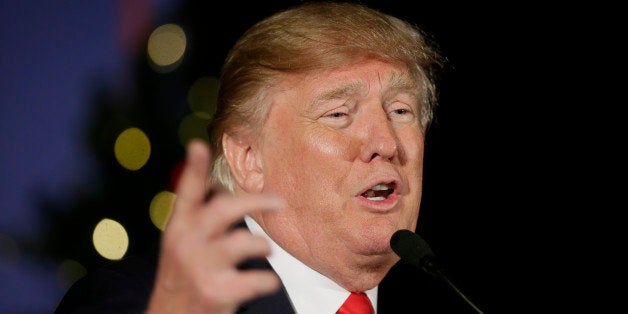 'Twas just days before Christmas and all through the nation,
From primary politics, there is no vacation.
The yard signs and posters were most everywhere,
In hope that some candidate soon would be there.
The children were busy with all sorts of trifles,
While gun nuts and birthers were cleaning their rifles.
And mom in her nighty and I in my Hanes,
Tried to sleep, although plagued by some slight aches and pains.
When out in the street there arose quite a fuss,
I looked out, not a sleigh, but the GOP bus.
And there, what appeared to my wondering eyes,
One woman named Carly and 8 dark suited guys.
On Kasich and Christie, now Rubio, Paul,
On Cruz, Bush and Carson, and that is not all,
With a Chinese-made suit and a J-Lo sized rump,
It was clear, that it had to be Donald J. Trump.
His hair glowed like neon, his mouth in a pucker,
I laughed when I saw him, what an arrogant f******!
His eyes, how deceptive, his cheeks somewhat pallid,
I wondered how anyone found this man valid.
He spoke many words as he started his work,
Saying this one's an idiot, and that one's a jerk.
Ban the Muslims, they're terrorists! I'll build such a wall,
Several thousand miles wide and a hundred yards tall,
"The people all love me, I can tell you that,"
Said the Donald while telling one girl, "Hey, you're fat!"
"The blacks love me too, and the Jews? They adore me.
There isn't a person who'd dare to abhor me."
"The problem," he said, "is we no longer win,"
As he puffed up his chest and then thrust out his chin.
"The Mexicans, Korea, Japan, the Chinese,
I'll beat them, I'll thrash them, they'll be on their knees."
"I'll make America Great" says the carnival barker,
As the hopes for world peace have grown steadily darker.
There's hardly a country that Trump's not offended,
It seems Putin's the only guy Donald's befriended.
I saw in the moment when Trump turned his back,
Just like Santa he carried a huge satin sack,
But nothing was in it, no gifts to hand out,
He just kept on his ranting and occasional pout.
It occurred to me then, that this man with so much,
Was remarkably selfish and so out of touch,
That even at Xmas, when others are giving,
Trump didn't care how most others were living.
His buildings are golden, his casinos resplendent,
On greed and addiction, his fortune's dependent,
This man is no Santa, not even an elf,
Even this season, he cares only for self.
He never stopped talking but went straight to his work,
Filled his sack with more cash and then turned with a jerk,
And proclaimed to the other guys and Fiorina,
"Believe me, I honestly never have seen a
Pathetic and spineless collection like you,
You just bow and grovel, whatever I do."
Then he sprang to the bus, holding close his dog whistle,
And away they all drove like the down of a thistle.
And I heard him exclaim as the bus drove away,
"You're a sad bunch of suckers . . . that I can say."

Calling all HuffPost superfans!
Sign up for membership to become a founding member and help shape HuffPost's next chapter