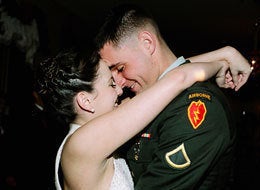 Of the six weddings I was invited to this summer, four weren't just weddings. They turned out to be what I have begun to think of as "the twedding."
You know you're at a "twedding" when:
1. Your wedding invitations were sent via the micro-blogging site Twitter.com.
2. All aspects of your big day have been vetted by your twitter followers who suggest everything from wedding guests to wedding vendors.
3. Members of the wedding party take "candid" photographs and videos of the ceremony and upload them directly to twitpic and twitvid for community commenting.
4. Your wedding becomes a trending topic on Twitter.
5. The groom tweets "I'm married" before kissing the bride.
As more and more engaged couples say "yes" to social media, I wondered about the dos and don'ts of "tweetiquette." Is there a "twedding tweetiquette"? In this era of transparency and "ce-web-rity," do couples secretly want us to "tweet their weddings"? Below, some of my favorite brides-to-be chime in with their thoughts:
'We don't intend to tweet or facebook only because we want our focus to be present and shared with the actual people in attendance," asserts bride-to-be Aviva Gayle. We're not really concerned with the virtual audience in the internet either. I'm sure if we were guests we'd feel differently, and want to exclaim "congrats" or "beautiful setting" or "great band" or "what-have-you!"
Isabel Walcott Hilborne, a bi-coastal online community consultant, agrees: "Tweeting won't be allowed at my wedding. I frown upon people telling others (who weren't invited and perhaps are resentful) how much fun they are having! I think it's snobby -- 'I'm here and you weren't invited!' How rude. Plus -- live in the moment, don't try to be elsewhere."
Bride-to-be Nikki Stelma sees it differently: 'I'd have to discuss it with my fiancé but we're both very social so if one of us started tweeting at the wedding, the other would want to as well," says Stelma, a New York based event coordinator. "There are so many details that happen during weddings that it is impossible to remember it all. By opening an online discussion, you're sharing your big day with everyone and they help you collect and immortalize all of the moments from multiple angles. When you think of it, it's very intimate." Brody Bond, a creative director at a brand development agency in Baltimore who is getting married in a few weeks, couldn't agree more: "It's okay to be bold about who you are and what you do. This is an opt-in world, so you don't need to worry too much about people being disinterested."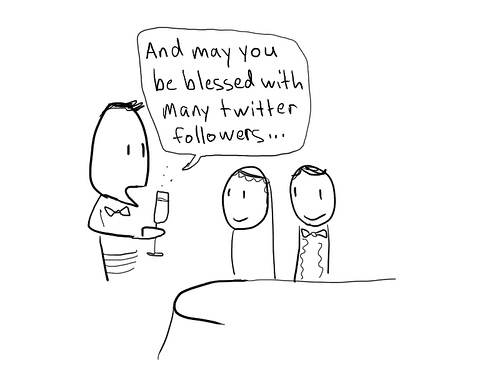 (image courtesy of hartboy)
If using social media to share your wedding is a new trend, what are the rules of engagement for those encouraging guests to tweet? Mindy Howard, Founder and Chief Twit at TweetMyWedding.com sums up the wisdom of the crowd with her top five wedding "tweetiquette" basics:
The wedding couple should not be tweeting the whole time -- they should be engaging personally with their guests & family.
Use a "Tweeter of Honor" and a hashtag (#) for the event, so everyone can participate, congratulate and tweet for the couple.
Never tweet anything you would not say out loud at a wedding.
Tweeting before and after the ceremony is acceptable, but never ever during the ceremony.
Do not tweet during vows, special songs/music or toasts during the reception. Tweeting while someone is speaking is like talking over them -- hold off 5min!
To Tweet or Not to Tweet
In this day and age including all of your online friends in your wedding via social media could push that guest list into previously unmanageable and unaffordable numbers yet for most of us, no matter how engaged in social media we are, the question remains: Are "tweddings" "Twagic" or "Twiumphant"?
Juliette Powell is an author, entrepreneur and integrated media specialist. Her first book33 Million People in the Room (Financial Times Press, 2009) details how to successfully use digital media in business. Powell is co-founder of the Gathering Think Tank Inc., an innovation forum at the intersection of media, business, advertising and technology. A popular key note speaker and commentator, connect with her on Twitter and Facebook.
Calling all HuffPost superfans!
Sign up for membership to become a founding member and help shape HuffPost's next chapter