For most people, the holiday season is over and done with. Christmas decorations have been put back into storage, the tree has been disposed of, and New Year's resolutions are probably starting to crumble in the face of reality.
For arts entrepreneurs, however, the situation is quite different. If their plans are not already set in stone, now is the time of year when they try to figure out what they can do to boost box office sales in December of 2011.
For some people, it's a no-brainer:
Ballet companies have December blocked off as Nutcracker season.
Symphony orchestras and choral groups know that December is the season for performances of Handel's Messiah.
Gospel performances of Black Nativity will no doubt be held in several cities.
Numerous performances of The Santaland Diaries (by David Sedaris) will dot the cultural landscape.
The Rockettes will undoubtedly appear in another Christmas spectacle at Radio City Music Hall.
Some regional opera companies may be considering a production of Humperdinck's Hansel und Gretel.
Nearly a dozen cities will stage some version of the Christmas Revels.
Many regional theatre companies will revive their productions of A Christmas Carol.
The Kinsey Sicks will probably be performing their holiday show, Oy Vey In A Manager in some unlucky major metropolis.
While limited-run productions of shows like Irving Berlin's White Christmas and Elf pop up from time to time, a recent posting by Jason Zinoman in the ArtsBlog that appears in the New York Times bemoaned the lack of sentimental new works that could beef up December's box office receipts. As Zinoman explained:
"Absent from the theatrical menu, especially on Broadway and in the large, prestigious nonprofit houses, are original holiday dramas that are entertaining, accessible, and even sentimental. Especially sentimental. You need only notice the music in stores and the movies advertised in newspapers to conclude that people want a little sentiment in December. They just don't want to drown in it."
It's easy to identify four musicals that perfectly fit the bill. Three of them have very low production costs (even if only two are specific to the December holiday season). What all four shows can boast, however, is a great sense of sentimentality without being mawkish, a high level of audience satisfaction, and the power to entertain people quite thoroughly.
* * * * * * * * * * * * *
Written by the same team that created The Fantasticks and 110 in the Shade, I Do! I Do! is a musical adaptation of Jan de Hartog's play, The Fourposter, that is guaranteed to send people home satisfied. The audience follows Michael and Agnes over the course of five decades (from their wedding day in 1895 until they leave their beloved house in 1945).
Under Gower Champion's direction, this two-person musical was a big hit with Broadway audiences when its original production opened in 1966 with Mary Martin and Robert Preston in the leads. I Do! I Do! subsequently charmed many an audience, with Agnes and Michael being portrayed by Carol Lawrence and Gordon MacRae, Carol Burnett and Rock Hudson, and other popular artists (a 1982 television version of the show starred Lee Remick and Hal Linden).
Ed Ames scored a major hit with his recording of "My Cup Runneth Over." All one has to do is listen to the CD of the original Broadway production (there is also an excellent 1996 recording that stars Karen Ziemba and David Garrison) to succumb to its many charms.
Whereas I Do! I Do! may not appeal to children (that's what movies are for), adults will leave the theatre filled with that warm, feel-good feeling. In the following clip from a Tony Awards broadcast, Mary Martin and Robert Preston perform "Nobody's Perfect."
* * * * * * * * * * * * *
Another delightful musical for two performers is the recent adaptation of Daddy Long Legs, which received its official world premiere from Theatreworks in Mountain View, California. With music and lyrics by Paul Gordon and book by John Caird (who also directed the production), the opening night audience rose to its feet in a standing ovation that -- unlike so many others -- was entirely spontaneous, genuine, and well deserved.
Over the years, I've attended the world premieres of many opera/music theatre pieces. I cannot recall a single one that demonstrated such craft and intelligence, or resonated so thoroughly and immediately with the audience at its premiere.
With much of its score through composed, there is very little spoken dialogue in Daddy Long Legs. Based on the 1912 novel by Jean Webster, this two-character show struck me as one of the most charming -- and organically cohesive -- romantic musicals to hit the stage in a long, long time.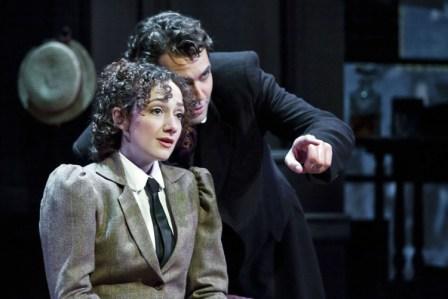 Jerusha (Megan McGinnis) and Jervis (Robert Adelman Hancock)
Photo by: Tracy Martin

Daddy Long Legs was a co-production between three regional theatre companies: the Rubicon Theatre Company in Ventura, California, Theatreworks in Mountain View, and the Cincinnati Playhouse in the Park. An incredibly economical show to produce, Daddy Long Legs requires only one set, two actors, six musicians, and a handful of easily rentable costumes. As its director, John Caird, wisely notes:
"Musicals can get endlessly stalled waiting to get to Broadway. It would be better for all concerned to be less greedy. Other theatres have expressed interest and I'd rather have a hundred successful regional productions than one successful one on Broadway. I want lots of people to see it."

As well they should! Inspired by a novel comprised solely of a young woman's letters to the mysterious philanthropist who found her in an orphanage and underwrote her college education, the musical's creative team broadened the scope of the drama to show how charity affects not just the recipient, but the donor as well.
Instead of a one-way dramatic thread as young Jerusha writes to the mysterious man whom she imagines to be old, bald, and grey, the audience also witnesses the awakening of Jervis Pendleton's soul as he starts to fall in love with Jerusha through the power of her letters. In an age when texting has become the primary form of written communication for young girls, it's refreshing to see how much a person can express and reveal about herself through old-fashioned correspondence.
The following video (in which various members of the cast and creative team talk about their contributions to Daddy Long Legs) was recorded during the fully-staged tryout at the Rubicon Theatre Company. It is well worth 10 minutes of your time.
What I found most interesting about Daddy Long Legs was the obvious level of craft surrounding the project. This is a lean, keen show from which audiences can glean a great deal of emotional satisfaction. With Megan McGinnis as the spirited Jerusha Abbott and Robert Adelman Hancock as the handsome, occasionally stuffy Jervis Pendleton, the construction of many scenes was astonishing in their fluidity, forward propulsion, and the depth of emotion each character was allowed to probe.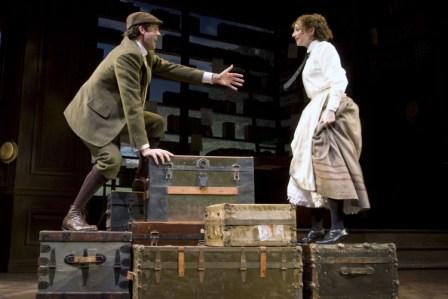 Jervis (Robert Adelman Hancock) and Jerusha (Megan McGinnis)
Photo by: Mark Kitaoka

By the time Jerusha's letters started to provoke her benefactor's curiosity, she had completely won over the audience. John Caird's stage direction avoided the kind of slam-bang climaxes often seen in musicals (thanks, in large part, to the show's subtle lighting changes). Special mention should be made of David Farley's ingenious unit set.
Moments of joy, confusion, heartbreak, and bewilderment were clearly communicated to the audience through Paul Gordon's accessible and remarkably sensitive music and lyrics. While songs such as "The Secret of Happiness," "What Does She Mean By Love?" and "I Couldn't Know Someone Less" are beautifully constructed, it is Jervis's surprisingly introspective Act II solo, "Charity," that is the highlight -- and in many respects the turning point -- of the evening.
The following video clip (also taken from the tryout at Rubicon Theatre Company) gives a nice sampling of Gordon's songs. An original cast album is available here.
If Stephen Schwartz's cash cow, Wicked, has become the standard-bearer for musicals that empower young women, just wait until they experience Daddy Long Legs. Whereas 2003's Wicked may have been the most successful musical of the first decade of the 21st century, I'd be willing to bet that, in this century's second decade, Daddy Long Legs will become much more deeply adored and cherished by women of all ages. Over the course of its lifetime, this mini-musical may actually deliver a stronger return on investment for each dollar shared by its co-producers than Wicked (which is an incredibly expensive show to mount).
Since the world premiere of Striking 12 in 2002 at Philadelphia's Prince Music Theater, GrooveLily has gone on to create Are We There Yet? (2003) and composed incidental music for a production of Shakespeare's A Midsummer Night's Dream at New Jersey's McCarter Theatre and Paper Mill Playhouse.
Back in 2004, when Theatreworks presented the West Coast premiere of Striking 12 (which updates Hans Christian Andersen's fairy tale about The Little Match Girl to modern times), I was immediately struck by the fact that this creative team had brought a uniquely theatrical and solid new voice to the American musical theatre.
It's important to understand the singularity of GrooveLily's artistic vision, the personal stamp of their musical style, and their maturation as a composing team (Valerie Vigoda and Brendan Milburn have been co-creators for almost 15 years). Here's a clip of GrooveLily performing a number from Striking 12.
Since then, GrooveLily has launched its own label (QMR Records) and, in 2007, premiered Sleeping Beauty Wakes at the Kirk Douglas Theatre in Los Angeles (where the show won two Ovation awards). Disney commissioned the talented trio to write the music for Toy Story:The Musical as a project to be performed by entertainers aboard the ships of Disney Cruise Lines.
When I had a chance to see their two-character musical entitled Long Story Short, I was once again deeply impressed by their craft. This past summer, Groovelily workshopped their latest musical, Ernest Shackleton Loves Me, at Theatreworks. Here's a sample of what the ensemble's music is all about:
Written for three performers on a minimal set, Striking 12 has thrilled audiences from Soho to Seoul. During the recent holiday season Striking 12 was produced in Boston, London, and Chicago (you can order the cast album here). I can't think of a lovelier contemporary piece of musical theatre for any theatrical producer to present during December. I'm surprised Striking 12 hasn't become an annual holiday treat for New Yorkers.
When push comes to shove, there is no better choice for a holiday entertainment than Jerry Bock and Sheldon Harnick's beloved 1963 musical, She Loves Me! Based on the 1940 film The Shop Around the Corner -- which also provided the plot for 1949's In The Good Old Summertime and 1998's You've Got Mail -- She Loves Me! focuses on the budding romance between two pen pals who don't know that they both work in the same parfumerie. All they know is that, as they pour their hearts out to each other in their letters, they are learning about the "true" person who is their "Dear Friend."
At work, however, they despise each other.
I was fortunate enough to see two performances of the original Broadway production, which was directed by Harold Prince and featured a cast headed by Barbara Cook and Daniel Massey (with Jack Cassidy, Nathaniel Frey, and Barbara Baxley in supporting roles). Although the original production lost money, She Loves Me! went on to achieve cult status as one of the great Broadway musicals of all time and has become popular in regional and community theatres.
Walnut Creek's Center Rep staged She Loves Me! in September 2010 using a version that eliminates Georg's "Tango Tragique." Yet the show still stands proudly as a rare example of brilliantly integrated writing for the musical stage.
Songs and dialogue are so deftly interwoven that the plot moves forward effortlessly. Even though the show was performed with a reduced orchestration that used only two violins, the emotional clarity and glowing charm of Bock's score continue to delight listeners nearly 50 years after the show's Broadway premiere.
To make things even better, She Loves Me! was staged in the 297-seat Margaret Lesher Theatre -- the perfect environment for such an intimate musical. Ryan Drummond's terse, almost nerdy performance as Georg Novak often made me think of Two and a Half Men's co-star, Jon Cryer.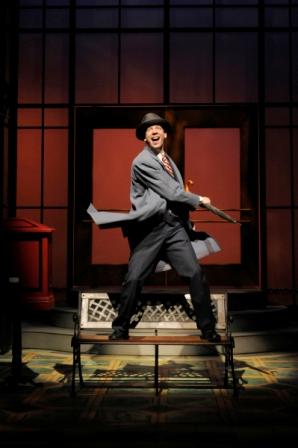 Ryan Drummond as Georg (Photo by: Kevin Berne)

Center Rep's production of She Loves Me! was pertly directed and choreographed by Robert Barry Fleming. The opening night performance had the audience laughing heartily and obviously enjoying the show from start to finish. The two main female roles were taken by Kelsey Venter (as Amalia Balash) and Brittany Ogle, who had a firm handle on the character of Ilona (the "sadder but wiser girl" who gets dumped by Stephen Kodaly but goes on to meet a sweet optometrist on her trip to the library).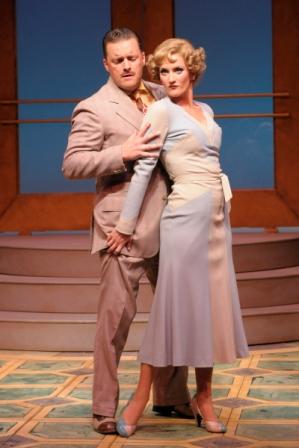 Kodaly (Noel Anthony) and Ilona (Brittany Ogle)
in She Loves Me! (Photo by: Kevin Berne)

She Loves Me! remains a remarkably solid piece of musical theatre whose expert craftsmanship continues to amaze viewers (the sheer economy used to mark the transition from one season to another is a master stroke of stagecraft). In an age of sexting, texting, and wireless communications, it has not lost an ounce of its romantic charm.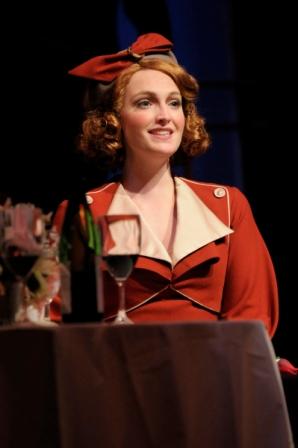 Kelsey Venter as Amalia Balash (Photo by: Kevin Berne)

A show of distinctly nondenominational appeal (unless you count worshipping the god of shopping), the final scene -- which takes place on Christmas Eve -- is as romantic a climax as one could hope for in musical theatre. The following clip of "12 Days to Christmas" is from a 2004 production of She Loves Me! at the Macon Little Theatre.
For those who think there is a dearth of sentimental material to be performed during the Christmas season, I say "Bah, humbug!"
REAL LIFE. REAL NEWS. REAL VOICES.
Help us tell more of the stories that matter from voices that too often remain unheard.