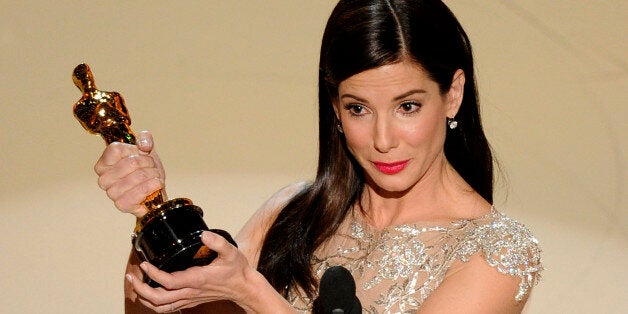 Sometimes the Academy Awards get it right. And sometimes the Oscar goes to actors for the wrong reason -- especially in the leading role categories. Let's face it, in its 88 years, there are instances where actors were awarded Oscars not because they were truly the category's strongest, but because they were the most popular, the most sentimental, played the studio politics game with the most savvy, played the most likable character, the actor whose character dies from the most horrible disease, etc. All wrong reasons.
I have always loved the Academy Awards' Best Actress category, and this year's crop features the five strongest in years: Cate Blanchett, Brie Larson, Jennifer Lawrence, Charlotte Rampling, Saoirse Ronan -- all worthy. I sincerely hope that the "best" performance wins, and I urge everyone to see all five before weighing in. If I could rewrite Best Actress history, I would tweak some of its more frustrating choices. So in chronological order, I'm calling out twelve instances where (oops!) Oscar went to the wrong Best Actress.
1. 1937 Who won: Luise Rainer in The Good Earth Should have won: Barbara Stanwyck in Stella Dallas
While many critics felt the 1937 Oscar should have gone to Garbo in Camille, I feel it should have gone to Stanwyck, who was nominated for Best Actress four times (and never won). The Stella Dallas loss is the one that Stanwyck herself most apparently regretted - and it's no wonder why. Based on an acclaimed novel about a woman who marries up and can't fit in. Eventually she gives up her daughter, whom she loves more than anything in the world, so the latter can have a better life. In the role Stanwyck ages 20 years, and is phenomenal as the cheap, coarse, yet lovable and generous title character. So why did Stanwyck, so worthy and so due and a favorite to win, lose to Luise Rainer? This was 1937 Studio-system Hollywood, and the fiercely independent Stanwyck rebelled against it all, refusing to be tied to any one studio. She had contracts with two studios, RKO and Fox, and was working on a picture at a third, Paramount. Also naturalism/realism in acting wasn't perceived as the great thing it is today, and hers was one of the most "real" performances of the 1930s. Whatever the reasons, Rainer prevailed (for the second consecutive year!) on Oscar night for playing a near-mute Chinese peasant. Stanwyck continued to deliver powerhouse performances in the decades to come, while Rainer (only in her late 20s at the time) left the entertainment industry in 1938 with two Oscars in hand. Not fair.
2. 1940 Who won: Ginger Rogers in Kitty Foyle Should have won: Kate Hepburn in The Philadelphia Story
Not only does Hepburn's role as Tracy Lord in The Philadelphia Story rank as one of her most beloved and famous performances, but after being labeled box office poison she could have quit Hollywood - many other actresses would have. Instead of quitting, she went to the stage and eventually returned to the screen with this star defining movie. Ginger Rogers was good in a non-singing/non-dancing role, but not even on the same level. Yes, Hepburn had won one Oscar in 1934 for Morning Glory and would win three more in the decades to come, but The Philadelphia Story is Hepburn at her most iconic. A brilliant screwball comedy, The Philadelphia Story has a 100% rating on Rotten Tomatoes. AFI ranked it as the #5 romantic comedy of all time.
Two great scenes of Hepburn in The Philadelphia Story:
3. 1940s to 1960s: The injustice of Rosalind Russell or Deborah Kerr never winning despite multiple worthy Best Actress nominations.
Kerr and Russell (and the aforementioned Stanwyck) are the strongest examples of actresses getting shafted by the Academy. Russell (4 nominations, no wins) was the odds on favorite to win for 1948's Mourning Becomes Electra and lost in one of the category's great injustices. Her Oscar nominated work as Mame Dennis in 1958's Auntie Mame is a force of technicolor nature. She was clearly having a blast onscreen. It's a role she originated on Broadway where she received a Tony nomination. With the exception of receiving a Lifetime Achievement Academy Award in 1994, Kerr still holds the record for the most Best Actress nominations and no wins (6 total). Kerr was a favorite to win in From Here To Eternity (1953) and The King & I (1956). Really a shame.
Auntie Mame original trailer:
4. 1950 Who won: Judy Holliday in Born Yesterday Should have won: Gloria Swanson in Sunset Boulevard
For the record, Holliday was GREAT in Born Yesterday, and I can see why she won. The Academy in 1950 was all about awarding up and comers, not the veterans. Honoring veteran actors was a trend that didn't happen much til the 1970s. Regardless, any way you slice it, Swanson's exquisitely convincing Norma Desmond ranks as one of cinema history's most iconic characters. The category also had two nominated actresses (Bette Davis and Anne Baxter) from All About Eve splitting the vote, leaving Holliday and Swanson in the front position. Oscar voters in 1950 must've been pretty torn between these two very different performances. Watch Born Yesterday and Sunset Boulevard and you tell me. All I know is history's jaw still rests on the floor that Swanson went home empty-handed that night. And believe me, she was ready for her close-up.
Gloria Swanson as Norma Desmond in Sunset Boulevard:
5. 1956 Who won: Ingrid Bergman in Anastasia Should have won: Carroll Baker in Baby Doll
A classic case of the Academy honoring an actress for popularity's sake and that's it. A weak decision - sorry, Academy. Bergman should have won for Casablanca - she didn't - she won for Gaslight, which is okay, but why did she also win for this boring film? In Anastasia, Bergman has one good scene with Helen Hayes, but beyond that - nothing she does is all that memorable. Any other actress in this category would have been a better choice. Speaking of better choices, Baker played Baby Doll to sublime perfection. She is a childish 19 year old virgin who is sold into marriage by her father. Based on a Tennessee Williams' one act play, Baby Doll was the most controversial black comedy of its day, widely banned for its sexual themes. Watch this film - I guarantee you, you'll be hooked by this unforgettable performance.
Carroll Baker as Baby Doll:
6. 1960 Who won:Elizabeth Taylor in Butterfield 8 Should have won: Shirley MacLaine in The Apartment
It's common knowledge at this point that the Academy awarded Taylor for Butterfield 8 because she had a major health scare that year, and had a tracheotomy done. Many thought she wouldn't make it. MacLaine talks openly about this. The Apartment is a perfect film and MacLaine would have (and should have) won - and deserved to for her heartbreaking role as a complicated elevator operator. Yes, MacLaine won decades later for Terms of Endearment, which she also deserved. Mind you, Taylor was terrific in Butterfield, she carries the film. Plus she was a drop dead gorgeous superstar, but a bit over the top in the film. Shirley MacLaine really should have won this.
Shirley MacLaine and Jack Lemmon in The Apartment:
7. 1970 Who won: Glenda Jackson in Women In Love Should have won: Ali MacGraw in Love Story It was reported in the news recently that Glenda Jackson is returning to acting, and I am thrilled. She has been missed, but that doesn't change the fact that her win for Women In Love was a total injustice. Her character is a brash, abrasive, bitchy shrew who doesn't do much in what is more or less a supporting role. Don't believe me? Watch the film. It's the worst choice in the category. Say what you want about Love Story - some say it's overly sappy, sentimental, etc., but Ali MacGraw is a huge reason why Love Story remains one of the most successful romance films of all time. She is incredible in the film. This was her Oscar - and she was robbed. Watch all five actresses in this category, and you will see that nobody can touch Ali MacGraw in this category. It's actually not even close.
Ali MacGraw in Love Story:
On another note, Glenda Jackson won Best Actress again just 3 years later for a better performance in A Touch of Class, and I would've been okay with her winning for this only. Still, even in 1973 she wasn't as worthy in the category as Marsha Mason in Cinderella Liberty or Ellen Burstyn in The Exorcist. And had Burstyn won in 1973 instead of the following year for Alice Doesn't Live Here Anymore, then Gena Rowlands could have won for A Woman Under The Influence. See the tidal wave one bad Academy Awards decision can make? Oscar's domino effect of misplaced wins can be head-spinning (no Exorcist pun intended there).
Gena Rowlands in A Woman Under The Influence:
8. 1987 Who won: Cher in Moonstruck Should have won: Sally Kirkland in Anna (or Glenn Close in Fatal Attraction or Holly Hunter in Broadcast News)
Now people are going to be upset with me about this one, but I have recently watched all five of 1987's Best Actress nominated performances and Cher's (as charming as it is, and as much as I love her - and I do) is, I would say, 4th best in this category. Holly Hunter in Broadcast News, Glenn Close in Fatal Attraction and (most notably) Sally Kirkland in Anna hands down gave the braver, more complex and intricately crafted performances. Listening to Moonstruck again, Cher's Brooklyn/Italian accent is inconsistent - sometimes its broad and cartoony, other times it just sounds like Cher. In the popularity contest of 1987, Cher reigned thanks to a decades-long pop culture ascent to box office royalty. The Academy loves when that happens. My guess is that few people reading this article have even seen Kirkland in Anna, but you should. It's a devastating performance in a low budget indie where American Kirkland played a falling apart Eastern European actress (nailed the Czech accent) who struggled to make a new life in Manhattan. Find it and you'll see why Kirkland won the Independent Spirit Award, Golden Globe and nearly every critic award for the role.
9. 1995 Who won: Susan Sarandon in Dead Man Walking Should have won: Sharon Stone in Casino or Elisabeth Shue in Leaving Las Vegas
I mean COME ON. Sarandon's character of Sister Helen Prejean has no character arc - she doesn't change or really have much to do other than talk to Sean Penn's Death Row character. And she did that very well. I understand why the Academy gave it to Sarandon, because having given decades worth of strong performances with no Oscar, she was "due." Much more powerful was Elisabeth Shue in Leaving Las Vegas and Sharon Stone in Casino. These actresses both played self-destructive creatures born of the Vegas underbelly and arguably gave the two best performances of the DECADE. Shue is 100% raw heartbreak as a trampled-upon Las Vegas hooker. The scene where she bleeds naked in the shower will bring you to tears. Stone's Ginger McKenna purred with a catlike cunning that built to one of cinema's great unhinged, downward-spirals. It's a wild ride full of fireworks, and Stone was transcendent in it. Leaving Las Vegas and Casino are brilliant films (both better than Dead Man Walking) crowned by two A+ actress performances.
Sharon Stone (Ginger McKenna) meets Robert DeNiro (Sam "Ace" Rothstein) in Martin Scorsese's Casino:
10. 2000 Julia Roberts in Erin Brockovich Should have won: Ellen Burstyn in Requiem For A Dream
This mistake still haunts me. The Academy had been wanting to award Roberts since Pretty Woman, and this was finally their chance. The 1990s' #1 It-girl capped her decade with an impressive performance in Erin Brockovich. Impressive, but the actual Oscar? Meanwhile in the same category, THE performance of this year - actress or actor - on any alien planet in the universe - belonged to Ellen Burstyn in Requiem For A Dream. How thrilling that a film legend such as Burstyn (who was 69 at the time) was given a role so complicated, terrifying and thoroughly juicy. And she delivered - and then some - and then some. The Best Actress' performance should be so incredible that it gives you CHILLS. Who got chills from Roberts in Erin Brockovich? Nobody I know, but everyone I know got chills from Burstyn's. In her Independent Award acceptance speech for Best Actress for Requiem For A Dream, Ellen Burstyn called the role of Mrs. Goldfarb "the role of my career" - and she was right.
Ellen Burstyn killing it in Requiem For A Dream:
11. 2005 Reese Witherspoon in Walk the Line Should Have Won: Felicity Huffman in TransAmerica
Again with the popularity contest - Witherspoon, Hollywood's darling du jour that year, is more or less giving an admirable, safe performance in an overinflated supporting role rather than lead. This is another case of awarding with the wrong film (far better was her work in Election, The Good Lie, Legally Blonde, and Wild). The real game changing performance here belonged to Felicity Huffman, best known at that point for Desperate Housewives - the stretch there alone should merit a win. A decade before Transparent, Tangerine, or Bruce Jenner's transition, Huffman's performance as a man trying to be a woman was equal parts sad, touching and comedic. Not an easy feat to pull off, and she does. It's not merely fine or good, it's brilliant. If you haven't seen it, find it and you'll wonder why her name wasn't in the envelope.
12. 2009- Sandra Bullock in The Blind Side Should have won: Gabourey Sidibe in Precious or Carey Mulligan in An Education
Two newcomer actresses (Sidibe in her screen debut and Mulligan in her first leading role) killed it in this category eclipsing all others. Again, they were victims of Hollywood's unfortunate popularity contest. Much like Roberts' win in 2000, this was the Academy's chance to award a popular, blockbuster darling. I'm a fan of Bullock, and in The Blind Side, she's fine, not Academy Award winner level brilliant, but she's fine. Let's put it this way, if Bullock was as unknown as Sidibe or Mulligan and gave this same performance in the same film, her name would not have been in the envelope.
Gabourey Sidibe in Precious:
So onward and upward -- I salute this year's fine quintet of actresses. Now go to the movies and may the best performance win.