The cumbersome and often unwieldy baritone saxophone has long been relegated to the position of a shadowy stepchild to its more grandiloquent brothers, the tenor and alto saxophones, in jazz music. A low register behemoth that requires voluminous breath, careful control and formidable stamina, it has been used primarily in jazz orchestras to produce those low resonant notes that bring the bottom end to life in modern jazz orchestra arrangements. Prominently used in the great jazz orchestras of Duke Ellington and Count Basie, the baritone saxophone was played by the great Harry Carney in the Ellington band and by Jack Washington in the Basie band. Carney, with his incredible use of circular breathing and his pure uncluttered tone, is widely recognized as having been a pioneer on the instrument, bringing the baritone out of the obscurity of the saxophone section and into the limelight of a solo instrument.
Using Carney and to a lesser extent Washington as inspiration, baritone players started to experiment with the versatility of this instrument. In the forties and fifties Serge Chaloff pioneered the bebop sound on the big horn with his solo work and as one of the infamous "Four Brothers" saxophone section in Woody Herman's Second Herd. Saxophonist Leo Parker continued this path finding his niche playing a boppish blues inspired baritone and Cecil Payne was known for the warmth and heartiness of his sound which was partially inspired by his work with Dizzy Gillespie. The diametrically opposed styles of the cool school innovator Gerry Mulligan and the facile, hearty work of Pepper Adams brought the baritone front and center and undoubtedly inspired the next generation of players.
The instrument has gone through a dramatic metamorphosis in the hands of avant-garde players like Hamiett Blueitt, impressionistic players like John Surman and Colin Stenson, and free players like Ken Vandermark and Mats Gustafsson. The tradition has been expanded and enhanced by such great players as the incendiary Ronnie Cuber, Nick Brignola, Dennis DiBlasio, the superlative James Carter, Xavier Richardeau and modern master Gary Smulyan and the future looks bright with young stars like Alain Cuper, Brian Landrus, Claire Daly, Frank Basile, Lauren Sevian and Jason Marshall.
Since the instrument has been such an important part of the saxophone sections of so many great bands over the years, it is important not to forget the players who have made such an important contribution to this music on this instrument, while never seeing the spotlight of the solo. Many of their work is timelessly hidden in the seamless perfection of the band's signature sound, a sound of singular voicing. Some do double duty on baritone and other reed instruments. So let's' not forget the work of the previously mentioned Jack Washington who worked with Basie; Charlie Fowlkes, who played in the bands of Arnett Cobb, Lionel Hampton and Count Basie; Ernie Caceres, who at times played with Woody Herman, Tommy Dorsey and Benny Goodman; Laurdine "Pat" Patrick who played with John Coltrane, Thelonious Monk and spent forty years in Sun Ra's Arkestra; Haywood Henry who played with the Esrkine Hawkins band; Glen Wilson, who teaches and has toured with Buddy Rich and the Bob Belden Ensemble; Jack Nimitz, played with Woody Herman, Stan Kenton, Oliver Nelson and Herbie Mann; Danny Bank who played in the bands of Artie Shaw, Oliver Nelson and countless other bands and was heard on numerous studio sessions. Carl Maraghi played with "Doc" Severinsen's Band and works in Darcy James Argue's Secret Society band. Ed Xiques who has played in the Thad Jones/Mel Lewis Big Band and is now with the Westchester Jazz Orchestra and George Barrow, who played with Oliver Nelson's orchestra.
Other great multi-instrumentalists that double regularly on the baritone as part of their multi-reed work include the inimitable Scott Robinson with Maria Schneider's Orchestra, avant-garde multi-instrumentalist Vinnie Golia and the versatile Howard Johnson, whose principal instrument is Tuba.
A big thank you goes out to Andrew Hadro and his JazzBariSax.com which was a invaluable resource for this article and all things baritone saxophone.
Here are my top twenty-five greatest jazz baritone saxophone solos in roughly chronological order:
Where it all started the master:
Harry Carney: Live in Copenhagen Denmark with the Duke Ellington Orchestra (1965-1971):
"Sophisticated Lady"
Serge Chaloff: from Blue Serge 1956 with LeRoy Vinegar (b), Sonny Clark (p), Philly Joe Jones (dr) "All the Things You Are"
Lars Gullin: with Rune Ofwerman (p), Bengt Carlson(b), Nils-Bertil Dahlander (dr) 1957 "Lover Man"
Jerome Richardson: from Roamin' with Richardson 1959 with Richard Wyands(p),George Tucker (b) Charlie Persip (dr) "I Never Knew"
Leo Parker: From the album Rollin' with Leo with Dave Burns (tpt), Bill Swindell (T sax), Johnny Acea (pno), Al Lucas (db), Wilbert Hogan (dr).from 1961 "Bad Girl"
Gerry Mulligan: with Paul Desmond (as), Wendell Marshall (b), Connie Kay (dr) 1962 from Two of a Mind, "Stardust"
Sahib Shihab: from And All Those Cats, from 1965 with Francy Boland (p), Jimmy Woode (b), Kenny Clarke (dr), Fats Sadi (bongos & vibes), Joe Harris (perc) "Bohemia After Dark"
Sahib Shihab & Cecil Payne: with the Dizzy Gillespie Reunion Band in Copenhagen, Denmark 1968 "Ray's Idea"
Pepper Adams: Live in Baltimore September 1969 with Duke Pearson, Richard Davis Mel Lewis and Richard Williams.: "Billie's Bounce"
John Surman: from Extrapolation 1969 with John McLaughlin (g), Brian Odgers (b), Tony Oxley (dr)
Hamiet Bluiett : live with the Charles Mingus Band in Nov 1972 Berlin, Germany with Joe Gardner (tr), John Foster (p), Charles Mingus (b) and Roy Brooks (dr). "Peggy's Blue Skylight"
Cecil Payne: Live in NYC at Jack Klinesingers Jazz Tribute to Charlie Parker 1973 with Ted Dunbar (g), Richard Davis (b) and Roy Haynes (dr) "Koko"
Gerry Mulligan/Chet Baker Band live at Carnegie Hall 1974 : w Bob James (p), John Scofield (g), Ron Carter(b), Dave Samuels (vib), Harvey Mason (dr) "Bernie's Tune"
Gerry Mulligan: live with The Charles Mingus Band w Charles Mingus (b), George Adams, (ts), Don Pullen(p), Jack Walrath (tr), Dannie Richmond (dr) Benny Bailey (tr) live at Montreux 1975
"Take the A Train"
Nick Brignola and Pepper Adams : from Baritone Madness 1977 with Dave Holland (b), Derek Smith (p), Roy Haynes (dr) "Donna Lee".
Roger Rosenberg: live with the Bob Mintzer Big Band live in Berlin 1987 and October 2014 in Pittsburgh, PA
Joe Temperley: Live with the Buck Clayton Orchestra 1988 "Angel in Blue"
Nick Brignola: from What it Takes 1990 with Randy Brecker (tr), Kenny Baron (p), Rufus Reid (b), Dick Berk (dr) "Star Eyes"
Ronnie Cuber: on Mingus Big Band 93: Nostalgia in Times Square ; "Moan'in"
James Carter: on the Real Quiet Storm 1995 with Craig Taborn(p): "Round Midnight"
Mats Gustafsson from Catapult 2005 "The Light"
Jason Marshall: Live at the Montreal Jazz Festival June 2010, with All McClean (ts), Dan Thouin (p), Adam Vedady( b), John Fraboni (d) : "Cherokee"
Brian Landrus: from The Deep Below from 2015 : "The Fly"
Colin Stetson & Sarah Neufield : Never Were the Way She Was 2015 "Won't be a Thing to Become"
Gary Smulyan: live at the Le Ducs de Lombards, fall of 2016 "Laura"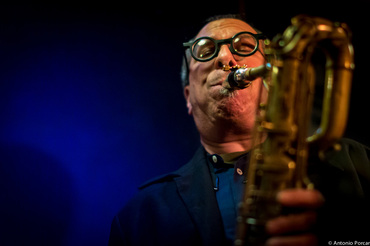 Popular in the Community