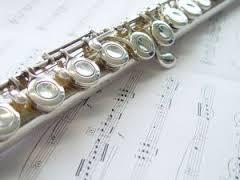 I recently reviewed an album from the flautist Sam Most recorded in 1978 titled From the Attic of My Mind. He was a fabulous player and an influential creative innovator on his instrument. Unfortunately flute is not often seen as a major jazz instrument, but often relegated to an occasional sidekick to the saxophone.
It got me to thinking about some of the other great jazz flute performances that I have heard over the years and so I decided it might be fun to make a list and share them, perhaps eliciting a response. While I'm sure it is not in anyway complete, it does represent some of the most brilliant playing that I have heard on the instrument. Here are some of my favorite and memorable jazz flute performances in no particular order.
Sam Most and Joe Farrell "Hot House" from Flute Talk 1979
The incomparable Yusef Lateef : "Yesterdays" From a live Concert at Jazz Harmonie , Paris 1972
James Moody w/ Dizzy Gillespie's Band live from a concert in 1965 on the French Riviera
"Mmm Hmm" starting at mark 2:55 minutes
James Spaulding short but beautiful solo on Joe Chambers song "Mirrors" from Freddie Hubbard's
1964 album Breaking Point!
Eric Dolphy : "Left Alone" from his 1960 album Far Cry
Rahsaan Roland Kirk : "Serenade for a Cuckoo" from his 1964 album I Talk with the Spirits
Nicole Mitchell : "Curly Top" from her 2011 album Awakening
Jeremy Steig : "King Tut Strut" on Johnny Winter's 1975 album Temple of Birth.
Joe Farrell on Chick Corea's "Spain" from Return to Forever's Light as a Feather from 1972
Eric Dolphy flute solo on "Stolen Moments" from Oliver Nelson's Blues and the Abstract Truth from 1961
Buddy Collette and James Newton: "Flute Talk" from the album of the same name from 1988
Bob Cooper with Bud Shank "Sweet Georgia Brown" from Blowin" Country in 1959
Dave Valentin: "The Hawk" from his 1979 album of the same name
Herbie Mann on his ultimate hipster song "Comin' Home Baby" from his live
Herbie Mann at the Village Gate album from 1962
Paul Horn "Mirage for Miles" from his The Sound of Paul Horn from 1961
Hubert Laws: "Pavane" from his 1971 CTI album The Rite of Spring
Brian Jackson's memorable flute on Gil Scott-Heron's "The Bottle" from Winter in America
1974
The flautist and composer Jamie Baum on her own composition "Solace" from her album of the same name from 2008
Frank Wess : "Star Eyes" from the 1980 album The Frank Wess Quartet.
Beat box flute master Greg Pattillo and Project Trio on Charles Mingus' " Fables of Faubus"
Jean Pierre Rampal with Claude Bolling on "Baroque and Blue" from Suite for Flute and Jazz Piano Trio 1975
Ali Ryerson " Estate" from her Brasil: Quiet Devotion album of 1997
Mark Weinstein " Gotcha" from Con Alma
Charles Lloyd on flute on "Sombrero Sam" from a live concert in Vienna 1999
Bennie Maupin with his Quartet live at Roma Jazz Fest 2015 playing his own composition "Penumbra"
Related
Popular in the Community