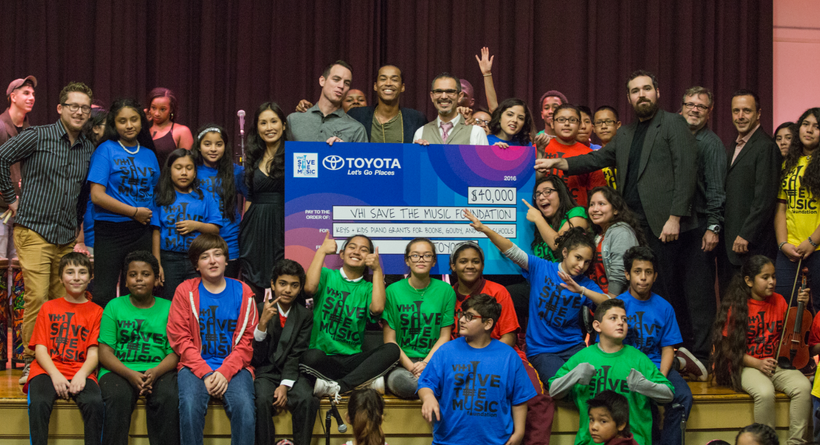 Growing up a music fan, I remember watching VH1 and catching ads and programs dedicated to the network's Save The Music Foundation. Thinking back to learning about the organization and watching its programming on TV, it's difficult to believe that Save The Music is turning 20 years old in 2017!
In the two decades the foundation has been around, it has supplied countless instruments to students who want to learn around the country, and that has changed the lives of millions in ways that cannot be quantified. In those years, Save The Music has been able to do the wonderful work it does thanks to contributions from individuals, but especially thanks to the generous nature of some pretty major brands.
In an effort to continue to introduce itself to music lovers and remain a part of all musical discussions, Save The Music went to Lollapalooza last year as part of a partnership with Toyota, where many of the performing artists stopped by to say hello, gift their autograph and show their support for the group keeping music education alive in schools across America. The organization's presence on the ground at one of the biggest and most important festivals in the world featured performances from up-and-coming acts, and it was a welcome respite from the massive crowds found elsewhere. There were also a few teachers there to meet with people, and they were excited as they were set to receive an enormous gift from the organization at an assembly at their own school. It was wonderful to know that a group as large and as established as Save The Music still connects with teachers and students at a personal level, because that's where the most good is done.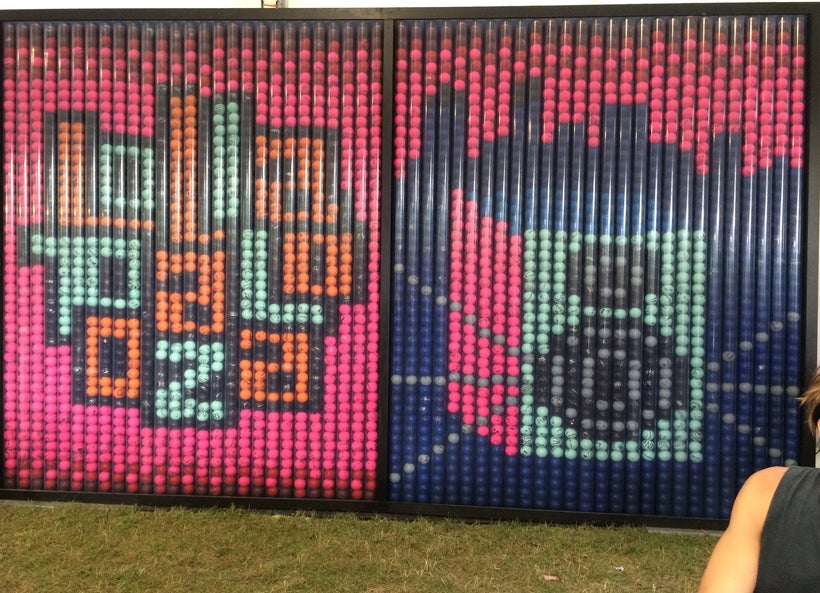 At the time, I had the pleasure of meeting Trell Thomas, the Director of Communications and Talent Relations for Save The Music, and he recently answered questions for me about the organization, what turning 20 means, why so many brands want to be a part of the mission, and what's next for one of the coolest nonprofits out there (truly—if you ever have a chance to go to a Save The Music party, DO IT).
What is the organization planning on doing to celebrate 20 years?
The most important thing we are doing is recommitting to the goal of bringing music education to every kid in every public school in America. Studies show music makes kids smarter and schools better, but approximately 15,000 U.S. schools still lack instrumental music, particularly in urban and rural areas and districts that serve students of color. We want to reach our goal of bringing music education to every kid in America by 2037.
Additionally, we've launched a yearlong campaign called Play It Forward which aims to encourage society to share the gift of music through a series of contests that will pop-up throughout the year.
We are also entering our third year partnering with Toyota for the national music festival activation and social media campaign #ToyotaGiving. For this program, artists and music fans participate at key music festivals to raise awareness for music education and grants are presented to deserving schools.
What is perhaps the greatest accomplishment of the organization in two decades?
VH1 Save The Music's greatest accomplishment is ensuring equity in access to comprehensive music education for over three million children in 41 states and territories, including Puerto Rico and D.C. The impact of our work is best illustrated by the way music has transformed schools and communities and given each child a chance to be outstanding through the arts regardless of where live or economic circumstance.
Is the state of music education getting better or worse in this country?
The recent passing of the Every Student Succeeds Act to replace No Child Left Behind Policy states that music education is a part of well-rounded education. Being recognized along with other subjects such as math and English is definitely a step in the right direction, but we need to keep advocating for music education.
We have a long way to go before every child in the United States has access to complete music education that includes instrumental music education such as band and orchestras, especially in elementary and middle school levels.
At the foundation, we advocate music be taught during the school day and not as an "enrichment" program. Other people can help do the same by reaching out the school board and asking questions about music education.
What makes the organization such a great partner for brands?
Music makes people feel good. It is the universal language and the consistent thread among cultures regardless of education, geography, class, economic status and political views. VH1 Save The Music works with brands to develop campaigns that leverage that cross-cultural appeal of music to engage an audience's interest by touching on an emotion—in turn inspiring an action while raising funds to support the cause.
By becoming a partner of VH1 Save The Music, brands enjoy non-traditional integration ideas that bring together music fans and consumers through contests, social media campaigns, environmental advertising, traditional media, celebrity ambassadors and custom activations designed around their goals and objectives.
The #ToyotaGiving program perfectly exemplifies a strong partnership for us as we work together to provide something meaningful for music programs across the country.
What would you say to someone who suggests that music and art should be the first things cut when money is an issue?
A NAMM Foundation study found that the cost of music education spending per pupil is average of $187/pupil per year, which is a much smaller fraction of overall education budget. Yet the benefits of music education show high attendance rate, graduation rate, etc. One should certainly look carefully into the budget vs. the outcome from music education before the decision is made.
How important is it to still bring artists to schools for kids?
It's important to bring artists to actual schools so they are able to see positive examples of the benefits of music education. When we take an artist into a school, it's not to convince students to become a professional musician. It is a chance to connect them with the joys of music beyond what they see on TV or hear on the radio. When we have a celebrity ambassador visit a VH1 STM school, we encourage them to speak to kids about the role music has played in their lives beyond becoming a musician. We ask them, how has music helped you, what are some things you learned through music, how would your life be different, and what are your goals when making music. That way students can hear directly from people they admire and get a real look into the lives of those behind the music. Additionally, these visits are once in a lifetime experiences that impact these kids in a real way. It is something they go home and tell their parents about and usually something they will never forget.
What is the most gratifying part for artists, brands, and the organization when holding assemblies and on-campus events?
The most gratifying part is seeing the impact that their support is having. With a lot of causes, you don't often see the result until months, sometimes years after the work is done. At the foundation, it's different. You can see the joy on the kids' faces and feel the impact that the presence of these instruments and this program is having. For those involved it is an indescribable feeling mixed with nostalgia and pride that is just as unforgettable as that kid that meets their favorite artist for the first time.
All these years in, what still needs to be done?
There have been a lot of strides in music education and moments where we have been able to celebrate victories, but the fact is that there is still a lot of work to be done. When we think about the reason the foundation exists, for example. Our job is to fill the gaps in communities and, in a sense, level the playing fields between schools of different economic backgrounds. When raising this point, we think of active "Save The Music Districts" like Ridley School District in Philadelphia where two of the nine schools there do not have music programs and coincidentally, both of those schools are Title 1 schools, which means a large percentage of students are receiving free and reduced lunch. We invest in schools like these to provide access where there normally would be none. We wouldn't ask a child to bring in a desk and chair when learning mathematics, so now that music education is recognized as a part of a well-rounded education, we should not expect children to bring in instruments or even a music teacher when learning music.
REAL LIFE. REAL NEWS. REAL VOICES.
Help us tell more of the stories that matter from voices that too often remain unheard.
This post was published on the now-closed HuffPost Contributor platform. Contributors control their own work and posted freely to our site. If you need to flag this entry as abusive,
send us an email
.