"Might crash ya Internet
And I ain't even into that
When I was talking Instagram
Last thing you wanted was your picture snapped
Feds still lurking
They see I'm still putting work in
Cause somewhere in America
Miley Cyrus is still twerkin'"
"Magna Carta Holy Grail" is a good listen, though Jay doesn't seem to be trendsetting so much as reminding us that his tailor is still Tom Ford and that his beach is so much better than your beach. The insistence on decadence and the incessant Internet 2.0 references (Vine doesn't get much shine, so it really might be a thing of the past) paint Hov as a bit of a bemused uncle, popping in to tell you that your new gadgets are so much more boring than his adolescent drug dealing and so much lamer than his new boat's touchscreen navigation system.
But still, that the album was released as America ticked into its birthday is subversive in and of itself. Jay-Z does his best late-career dance here, a designer shoe tap dance on the line between positioning himself as the embodiment of the American dream and being so disgusted with America that he doesn't "even like Washingtons in my pocket."
But as much as he hates Twitter, Instagram and anything else that he doesn't find interesting, he's down to rap about them over and over again (playing social media catch-up is nothing new for Jay -- this is the rapper who, as a grown man, once rapped "I'm planking on a million"). He knows his way around a line tailored for the retweet generation, and nowhere is this more evident and troubling than on "Somewhereinamerica," where he spends half a song encouraging Miley Cyrus to continue twerking. So let's walk right into the trap he set for us.
It's totally possible that Jay's mocking the 20-year-old signer, who has made a cottage industry of ripping off urban trends while simultaneously saying that even though she likes "hood music," she's not trying to be "the white Nicki Minaj." And let's hope he is, because the idea of Jay -- a 43-year-old legend who's on every single "Greatest Rapper of All Time" list -- leaning on Cyrus' viral potential is too sad, especially on an album replete with rejections of white America.
Cyrus, of course, is sure to just take the shout out of proof of how she's so down with "black music." But Jay ends the Miley twerk break with an emphatic "Only in America!" -- perhaps hinting at just how ludicrous it is that a white, 20-year-old Disney alum from the South can transform an urban subculture into a pop song littered with cocaine and molly references into a radio jam for wide consumption. "We Can't Stop" and its much ballyhooed music video see Cyrus going all in not only on the type of visuals that would offend anyone with a decent understanding of race relations in America, an especially blatant masterpiece of cultural appropriation that's not only off-putting because it appropriates, but because it's instantly accepted as harmless, mainstream music.
"Twerk, Miley": It's an annoying, cheap lyric at first listen. It sounds like a grasp at relevance, and maybe it is really just another moment in Jay's longstanding struggle to find a voice that speaks to his current life as emphatically as his earlier albums spoke to the life he's left behind. But maybe it's something a bit more textured.
So in a line that's either the saddest or the most-searing lyric on the record, Jay completes the circle: A man from a marginalized American community reaches the top of the corporate world, sees post-teen starlets popularizing lame impressions of black culture and raps about it on an album made possible by and distributed through the U.S. division of a South Korean cellphone company. Only in America.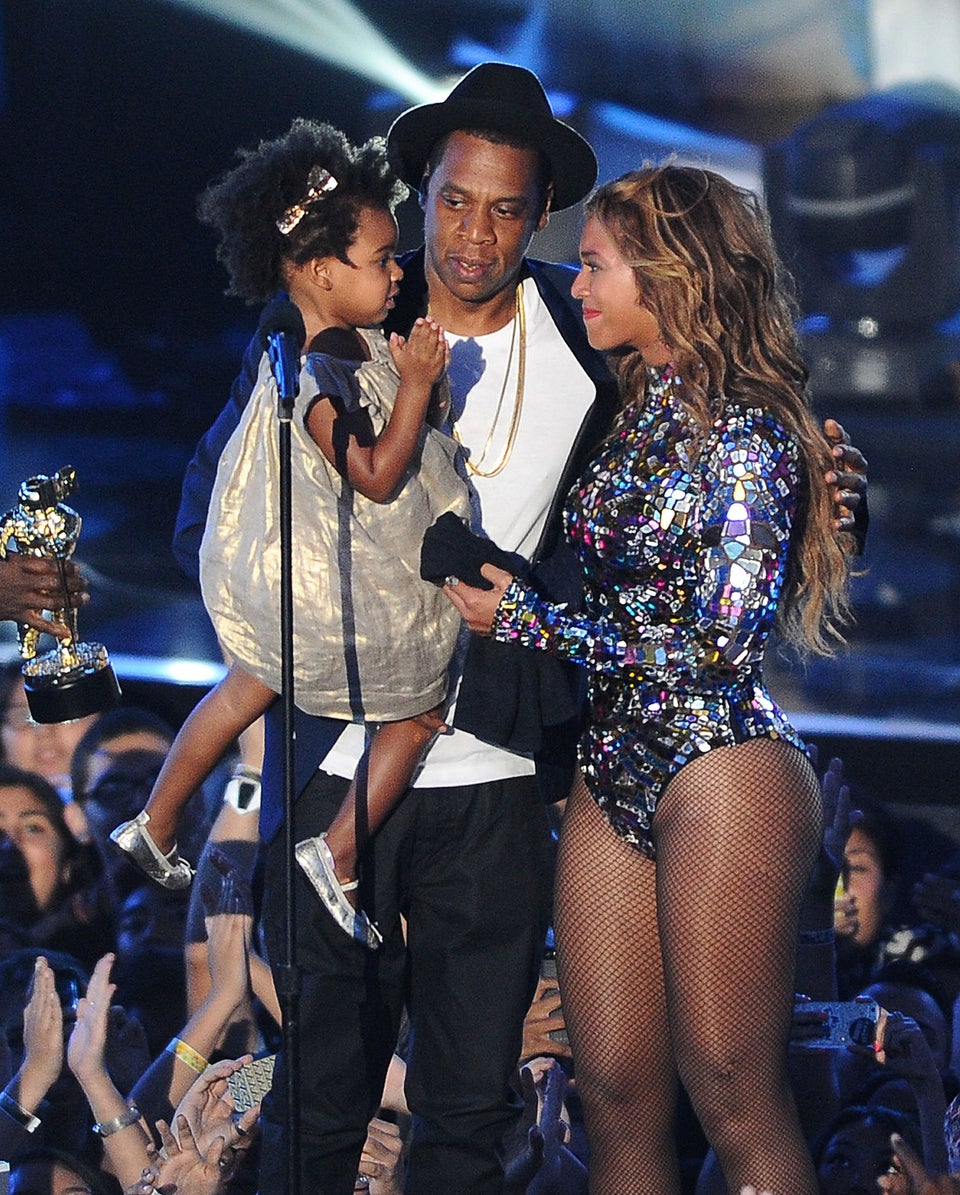 Beyonce & Jay Z
Popular in the Community