Los Angeles' House and Ballroom scene -- an underground lesbian, gay, bisexual and transgender community in which dancers compete by dressing up and "voguing" and posing -- was the subject of a recent case study in HIV prevention. On the East Coast, as a chat with community health specialist Ryan White reveals, the community is just as fierce, and just as important to at-risk youth. This is why, by night, twenty-two year old Ryan White continues his work with LGBT youth as the fabulous Twiggy Pucci Garcón, one of the predominant forces in New York's youth-led, pro-social Ballroom movement, called the Kiki Scene.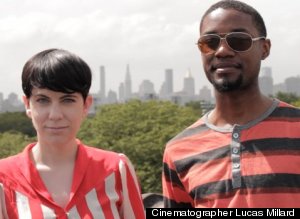 Twiggy (pictured, right) chatted with Huffington Post Gay Voices about the scene and an upcoming project to bring visibility to the Kiki community, co-produced with Swedish visual artist Sara Jordeno (pictured, left), titled "The Reincarnation of Rockland Palace"
HuffPost Gay Voices: Tell me a bit about yourself.
Twiggy Pucci Garcón: I was born and raised in Portsmouth, Virginia, I moved to New York in 2007 at the age of 17 -- I'm 22 now -- originally to study fashion at FIT. But my destiny brought me into the line of work that I do now. I've been a part of the House and Ballroom community for eight years, since 2004, and a part of the Kiki scene since 2009.
I also understand that you work in community health?
Yes, that's my job now. I'm a community health specialist at FACES NY, which is the eldest minority-run HIV & AIDS non-profit in Harlem. I've been there since 2009, starting as a recruitment specialist and now I'm a community health specialist. I do HIV, STD and substance abuse intervention, education, and prevention, as well as testing. And I'm on several different community planning bodies for LGBT issues as well, especially about the House and Ballroom community.
In your experience as a community health specialist, what are the biggest challenges facing queer, inner-city youths of color?
One thing that I feel most is their lack of self-worth and self-love. When you have so many of life's standard and necessary institutions, like church, school, and government, that are so opposed to LGBTQ issues -- I grew up in a church where it was not okay to be who I am -- then you start to feel of no value. So then, why protect yourself when engaging in sex, for example?
Someone, in every aspect of their life, has been denied and not accepted, so they go out looking for love but they do it in the wrong way. Maybe they're a prostitute or they're promiscuous but they're not protecting themselves because everybody else that they've known has told them that they're not worth anything.
How would you define Kiki? How is it different from other ballroom scenes?
The Kiki Scene is a youth-led, pro-social subset of the larger mainstream House and Ballroom community. A Kiki Ball is competition where the organizations, called houses, creatively battle it out in categories like face, runway, vogue, fashion and more. The houses highlight self-motivating and well-informed plans and decisions around health, personal and professional development and community leadership. They respond to adversities that the young demographic, composed primarily of African American and Latino LGBTQ individuals between the ages of fourteen and twenty-five, face.
The word Kiki means 'to laugh' or 'to have fun' in our community. It started out as a Gay Men's Health Crisis project, where different houses just mixed and mingled and they were going and they were making costumes out of toilet tissue and out of pretty much anything they could get their hands on. GMHC has the House of Latex project, which targets the House and Ballroom community, so Aisha Diori, one of the founders of the Kiki scene who now works for the Hetrick Martin Institute, took that whole concept and made it simpler and more about having fun, all while implementing safer sex practices, education, and harm rejection into the categories -- into the functions, the actual balls itself.
Is the scene open to anyone? How does someone get involved?
I'm not going to say anyone. It's more by association, so if you know someone, you go to a ball, you end up meeting somebody, or maybe even randomly, you do research and you find out about them, and you start coming to them, looking at YouTube clips, then of course you can get involved. It's just a matter of executing your talent, really. It's a lot easier to get into the Kiki scene than it is the mainstream scene, though.
How did you get involved in the movement, and what's your role in the community?
As far as my involvement in the Kiki scene, I've been a part of the ballroom scene for awhile now, for someone of my age, so, I've always taken a leadership role in every house I've been in. I wanted to have a Kiki house that was different from all the rest, that didn't just focus on the Ballroom aspect of it. A lot of these kids have really, really, really hard and difficult struggling situations, some of them have been kicked out by their families, some of them, their families have disowned them, some of them live on the street, some of them sell their bodies to get their next meal or get a Metrocard. I wanted to create a house that addressed not only your ballroom performance but your personal and professional development as well. That's when I created the House of Pucci -- it's named after the label, but it's also an acronym for Peers United For Community Causes Initiative.
Tell me about your upcoming project, "The Reincarnation of Rockland Palace."
Sara Jordeno ["Reincarnation" co-producer and director] and I discovered this place at 155th and Frederick Douglass called the Rockland Palace. It's no longer there but it used to exist in the 1920s and 30s, they tore it down in the 60s, and, it was huge, it was a whole city block long and they had all kinds of events there, political events, sport gatherings, but more importantly, how it's related to our project, the original Harlem Drag Balls were held there. And now that it's torn down, it's a parking lot, so, when we visited the parking lot, we met a guy named Ed who is the manager of the parking lot, and he was actually familiar with Rockland Palace and he was so gracious as to reconnect this community with their lost past and lost history. A lot of these kids have no idea what Rockland is, what is was, what it meant, what it stood for, so it's almost like reoccupying a space that was originally ours.
Anything else you want to say about the project?
The Rockland Palace is a project that's related to a much bigger scheme of things. Sara and I met at my job at FACES a few months ago, at the beginning of the year, and started to have conversations and discussions about this kind of thing: what the Kiki scene is, what its about, who is involved and she is... I'm not sure if you're familiar, but she is a visual artist and filmmaker from Sweden, and, when we decided to collaborate, the original project was originally a film and this project is going to be a part of that as well.
Besides connecting with the past, what do you hope will come about from the project?
Exposing the youth, the Kiki Scene youth. They have so much talent and so much hope. I can't put into words how much of an inspiration they are and I feel like, because they're so underground and because so few people know about them and about the community, and about the things that they're doing, not only to help themselves but to help the people around them, that they deserve that exposure, so that's a huge thing.
The Reincarnation of Rockland Palace: The Mythology Ball will take place at 280 W 155th Street at Frederick Douglass Ave, on Sunday, July 15, 2012 6-11 p.m. The Rockland Palace project is co-produced by Sara Jordeno and Twiggy Pucci Garcon, directed by Sara Jordeno and with executive producer FacesNY, inc, and cinematography by Lucas Millard. The Reincarnation of Rockland Palace will be featured in an exhibition at The Kitchen (June 27 – August 17, 2012). Titled Matter Out of Place and curated by Lumi Tan, presents new work by artists who observe, represent, and activate public sites, generating alternative relationships to such strictly defined spaces as the housing project and park. Opening reception: Wednesday June 27, 6 - 8 pm.
The Reincarnation of Rockland Palace is made possible in part with public funds from the Manhattan Community Arts Fund, supported by the New York City Department of Cultural Affairs in partnership with the City Council and administered by Lower Manhattan Cultural Council. The project has also received support from FACES NY, GMHC, Hetrick-Martin Institute, The Door and IASPIS. To support The Reincarnation of Rockland Palace, visit the Indiegogo fundraising page.
Popular in the Community