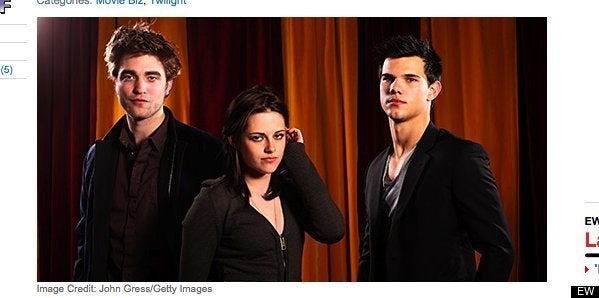 Entertainment Weekly landed a sit-down with the three stars of 'The Twlight Saga: Eclipse' in advance of next week's opening of 'Eclipse,' and the trio talked about growing up, Kristen Stewart's Bella character giving birth in the next movie and the theory that it has a pro-life Mormon subtext.
The three young stars opened up about coping under the glare of intense media spotlight, how they rely on one another to pull through, what they think of the upcoming final movie, Breaking Dawn, what lies ahead once the franchise wraps, and much more. In this preview, the three stars talk about gearing up for the final chapter of the saga that has changed each of their lives forever.

ENTERTAINMENT WEEKLY: You guys are about to start shooting the two Breaking Dawn movies back to back. You signed on to this franchise before Breaking Dawn was written. When you read it, were you thinking, How is this going to be turned into a movie?
KRISTEN STEWART: Yeah, definitely. What is [Edward and Bella's child] Renesmee going to look like? Is it going to be this little teeth-baby running around? It's going to be weird.
ROBERT PATTINSON: [Laughs] "Little teeth-baby."
STEWART: Yeah, but I think it's going to be cool. One of the main objectives of the series is to get Bella to a point where she's mature enough to make such a hefty decision, and she goes through a lot. In the fourth one, she is going to become a wife. She is going to become a mom. She is going to become an adult and a vampire. To do it so young, it needs to be believable. So I'm really excited about playing that.

Some people read Breaking Dawn as very pro-life and Mormon because Bella decides to have her baby even though it's endangering her life. Did any of that bother you when you read the book?
STEWART: No, because it made sense. Not wanting to give up the baby is about her holding onto that last thing that she would have to give up if she was not human anymore. Right after she and Edward sleep with each other for the first time, she says, "Oh, f***, I might want to be human for a little bit longer." The baby is just an even more intense version of that.
PATTINSON: I think people make up all these Mormon references just so they can publish Twilight articles in respectable publications like the New York Times. Even Stephenie [Meyer, author of the Twilight novels] said it doesn't mean any of that. It is based on a dream.

The Breaking Dawn movies are the last in the series. How do you feel about all of this coming to a conclusion soon?
STEWART: In terms of shooting them, they're almost done. We're going to be done by March.
TAYLOR LAUTNER: It will be so weird, the last day of filming that last movie.
STEWART: It will be sad, too. It's been one of the most crazy, indulgent experiences as an actor, to be able to follow a character for this long.
LAUTNER: I think stopping will be very weird.
STEWART: It will just feel like a chapter has been closed.
LAUTNER: A big chapter.
STEWART: I'm going to be like, "But wait, there's this scene..."

For more from the three stars of the Twilight movies, pick up the new issue of Entertainment Weekly, on stands Friday, June 25.
Popular in the Community