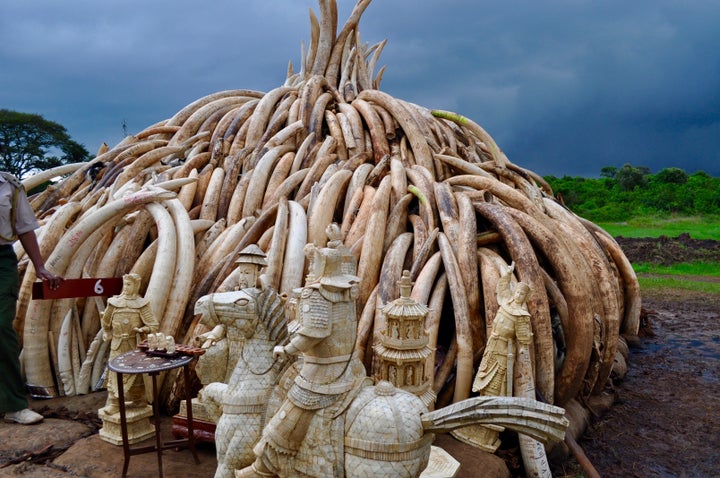 April 28, 2017 marked the last-ever journey of the Lunatic Express, 116 years after it was built under the British Empire's auspices. I won't miss it. It was the slowest and most scenic train I've ever taken in my life. Like climbing Everest, I suspect most everyone else who took it also did so because it's there. Why else stay in that percolating rust-box for a full day? Flying from Nairobi to Mombasa takes less than an hour. Even driving, overland, just about eight hours. A very principled train, though, takes twice that, from 7:00 PM to 10:00 AM the next day. When I got on board at Mombasa on a Sunday evening, 24 hours before my flight home from Nairobi, I thought myself clever for padding the transit. Even if the train took twenty hours, I'd be fine. And it was just my luck, I was told, only the Sunday trains leave on time.
At hour twelve on board, I realized my grievous mistake. We were still in Tsavo National Park. Just percolating. We hadn't moved all night. I had to jump ship around 9:00 AM, near a small town called Kibwezi, and take a serious of matatus and buses until I reached Nairobi airport moments before the gate closed. I suppose I've released the dramatic tension here, so feel free to stop reading.
The sunrise on the train was spectacular. The food in the dining car was not. A cloudy soup, yellow rice, and diffidently unspiced peas and carrots curry. I was seated with a Belgian man and his cherubic half-Tanzanian son. The former was a bore, lecturing me from soup to nuts on what Trump's rise looks like to "the world," which I guess he represented. Spare me, I thought (if you remember what life was like back then). I don't deserve this conversation for some hiccup in the electoral system of the country my parents moved to 21 years ago.
Those parents, I thought, could have moved anywhere. Even here! In fact, Indian-Kenyan laborers, picked up in one wing of the British Empire and dropped off in another, built much of the Lunatic Express at the end of the 19th century. And now a different kind of empire, the one realized by Chinese infrastructure, with a different Asian workforce, was directing the replacement railroad. Where was Kenya between these bookends?
48 hours earlier I'd spent some long days in Nairobi National Park, where the new, China-funded Standard Gauge Railway (SGR) would (maybe?) slice through in its final phase. How could it still be unclear? Basically everyone except the Kenya Railway Commission was in the dark.
The new line was supposed to take four and a half hours where the old one took eight. Based on the total hilarity of the latter number, I thought the SGR would do well to make the trip in 12ish. About four workers died for each mile of the Lunatic Express.The memorable tragedy was the man-eating lions of Tsavo, who snacked on laborers to no real effect until they unwisely scaled up to British management. Today's SGR was apparently upsetting elephant migration routes. I wondered if they, too, might go rogue on interlopers. But elephants are vegetarian. It was all different.
Speaking of which, the week I was there, the National Park was in a febrile state of excitement because they were going to burn a lot of ivory, as a symbolic rejection of the ivory trade. There were huge pyres of tusks and figurines in the heart of the park. The gesture, even though it wasn't the first time, was elegant and powerful. But the universe has a way of correcting gestures, even ones that stand to save a lot of elephants.
When I hightailed it off the Lunatic Express around 8:00 AM, in Kibwezi, I walked for an hour or so into town in the shadow of the SGR with a police officer. It looked sturdy. All triangles. Even the cement, somehow, had to be imported, 6000 metric tons, to get the ball rolling. They could have planned this better, everyone in Nairobi kept telling me. We have domestic cement, they said, but not on a few months' notice.
There is no economic or financial case for a new railway in East Africa, according to a World Bank report. Even among the dire predictions of that report, Kenya ended up choosing the most expensive option, and was long-outpaced the price estimates with over a year to go.
Kenya Wildlife Service, one of the bodies that was not consulted in the railway plan, is, by one estimate, responsible for 75 percent of the country's tourism revenue.
"Where were we?" Paul Gathitu, KWS's deputy director, asked me, rhetorically. "No one knows who makes these decisions."
I arranged to meet up at the park with an old Kenyan friend, from five years ago, who, in a remarkable coincidence, had spent the intermediate years as a mechanical engineering student whose last summer job was at - sing it - the China Road & Bridge Corporation. We trekked over to CRBC offices together where I met a supervising official who unsurprisingly refused to talk on the record and whose cigarettes, even, were Chinese. In two months, he said, the office would shut down and the campus, near the Northern Bypass, by repurposed. It was interesting that the M.O. of the world's most ambitious infrastructure company was, in this sense, "leave no trace."
The railway will start running this June and I guess we'll see who or what uses it. The land was already reclaiming the Mombasa train station when I was there. An abandoned carriage had become a de facto chicken coop. In time, the savannah will reclaim the Lunatic tracks too. And, let's be real, in the next century, although no one can call my bluff on this, it will do the same to the SGR.
Reporting for this story was made possible by the WITS China-Africa Reporting Grant.