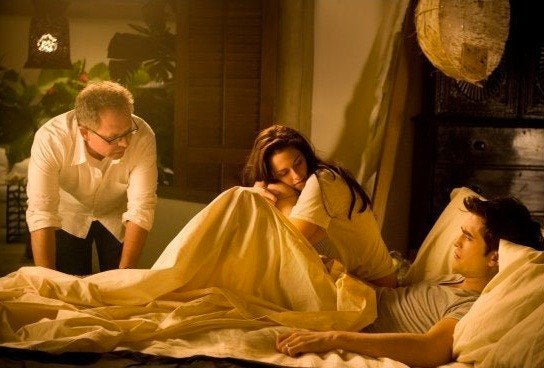 It's almost upon us -- the "Twilight"-mania. But for the millions of boyfriends and best friends who will get dragged to see Edward Cullen and Bella Swan tie the knot in "The Twilight Saga: Breaking Dawn, Part 1," there may be something in it for you -- blood and gore. And not just any blood, Bella's blood.
You see, after Edward impregnates her with his magical undead seed, Bella experiences one of the nastiest and goriest birthing scenes in history. Spines are broken and lots of blood is lost. To give you a hint: that baby has some very sharp vampire teeth.
Director Bill Condon said that the gory intensity of the upcoming "Twilight" flick sets it apart from all of the previous, more melodramatic, "Twilight" films.
Condon told Box Office Magazine that he put a lot of thought in how to handle the "very, very intense" scenes in the movie, adding that this one is "almost like a horror movie."
Sex, blood, violence...are we sure this is PG-13?
"I think within the confines of a PG-13 rating, I think we've got something that's pretty powerful," Condon said. "And in terms of the birth, it was, 'Let's do it from Bella's point of view. Let's see whatever she can see.' Once you decide on an approach like that, it's amazing how powerful you can be without being overly explicit. She gets glimpses of a lot of things—and hears everything—but it's not the cutaway to teeth clawing through flesh. But you certainly know what's happening."
Earlier in the year, Condon told EW, "We shot everything, whether it's the lovemaking or the childbirth, as potent and powerful as it can be. It will be interesting to see whether there will be people who think it too disturbing for this universe."
So cheer up, "Twilight" haters! You just may like this one after all.

"The Twilight Saga: Breaking Dawn, Part 1" opens November 18. Watch the trailer below.
Calling all HuffPost superfans!
Sign up for membership to become a founding member and help shape HuffPost's next chapter