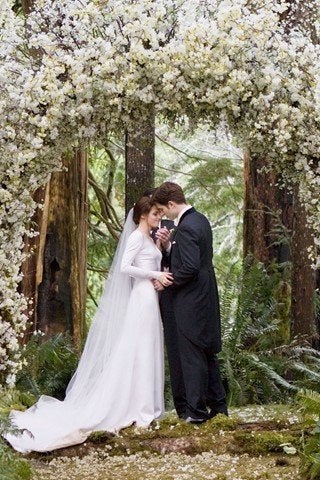 It seems that since the Royal Wedding, any bride sporting a long-sleeved gown is instantly labeled a Kate Middleton-copycat.
Real-life and fictional brides, from Lauren Bush to Bella Swan, have had their custom-made lace gowns compared to the Duchess of Cambridge's Alexander McQueen dress.
In the case of the "Twilight" wedding gown, the Royal Wedding comparisons don't stop there: The crepe satin and chantilly lace dress features 152 silk-covered buttons, which some say mimic those on the back of royal Maid of Honor Pippa Middleton's gown. Coincidentally, Bella Swan's dress cost a whopping $35,000, the same as Pippa's dress.
But "Twilight" dress designer Carolina Herrera is speaking out against the royal comparison. Britain's royal nuptials, she told Vogue UK, had nothing to do with Bella's custom-made dress, which took over six months for the designer and her four assistants to complete.
The designer said that she was inspired by the description of the wedding gown in the novel.
"I read the books and saw the first film and have been a fan ever since," said Herrera. "Our bridal collections always possess a timeless elegance and sophistication and I found the same elements in Stephenie Meyer's descriptions of Bella's dress."
For those who want a touch of Twilight on their Big Day, copies of the gown are already hitting Alfred Angelo stores. The bridal design house has just released their exclusive "Twilight" bridal gown, which has been called a "perfect replica" of Herrera's couture creation.
And if that's not enough, brides can also find more Twilight-inspired wedding accessories at Hot Topic -- including a convincing replica of Bella's bridal hair comb and engagement ring.