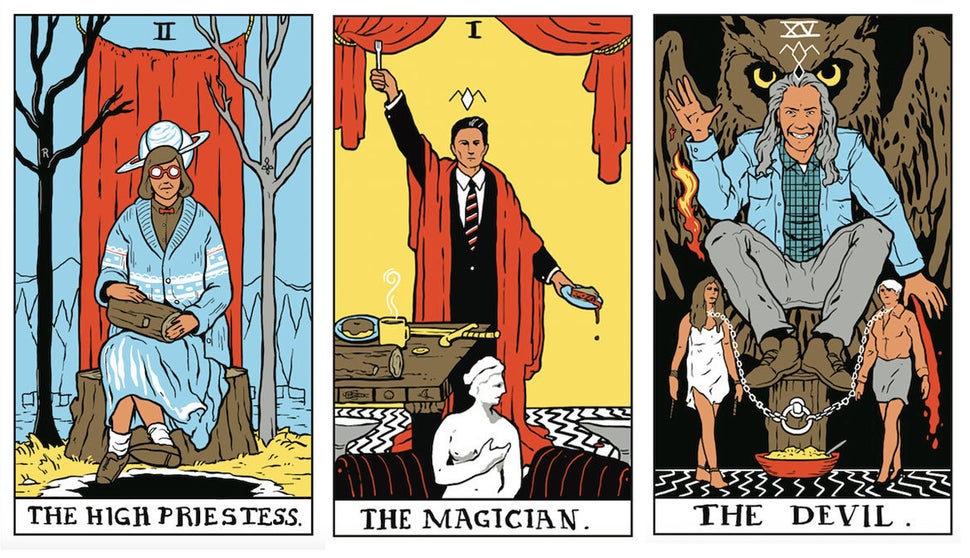 Artist Benjamin Mackey has created a Tarot deck sure to please the occultist Lynch lovers in your life. (If you don't have any, it might be time to rethink your life choices.)
Who better to divine your future than Laura Palmer, Audrey Horne, Dale Cooper and the gang? Inspired by Pamela Colman's traditional Tarot illustrations, Mackey infuses the rich history of Tarot with some pop culture savvy, ensuring even your future predictions come with a little dose of nostalgia. 
For Mackey, the real challenge was matching each character up with his or her respective Tarot equivalents. "The Log Lady as the mystic High Priestess and Dale Cooper as the Magician who 'longs to see' were obvious choices, whereas other cards were more of tough call," he wrote in an email to The Huffington Post. "I did my best to respect the attributes of both character and card significance, playing with symbols and tweaking meanings slightly for better deck cohesion and internal logic."
See some of our favorite cards below, and head to Mackey's website for his version of a 22-card Major Arcana set. Be careful playing with Tarot, kids. Bob doesn't mess around. 
PHOTO GALLERY
12 Illustrators You Should Know Right Now
REAL LIFE. REAL NEWS. REAL VOICES.
Help us tell more of the stories that matter from voices that too often remain unheard.