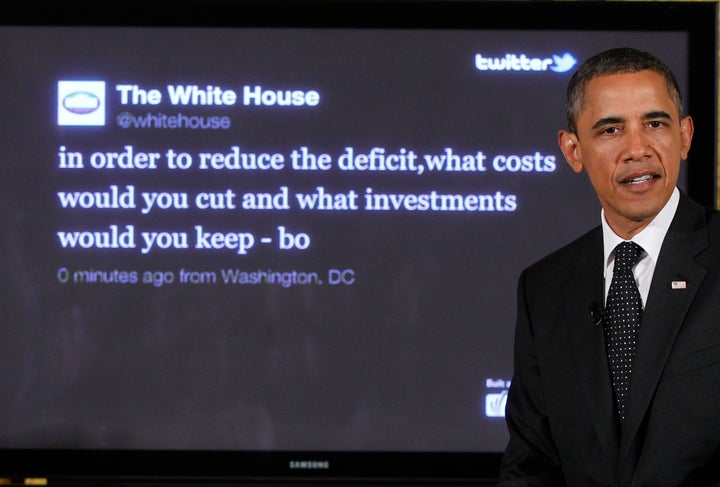 While political junkies fret about the growing number of voters that are effectively out of reach of many traditional polls, Twitter is taking on voter sentiment from a wholly different angle.
The Twitter Political Index, or Twindex, launched Wednesday, and tracks tweets that mention President Barack Obama or presumptive Republican presidential nominee Mitt Romney. It's an attempt to measure the public's shifting moods, as well as to establish Twitter as "a platform for civic debate," the company said on its blog.
The Twindex -- a partnership between Twitter, search engine Topsy and a bipartisan pair of political pollsters, Democrat Mark Mellman and Republican Jon McHenry -- isn't an opinion poll and its creators say that it's not trying to be.
The value of the project, they say, is the opportunity it provides to mine concrete, usable information from Twitter's constant flow of opinions and argument, and perhaps, to reflect the previously unmonitorable discussions taking place around kitchen tables and water coolers.
"We know that lots of people are talking about these presidential candidates," Mellman told The Huffington Post. "We also know that the most influential medium of communications in these elections are friends, relatives, colleagues talking to each other, [but] we have never really had a way to peer into those discussions before."
According to Mellman, the new tool provides a way to follow "the extent to which those discussions are taking place" and whether their tone is positive or negative in a way "we have not had available to us ever before."
McHenry said that the tool will also allow for "real time" tracking reactions to live events like the coming debates between the presidential candidates. Each debate will provide a clear moment where people focus on and talk about the campaign. "It's hard to believe we watched debates without Twitter," he said.
While the project is far from the first to attempt to analyze such data, Twitter's cooperation allows it to be among the most far-ranging. The Twindex sifts through the site's daily average of 400 million tweets, hunting for those that mention Obama or Romney. It then uses an algorithm to measure how positive or negative the tweets are.
Each day, the Index evaluates and weighs the sentiment of Tweets mentioning Obama or Romney relative to the more than 400 million Tweets sent on all other topics. For example, a score of 73 for a candidate indicates that Tweets containing their name or account name are on average more positive than 73 percent of all Tweets.
According to Twitter, the automated "sentiment analysis" underlying the index is highly accurate. It correctly interprets human emotion 90 percent of the time.
Again, both pollsters were quick to agree that the Twindex is neither a poll nor a representative sample of voters. "It's a census of the Twitter universe," Mellman said. "The Twitter universe is not the whole universe, that's for sure."
Both pollsters pointed to the strong correlation between the Twitter sentiment score for Obama and his job performance rating on the Gallup Daily Tracking Poll. "This is not to say it's a poll -- it's not. It's not to say it's predictive of the Gallup numbers," Mellman said. "But it is to say that over time there's a correlation which suggests that what we're seeing in these conversations is not radically divorced from what we're seeing in the country as a whole."
McHenry said he was surprised by the lack of a "partisan signal" in the Twitter trend data. "When you look at, say, what happens with the Gallup approval number versus what happens with the Twindex -- it's not like the Twitter political index is always biased 6 points above what an approval level is. It kind of floats back and forth and it's not distinctly liberal and it's not distinctly conservative."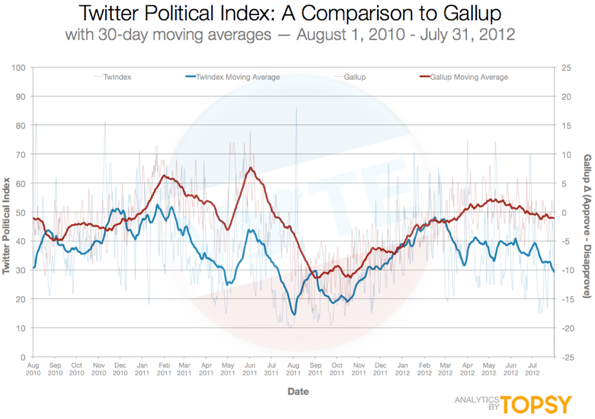 Both pollsters said the index is resistant to political gamesmanship. "The problem is that you're talking about gaming millions of tweets," McHenry said. "It's pretty tough to swamp 10, 20 million tweets. It's almost like ballot box stuffing for the MLB all star game. You're just not going to have the fans of the Kansas City Royals all of a sudden vote in their first baseman as a starter."
And how might the tool evolve in the future? McHenry said the Twindex will be even more interesting "when more context is added into it" in a way that helps candidates plot their strategies. He said he envisions having the ability to say to a candidate, "OK, your sentiment score is 52, but it's 60 when people are talking about you and the economy, and it's 45 when they're talking about other things, so you're doing relatively better when people are referencing you relative to the economy."
Popular in the Community