When you're a parent of twins or triplets, there's more of everything in your life: more sleepyheads dozing in cribs, more little fingers wrapped around yours and, yes, more dirty diapers (they never seem to end). That's why when the holidays come around, parents of multiples know better than anyone that "The more, the merrier" is more than a motto; it's a promise. We partnered with Tiny Prints to bring you some of the most creative ways to capture your little ones' seasonal spirit in your holiday card, so take a peek and steal some ideas for your own festive family photo shoot (twins and triplets not required).
1. Sugar, Spice And Everything Nice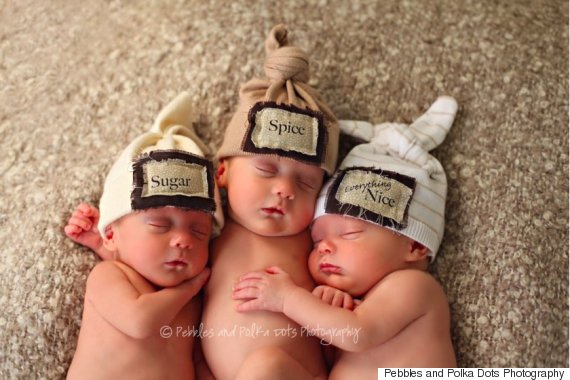 Image: Pebbles and Polka Dots Photography
Set the tone for the season with your three favorites snoozing peacefully. Let's be honest: this is as close as you'll come to a silent night for a while.
2. The Nappers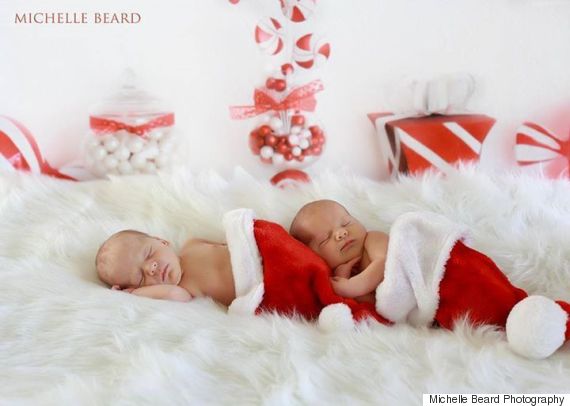 Image: Michelle Beard Photography
These sleepy twins prove that the key to a great Christmas photo is a winter wonderland setting (and, of course, some Santa Claus hats to keep you cozy). Go fluffy or go home.
3. The Snowflakes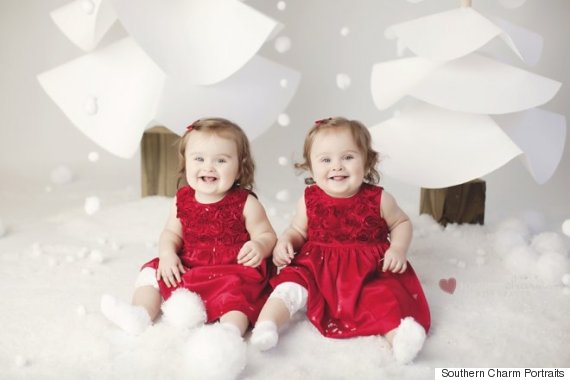 Image: Southern Charm Portraits
Sure, they look alike -- and dressing them up alike is super cute -- but every twin is her own unique snowflake. Get creative with papery tree props and fake snow to set the scene, and let your little ones take care of the rest.
4. Santa's Helpers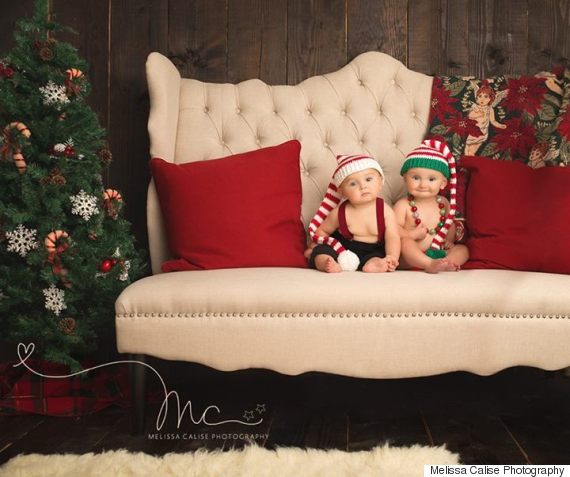 Image: Melissa Calise Photography
Channel some North Pole spirit this season with adorable elf costumes (bonus points for successfully getting your wiggly little guy into suspenders).
5. The Red-Nosed Reindeer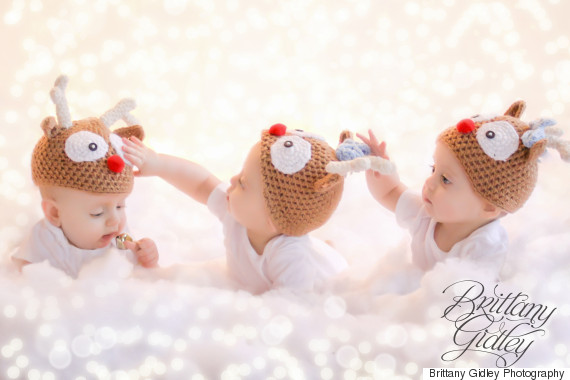 Image: Brittany Gidley Photography
Knitted animal hats + triplets = too freaking cute. Rudolph would be proud.
6. Santas In Training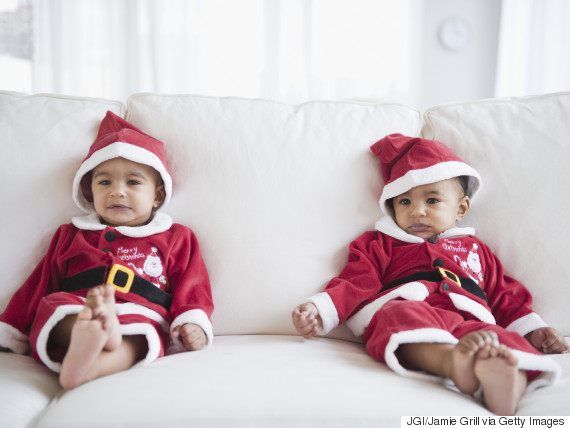 Image: JGI/Jamie Grill via Getty Images
Not a fan of the elf or reindeer motifs? Step things up a notch and dress the little ones up as Santa himself. Record a video of them letting out a jolly "Ho, ho, ho!" while you're at it -- and then watch it on repeat for years to come. It may get old for the kids, but it never will for moms and dads.
7. The Hanukkah Helpers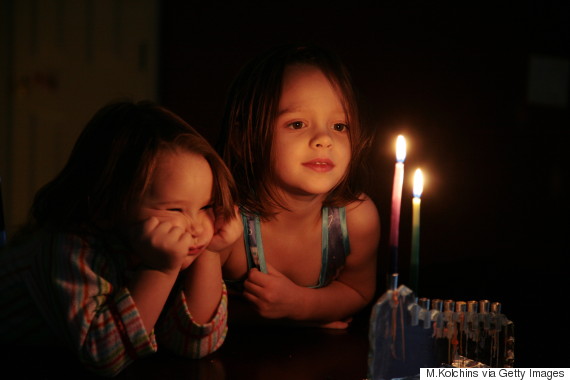 Image: M.Kolchins via Getty Images
Snap some pictures that show how the little ones are really feeling this holiday season; the wonder and the anticipation are equally worth capturing on camera.
8. The Christmas Crawlers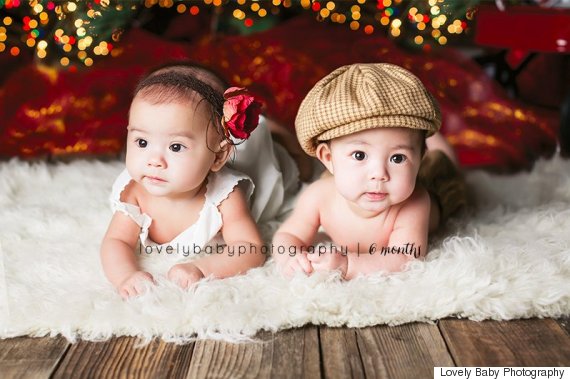 Image: Lovely Baby Photography
Not even walking yet, and already trying to sneak a peek of the presents under the tree -- are we even surprised? Be sure to get a shot of the twins posed by the Christmas tree before the season ends, if only to show how wee they once were.
9. The Holiday Huggers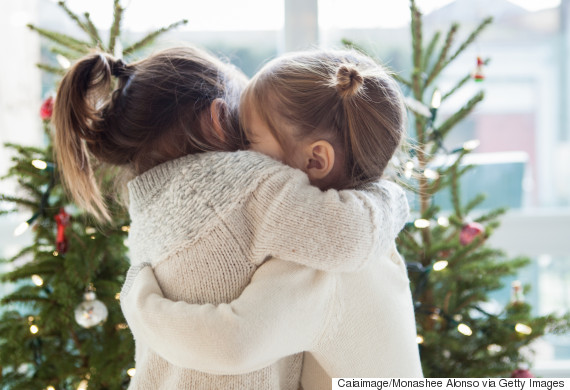 Image: CaiaImage/Monashee Alonso via Getty Images
The little ones won't be crawling around in front of the tree for long. Capture how much they've grown, especially when they're feeling all the feels during the holidays.
10. The Silly Santas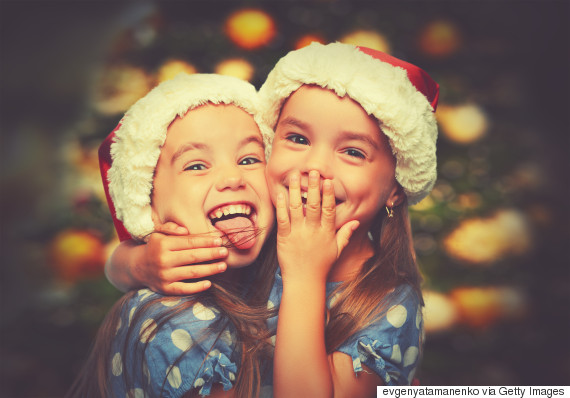 Image: Evgenyatamanenko via Getty Images
Want a holiday card that's pure gold? Pay homage to the twins' goofy sides, because every giggle counts.
11. The Hot Cocoa Haven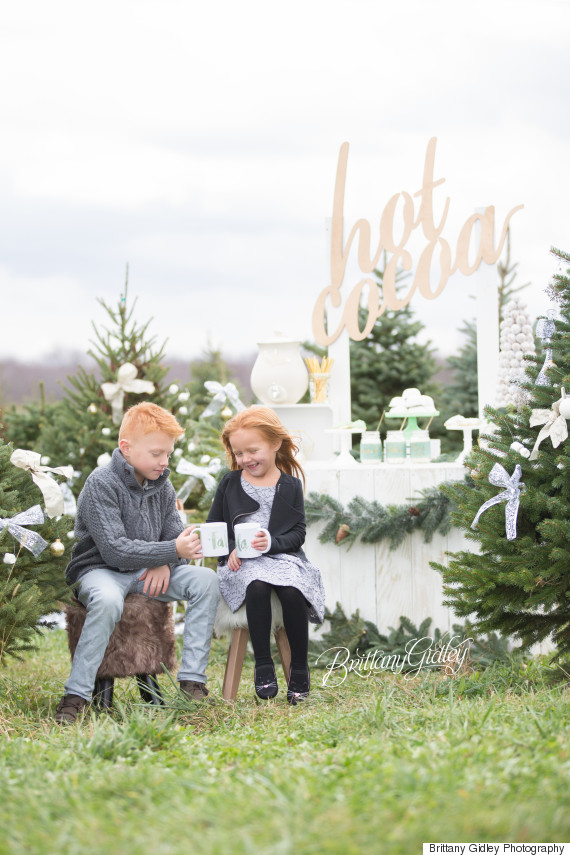 Image: Brittany Gidley Photography
Summers are for lemonade, but winters are for hot chocolate. Plan your holiday photo shoot around one of the kids' favorite treats of the season: marshmallow-filled hot cocoa. Guaranteed grins.
12. The Family Affair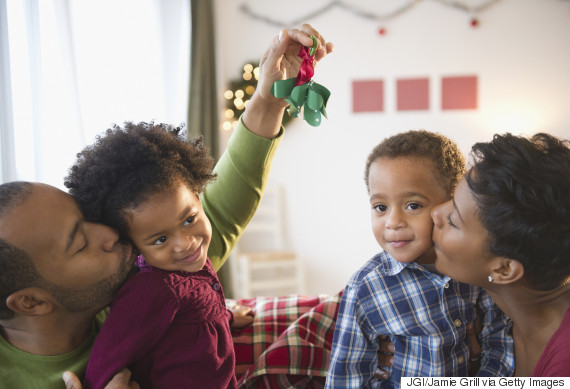 Image: JGI/Jamie Grill via Getty Images
Get the whole family in on the holiday card action! All you need is a photo-savvy friend to help you capture the holiday spirit.
13. The Early Birds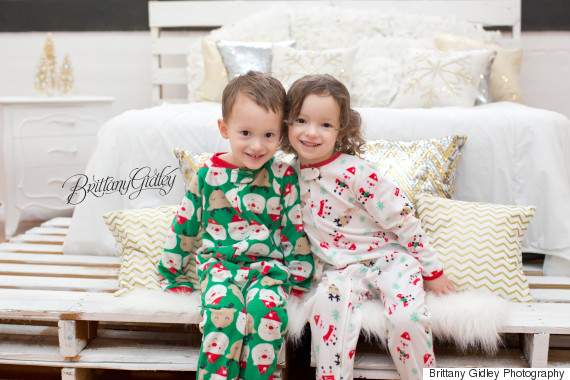 Image: Brittany Gidley Photography
Sometimes all you need for a special holiday season is a smile. Lucky for parents of multiples, they get even more little ones beaming from ear to ear on Christmas morning.
Turn your memories into mementos, and share them with loved ones in your life. No matter what size your family is, Tiny Prints provides the perfect ways to capture precious moments this holiday season. Tiny Prints is your source for modern cards, chic stationery and gifts for all of life's occasions, helping you share moments and milestones with family and friends. Visit TinyPrints.com to see all the ways you can spread cheer this holiday season.
Related