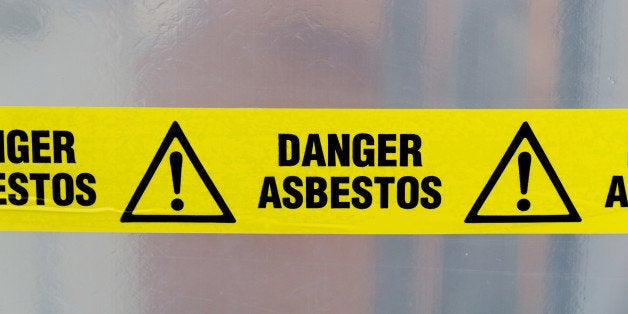 Thirty-one years ago, life was perfect. Alan and I watched the sunset as we finalized our wedding arrangements for April 28th. That night, I smiled as I thought about Alan lifting my wedding veil over my eyes, embracing me, and beginning our new life together.

Our time together was cut grievously short.

Mesothelioma, a preventable asbestos-caused cancer, stole my best friend. Gone forever are his smiles, his "I love yous," and the precious family time we would have had together. I remember like it was yesterday as my then 13-year-old daughter and I held his hands in the hospital as he took his final breath. While memories of our love are eternally etched across my heart, only the sounds of silence echo in our home for the past 10 years.

April 28th is not only my wedding anniversary; it is also International Workers' Memorial Day (IWMD). In 1970, the AFL-CIO declared April 28 "Workers Memorial Day" to honor the hundreds of thousands of working people killed and injured on the job every year.
I did not know it at the time of my wedding, but these days would be forever intertwined for me. Now, as I remember my anniversary, I also join others who have lost a loved one to asbestos diseases in education and action.

Global IWMD efforts are so vitally important. Asbestos remains the number one killer in the workplace today, while mining and use continues.

When you think about workers who have paid the ultimate price for their jobs you may think first about an accident that happens at work and a life lost on a job site. But that is only one side of the coin. A far more pervasive and deadly risk comes from occupational diseases caused by hazardous substances that workers breathe in and carry home on their clothes, endangering the workers and their families.
The leading cause of occupational diseases is exposure to asbestos. According to the World Health Organization (WHO) nearly 125 million people in the world are exposed to asbestos at the workplace and more than 107,000 people die each year from mesothelioma, lung, gastrointestinal, colorectal, laryngeal, and ovarian cancers; as well as non-malignant lung and pleural disorders. Dr. Paul Demers, the Director of the Occupational Cancer Research Centre at Cancer Ontario said "for every case of mesothelioma, there are four cases of other lung cancers caused by asbestos fibres."

The story of asbestos mining and use reads like a Grisham novel, with leading characters, who spent millions of dollars to create doubt, suppress documents, and lobby Congress to reduce financial liability and continue use. The Asbestos Information Association (AIA), played a powerful role of perpetuating this asbestos crisis. An industry spokesperson confessed, asbestos was 'probably the most hazardous industrial material ever unleashed on an unsuspecting world.'" But unlike a best-selling crime novel this story does not have a neat and tidy conclusion.

Since the first IWMD, the United States has used over eight billion metric tons of asbestos and hundreds of thousands of Americans have died from preventable asbestos-caused diseases. In fact, the Environmental Protection Agency (EPA) asbestos ban was overturned in 1991 and asbestos remains legal and lethal in the United States today.

In 2002, Senator Patty Murray, (D-WA), began championing ban asbestos legislation. Congress has come close, but the asbestos profiteers and those defending them, lobby against legislation to end this man-made disaster.

Workers and health and safety professionals are on the frontline of prevention. Repairs, renovations, construction, and disasters can disturb asbestos products and release fibers into the air, creating a carcinogenic dust. Additionally, according to the Occupational Safety and Health Administration (OSHA), "The hazard may occur during manufacturing of asbestos-containing products; performing brake or clutch repairs; renovating or demolishing buildings or ships; or cleanup from those activities; contact with deteriorating asbestos-containing materials and during cleanup after natural disasters."

Work is being done to end this horrific tragedy in our neighbor to north, Canada. Hassan Yussuff, President of the Canadian Labour Congress, took a courageous stand for workers' rights by urging to Canadian government to "quickly pass legislation banning the import and use of materials containing asbestos" especially since "there is no reason for delay".

As Mary Harris "Mother" Jones put it, "Pray for the dead, and fight like hell for the living." On this somber day of remembrance, asbestos victims and trade unions urge lawmakers to ban asbestos and ensure the laws on the books protecting health and safety are strictly enforced.

While my daughter and I will honor Alan's memory on our anniversary, our world is deeply quiet and our hearts our broken. During these years, we have learned many lessons, but most importantly, to recognize the momentous work done by trade unions around the world who fight everyday to protect workers' health and safety. For Alan and the millions of 'Alans', I urge you to take action and send your letter to Congress. Enough is enough.
REAL LIFE. REAL NEWS. REAL VOICES.
Help us tell more of the stories that matter from voices that too often remain unheard.