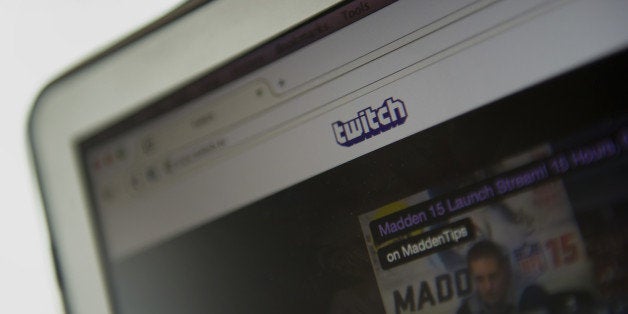 Amazon just spent nearly $1 billion to buy Twitch.tv, the world's most popular game streaming platform. Every day, millions of users tune in to Twitch to watch competitive online games (also known as eSports) played by professional gamers for prize money, sometimes totaling millions of dollars.
These gamers aren't alone. The average American adult spends a whopping 11 hours a day with electronic media, according to a recent Nielsen study. But as we spend more time connecting online and less in person, the question remains: What, if anything, are we losing? Is all this emailing, chatting, texting, gaming, browsing and sharing harming our actual social connections?
Experts say yes, though Twitch enthusiasts may beg to differ. More than half of people using the platform spend at least 20 hours per week watching other people play video games. The platform's main draw, many say, is its devoted community.
The community's thriving social network is at the core of the Twitch experience. People come together to watch gaming events, and spend hours interacting with others via a live chat widget. Serious "Twitchers" also engage by broadcasting their own games on the network -- over 1 million of the site's 55 million users broadcast games from their own homes.
Not everybody gets the appeal, Ben Davis noted in a recent Vulture post. "Livestreamed game broadcasting is not very well understood by the non-gaming public," he wrote. But the phenomenon exists in a larger cultural context. "So much of social life has migrated online already; why wouldn't it be the entertainment that was live and social and digital that feels most vital?" Davis asked.
Still, the migration of social life from offline to online has consequences. When a person spends roughly 20 hours a week (a full half of the average 9-to-5 workweek) engaged in online communities, there's simply less time available for offline interaction. Some experts say these online communities can't fulfill the same needs as real-world ones do, leaving people with more superficial connections than they would have otherwise.
"Intimacy is lost," said Patricia Greenfield, a UCLA psychology professor and the director of the university's Children's Digital Media Center, which studies how young people interact with digital media. "Bonding is lost, and the actual bonding behaviors are lost."
In a 2013 study published in the journal Cyberpsychology, Greenfield and her colleagues looked at two close friends engaged in video chatting, audio chatting and instant messaging. The researchers found that bonding behaviors decreased significantly in all three types of virtual interactions. In particular, a considerably lower level of bonding occurred in instant messaging as compared to in-person interaction.
When people forgo real-life interaction, it's difficult to develop more than a surface-level connection, said John Suler, a professor of psychology in the Science and Technology Department at Rider University.
"Sometimes they can be very superficial relationships because you can't see people, you can't hear them," Suler said. "They may not be revealing very much about their real lifestyle."
Greenfield's research has also shown that young people's social skills may be declining as a result of decreased face-to face interaction. In a recently published study, Greenfield found that 6th-grade children who gave up digital media and technology use for five days were better at reading others' emotions than those who continued their normal technology use.
In that study, Greenfield found that less than a week spent at a science and nature camp without digital devices was sufficient to boost teens' social skills by significantly increasing their ability to correctly identify human emotions.
"We are social creatures," Greenfield's colleague and lead study author, Yalda Uhls, said. "We need device-free time."
We want to know what you think: Do online social activities like watching others play video games satisfy a need for community, or are they an inadequate substitute for real human interaction? Share your thoughts in the comments below.
Popular in the Community