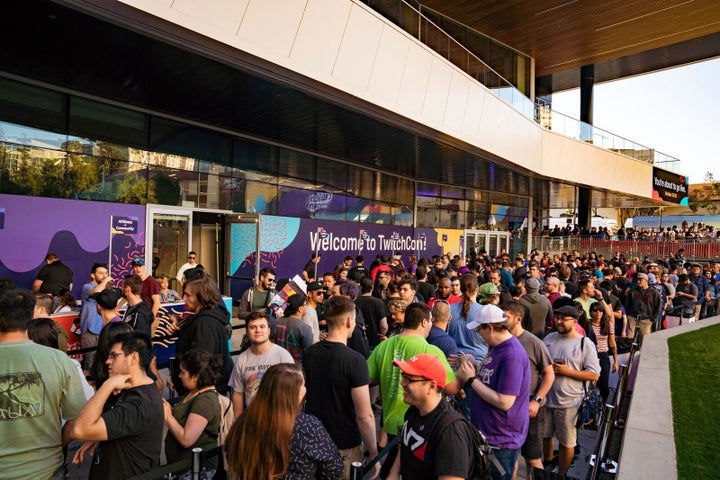 SAN JOSE, Calif. ― Annual live-streaming convention TwitchCon is underway here this weekend, drawing in tens of thousands of gamers from around the world. It follows a deadly shooting at a similar event in late August, leaving many Twitch users anxious about attending the convention and disturbed by what some called "lax" security measures there.
Chad Zinger and his wife drove 27 hours from their home in Edmonton, Alberta, to attend TwitchCon this year. After spending about four hours in line to get their entrance badges on Friday, they were shocked that getting through security took "less than a minute."
"[Security staff] didn't even ask us to take off our bags or set them on the table, they just waved us through," said 32-year-old Zinger. He said he went in and out of the venue several times over the weekend, and to his surprise, the vape and large batteries in his bag set off a metal detector only at the venue's smaller side entrance, but not when he entered through the main doors. "It makes me extremely uncomfortable, considering what happened in August," he said.
Zinger and other attendees told HuffPost they felt TwitchCon organizers had decreased security measures to expedite the entry process. The line to enter the venue on Friday, the first day of the convention, wrapped around the San Jose McEnery Convention Center and down an alleyway, causing many attendees to miss the panels they'd traveled to see and prompting Twitch to send an apology email later that evening.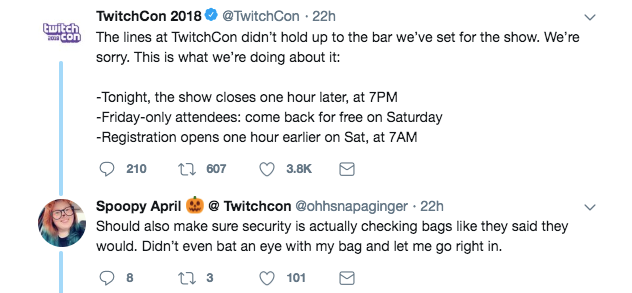 On Saturday morning, less than two hours after a mass shooting claimed at least 11 lives in Pittsburgh, Pennsylvania, a HuffPost reporter passed through TwitchCon security without undergoing a bag check or putting her bag through a metal detector. Twitch streamer Keith Isaia said he had a similar experience on Friday when he set his bag down at the security table, walked through a metal detector without it, and a security guard returned his bag to him without opening it.
"I told [the security guard], 'You didn't look in my bag,' and she said, 'We're not supposed to,'" according to Isaia, who said he then requested to speak to a manager. "After I explained the situation, [the manager] said they're doing the best that they can," he said. "Another guard came over and basically shooed us in. I reminded him then that someone still had not looked inside my bag. The initial guard picked up my bag, set it back down, and said 'It's fine. We're just checking it for weight.'" HuffPost did not witness the interaction Isaia described.
A San Jose police officer told HuffPost that around 240 people, including 40 police officers, were securing the venue on Saturday. Twitch said it could not confirm the number of security staff at the convention, but emphasized that there is a heightened security presence compared to previous conventions.
In an emailed statement on Sunday, Twitch said it had shared "the reported attendee experiences" with convention security staff, and reiterated safety procedures.
"The security of our attendees is our top priority," a Twitch spokesperson said. "All bags are required to be checked."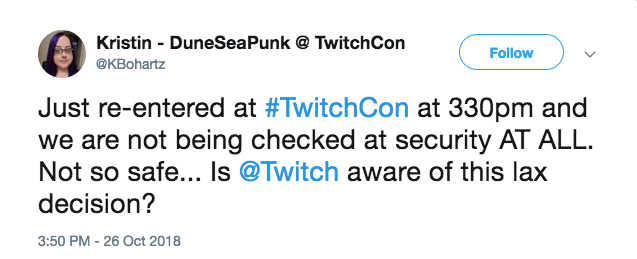 At the Madden video game tournament in Jacksonville, Florida, on Aug. 26, a gunman opened fire on gaming competitors, killing three people and injuring 11 others. At least one survivor from the incident, which was captured on a Twitch livestream, has filed a negligent security lawsuit.
Just weeks after the Jacksonville shooting, prominent streamer Herschel "Guy" Beahm, known on Twitch as Dr DisRespect, was reportedly the target of two drive-by shootings while live-streaming in his home. Twitch responded to subsequent calls for enhanced security at TwitchCon by issuing a press release promising stringent safety measures including banning backpacks and doing on-site bag checks. That "simply didn't happen," according to 30-year-old Cody Melcher.
"[Twitch] sent out an email promising heightened security, but we just walked right through security without even opening our bags," said Melcher, who waited in line with his friends to pick up their entrance badges for more than four hours on Friday. "My friends and I were blown away. It seems like they were prioritizing speed over security."

For some Twitch users, going to TwitchCon felt like too great a risk to take this year. Shortly after the reported attacks against Dr DisRespect, a popular streamer known on the platform as "Ellohime" announced he was uneasy about attending TwitchCon out of fear for his safety. "[I] don't feel safe in America," Ellohime tweeted at the time. He is not at TwitchCon.
Several streamers on Twitch and other platforms have, in recent years, been victims of doxing and swatting, meaning anonymous trolls have posted their private information ― often including addresses and phone numbers ― online, or sent police officers to the location they're live-streaming from. Doxing and swatting are sometimes done as pranks, but the consequences can be fatal. In December 2017, a police officer shot and killed 28-year-old Andrew Finch, who was reportedly the target of a Twitch user's swatting attack.
"I've had all my private information released publicly," said Isaia. "Live-streaming can put you in a vulnerable position if you aren't careful. Similar to this event, with not having all the bags checked, it could go badly quickly."
This story has been updated with a response from Twitch.
Popular in the Community