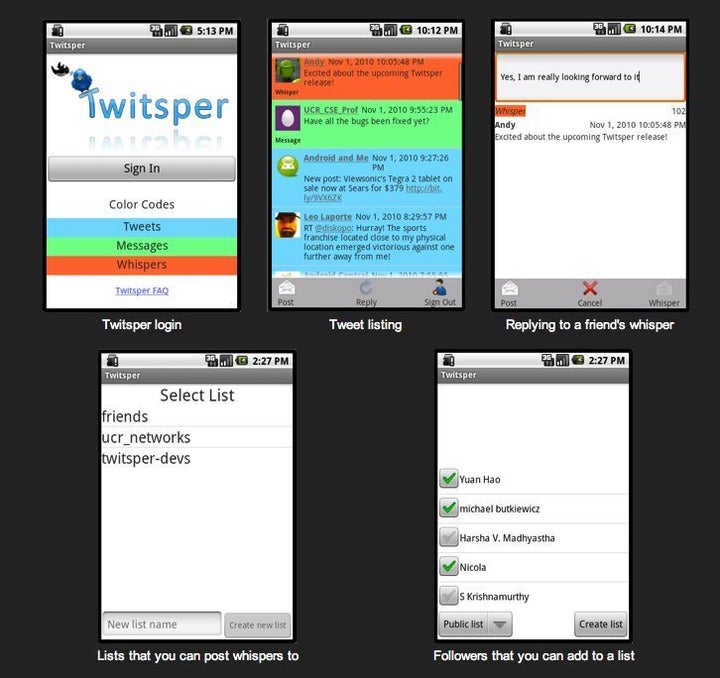 For those who use Twitter, ever think to yourself I only want this tweet visible to a small group of people? I just want this subset of followers to see it? Sounds like a dream, right?
Beyond tagging multiple people through the 1-to-1 @ mention system, there's no way to do that right now. But it could soon be a reality.
If Twitter itself doesn't create this feature, a group of academics in southern California is already on it.
Guided by professors at University of California-Riverside, computer science and engineering PhD students Indrajeet Singh (@itsInder) and Michael Butkiewicz (@mikebutki) built Twitsper for private group tweeting.
The open-source app is only available to Android mobile phone users at the moment, but that is set to change.
"Over the next few months, we plan to port our implementation for use on other mobile phones, on desktops, and from the web," Harsha Madhyastha, one of two professors overseeing the project, tells The Huffington Post.
"Our current release is intended to demonstrate that it is possible to have private communication on Twitter with groups of people, something which is impossible given the current state-of-the-art," he added.
Currently, Twitter users can only set all of their tweets to private or all of them to public (the default). There's no middle ground.
But Twitsper drastically changes the Twitter experience.
You can say, hey, I only want my closest friends to see this tweet. And this one's about sports, so I only want my sports buddies to see that one. And this tweet is a work-related inside joke, so I only want my work colleagues to see it.
You do this on Twitsper through pre-set lists. The creator and others on the list have the ability to send tweets back and forth that only they can see by using the app, which the developers hope will one day be integrated into Twitter itself.
Currently, while Twitter has list support, there is no way to tweet only to those people at once. It has become a dilemma of sorts for those who want to tweet about varied interests, as a strong, focused voice is one of the best ways to build a following.
By nature, humans are three-dimensional beings with multi-faceted lives and many interests. Sometimes you want to share everything, but if you actually do, it does more harm than good.
Some have combated the problem by creating a second account, whether one for business and one for personal, or just for a second persona in general.
There's no such problem for those who use Twitsper, created with privacy in mind first and foremost and allowing you to divvy up different parts of your life.
"We believe that the right level of privacy differs from one person to another," Singh said. "The best person to choose this balance is the end user. We provide them with a convenient tool to do so, without breaking the pre-existing system."
The concept of groups on Twitter could bring subsets of people closer together and lend well to real-time chats. However, if it becomes the preferred method of tweeting, it could also drastically change the way Twitter is used, perhaps decreasing opportunities for discovery. That said, it also cuts down on noise.
Ultimately, such a feature sounds like one thing: a major win for the user.
It's not a dream after all. This type of technology isn't so far away.
Twitter did not immediately respond to a request for comment on the concept of group tweeting.
UPDATE (11/20/10): Twitter user Kevin Sablan (@ksablan) discovered Twitsper works by sending direct messages to a group of people on a list. He later issued this tweet: "my apologies to all who just got a dm from me. I didn't realize twitsper was sending mass direct messages."
GigaOm senior writer Mathew Ingram (@mathewi) retweeted Sablan and added, "this is very bad."
Harsha Madhyastha, one of the four working on Twitsper, responds to concerns about how the app works in our comments:
As we mention up front in our FAQ (http://twitsper.cs.u cr.edu/faq.html#q4), a whisper to a list works by sending a DM to each person on the list. This automatically has the consequences:
1. Sending a whisper to multiple people does not use up characters.
2. Just like DMs, for A to send a DM to B, B must be following A.
3. When B responds with a whisper, his/her response is not public.

I completely understand that some people may be initially spooked at the thought that when they send a whisper, their friends on the list each gets a DM, but this is the only way to implement "private group tweeting" without creating a completely new social network or without requiring everyone to use Twitsper.
LOOK: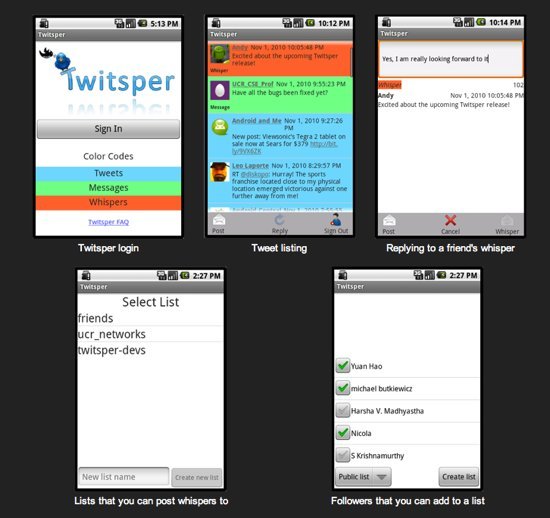 Similar to Twitter client Twimbow, Twitsper filters tweets through color coding. Twitsper sets itself apart by letting users keep these color-coded group conversations private.
Follow the author of this post on Twitter: @ckanal.
Related
Popular in the Community