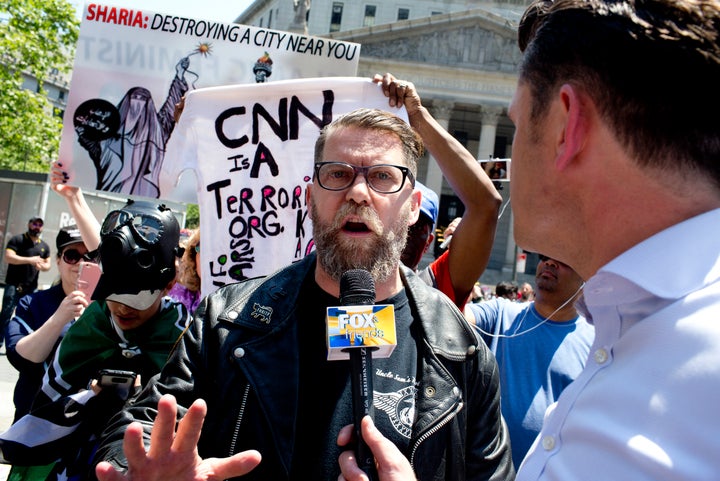 Twitter won't ban far-right conspiracy theorist Alex Jones, but it is going after another group of extremists for its hate speech: Proud Boys.
The company on Friday suspended both the group's main account, @ProudBoysUSA, and the group's founder Gavin McInnes, a co-founder of Vice Media, from its platform and its video-streaming network Periscope. Other Proud Boys-affiliated accounts were also suspended, including the group's regional accounts for California, Georgia and Washington, D.C.
A spokesperson for Twitter confirmed to BuzzFeed that the accounts were suspended for "violating our policy prohibiting violent extremist groups."
The Twitter ousting comes days before the white supremacist Unite the Right 2 rally on Sunday. The demonstration marks the anniversary of the deadly demonstration held in Charlottesville, Virginia, last year. Heather Heyer, 32, died during that rally when a man rammed his car into a group of counterprotesters.
McInnes, who left Vice in 2008, founded the Proud Boys, a far-right group that describes itself as "Western chauvinists," two years ago.
Since then, many of the group's members have shown up at far-right rallies ― including the Portland, Oregon, rally earlier this month and the original Charlottesville conflict ― bringing with them aggression, Fred Perry polo shirts, helmets and body armor.
While Proud Boys attend far-right rallies also frequented by white supremacists and neo-Nazis, McInnes has tried to differentiate between his group and others on the far right. He has disavowed the Charlottesville rally and other groups considered part of the "alt-right" movement.
The Southern Poverty Law Center has designated Proud Boys as a hate group.
Jones took to Twitter on Friday to express his outrage over the Proud Boys ban, calling it "discriminatory" and "election-meddling."
Dorsey defended his decision by arguing that Jones hadn't violated any of Twitters' policies.
Popular in the Community