With #OddCelebrityBeefs trending on Twitter, encouraging users to suggest unusual, fictional feuds between celebrities, one apparently real -- and admittedly bizarre -- "beef" played out as well. Apprently all is not well between out YouTube sensation Adam Barta and Honey Boo Boo's "Uncle Poodle"!
Though Barta has worked with Margaret Cho and Lisa Lampanelli, scored a Top 20 Billboard Dance hit with disco legend Kathy Sledge and written outrageously bad music for Nadya "Octomom" Suleman and Tan Mom, he admits the former Here Comes Honey Boo Boo cast member is definitely not a fan. In fact, the singer contends his collaboration with the show's child star was crucified on her gay uncle's Facebook page.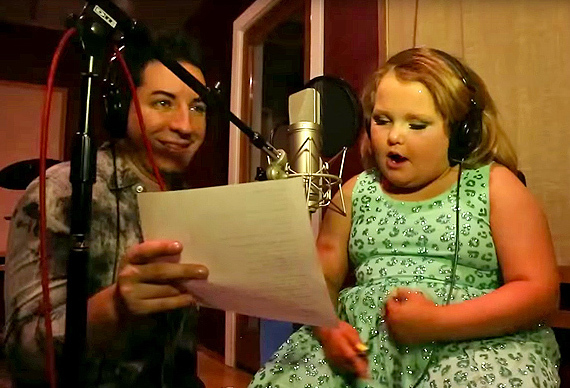 Singer Adam Barta Recording with Honey Boo Boo
"He hates me!" said the out internet sensation of Lee Thompson, known as "Uncle Poodle" on the long-since-canceled TLC series Here Comes Honey Boo Boo.
In September 2015, Alana "Honey Boo Boo" Thompson released a music video for "Movin' Up." Dubbed "The Honey Boo Boo Bop," the track features vocals by Alana's older sister Lauryn "Pumpkin" Shannon and Barta, who also wrote it. In a recent interview talking about the project, which has in excess of 3 million YouTube views, Barta confessed he was taken aback by a Facebook post from the young sensation's "Uncle Poodle."
The songwriter went on to describe a Facebook post in which Uncle Poodle -- whose sexuality Honey Boo Boo once infamously defended on the series -- expressed displeasure about Barta working with his niece. According to the singer, "He was telling people I'm a porn star or hooker or some nonsense."
WATCH: "Movin' Up (The Honey Boo Boo Bop)" by Alana Thompson

Though Barta's never engaged in either, it's possible Uncle Poodle was referencing the singer's association with Suleman. After rising to fame as a single mother of 14 (including a set of octuplets spawned through IVF), Suleman starred in the pornographic film Octomom Home Alone, took work as an exotic dancer and released the TMZ-lampooned single "Sexy Party" with Barta.
Whatever the source of his displeasure, Thompson's original Facebook post blasting Barta appears to be gone as of this writing. However, a Twitter exchange between Uncle Poodle, Barta and Party Foul Radio seemingly substantiates the bad blood.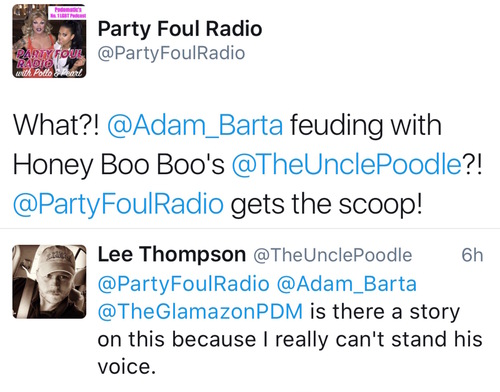 "Is there a story on this because I really can't stand his voice," was @TheUnclePoodle's response to tweets suggesting "a feud" between the two.
The interaction thawed slightly when Uncle Poodle conceded that -- though he really does hate Barta's voice -- that doesn't mean the singer isn't an "OK person." Oh, and he also appreciates the New Yorker's apparent affection for his young niece. However, the icy tone returned when told Barta was confused by Poodle's resistance his work with Honey Boo Boo.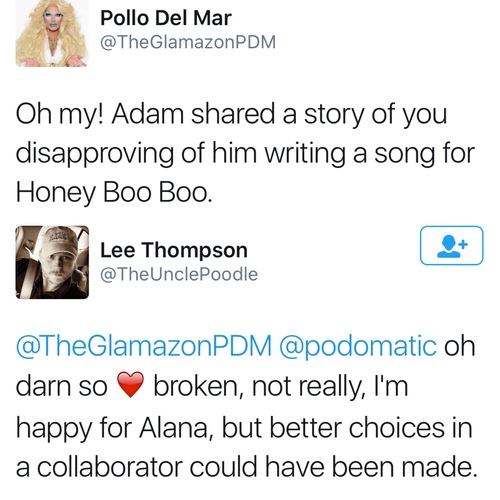 "Oh darn so [heart] broken, not really, I'm happy for Alana, but better choices in a collaborator could have been made," Poodle tweeted.
Honestly, one would think Barta working with the child might be the least of Poodle's concerns for the Thompson/Shannon family. In 2014, TLC unceremoniously cancelled Here Comes Honey Boo Boo before the start of its un-aired fourth season amidst allegations "Mama June" was dating a registered sex offender.
Since that time, tabloids have continued to have a field day with the family. Mama June and "Sugar Bear" were offered (and declined) $1 million to film a BBW porn for Vivid Entertainment. Then on an episode of Inside Edition, Pumpkin came out as bisexual, accidentally outing Mama June as also bisexual in the process.


Uncle Poodle's own tweets suggested other, more current struggles for the family. "I miss Alana. Her mother doesn't even let her father see her either," he stated. (Ooh, now that's juicy!) Perhaps he will give more details if he accepts the open invitation from Party Foul Radio to discuss the matter with Barta and more.
Either way, despite the barrage of Twitter insults and back-handed compliments, Barta mostly chose the high road. Still, the singer seemingly couldn't resist one slight, self-promotional dig at the frazzled Poodle's dislike for his voice.
"Fair enough. I won't ask you to download my forthcoming EP then," Barta stated, then closed with the one thing both men can seemingly agree upon: "I adore Alana."
Listen to the Entire Adam Barta 'Party Foul Radio' Interview Here.

REAL LIFE. REAL NEWS. REAL VOICES.
Help us tell more of the stories that matter from voices that too often remain unheard.