As we've seen in other quick-breaking stories and tragedies, Twitter (and various Web sites plus Facebook) once again on Tuesday night proved to be a "hard news" godsend, with tweeters in Haiti supplying countless eyewitness accounts, images and video, ahead of most network and cable news.
Many of the early images came from Twitter, although some were later distributed by AP and Getty and carried those news service credits.
Here's a good wrapup of the Web coverage carrying the day with the apt title "Wired for Disaster."
As phone lines went down and darkness fell over Haiti, the full impact of today's massive earthquake was difficult to know. But like many recent natural disasters and emergencies, the extent of the chaos in the impoverished Caribbean island emerged quickly online.

Graphic pictures of Haitians covered in rubble, bleeding and in shock, purportedly taken soon after the quake bounced around Twitter, even ahead of anything similar coming via news wire services.
A report on Mashable added:
Photos taken by journalist @CarelPedre on his mobile phone are providing a glimpse into the devastation that has slammed the Caribbean nation. Another Twitter user, @MarvinAdy, shared those pictures through TwitPic, resulting in tens of thousands of view and countless retweets.
Several key sites provided ongoing feeds, with a good deal of video. Countless updates from the scene appeared via Facebook.
One of the most wrenching early shots came from "Morel" @morelphoto on Twitter, reminding me of so many photos from Hiroshima and Nagasaki.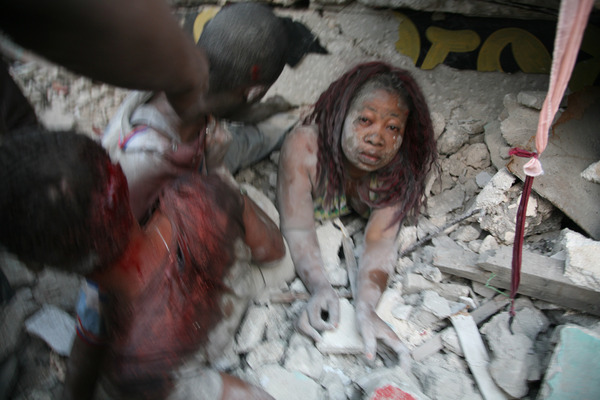 *
Greg Mitchell is editor of Editor & Publisher and author of most recently of "Why Obama Won." He blogs here.

Related
Popular in the Community