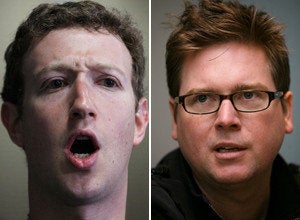 While on the show, Stone also shared some anecdotes about life in Silicon Valley, what people shouldn't tweet, and an awkward meeting he and Evan Williams, Twitter's former CEO, had with Facebook CEO Mark Zuckerberg.
The rendez-vous was the one at which Zuckerberg discussed his interest in acquiring Twitter (Twitter ultimately chose not to sell to Facebook and remains an independent company). According to what Stone shared with Sagal on NPR, Zuckerberg didn't exactly "get" Stone's sense of humor.
Mr. STONE: That wasn't even the worst moment. The worst moment was he was like hey, do you guys want to go have lunch at our cafeteria. So we had to wait on this huge line for lunch. Evan was like aren't you the boss? Can't you like kind of cut the line a little bit here?

Mr. STONE: And he's like that's not how we do things here.

Mr. STONE: And that's when I said, oh my gosh, Evan, we have that thing.

SAGAL: Really? [...]

Mr. STONE: We don't like to be queued up.
Stone previously shared details on the now-notorious acquisition conversation he had with Zuckerberg during an interview with Howard Stern. "It was fun, but it was also awkward," Stone told Stern. "I was making all these jokes, and they were just dying."
Asked by the Associated Press whether Twitter's "early days" would be movie material, à la "The Social Network," Stone replied, "If they make anything, I think it should be a really bad sitcom on the CW. I don't think it's movie material. I think it's more like a good half hour, soap operatic sort of thing. It would probably get canceled after three episodes."
Calling all HuffPost superfans!
Sign up for membership to become a founding member and help shape HuffPost's next chapter