Just when everyone had almost gotten over Prince Harry's nude photo debacle, another "royal scandal" emerges -- the French edition of Closer magazine has published pictures of Kate MIddleton sunbathing topless. The images were taken last week when the Duke and Duchess of Cambridge were vacationing at a private home in Provence, where the grounds are apparently visible from a public road.
In respons, hundreds of Twitter users have expressed outrage at the magazine's disregard for the young couple's privacy and the intrusive nature of the long-lens photographs. Some have even called for a boycott of Closer, provoking its editor Laurence Pieau to defend the decision to publish the pictures. He said, "These photos are not in the least shocking. They show a young woman sunbathing topless, like the millions of women you see on beaches."
A statement released by St. James' Palace said that the couple had every expectation of privacy at their holiday home, and expressed disgust at the magazine's actions: "The incident is reminiscent of the worst excesses of the press and paparazzi during the life of Diana, Princess of Wales, and all the more upsetting to The Duke and Duchess for being so."
In a show of support for Kate Middleton, numerous Twitter users have started to circulate their own "topless photos" of the Duchess -- images of a fully-clothed Kate cropped at the upper body. We've collected some of the best tweets and images below.
What do you think of this new meme? Tweet us @HuffPostWomen using #ToplessKateMeme, or email your own versions of the meme to women@huffingtonpost.com!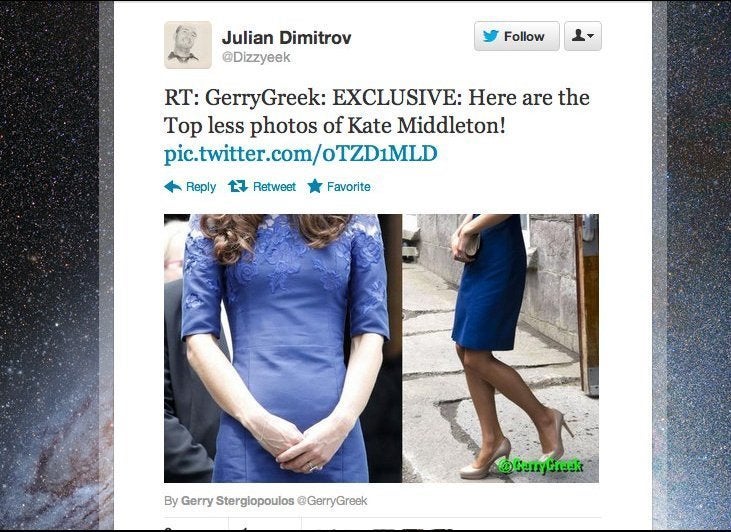 Twitter's Version Of 'Topless' Kate Middleton