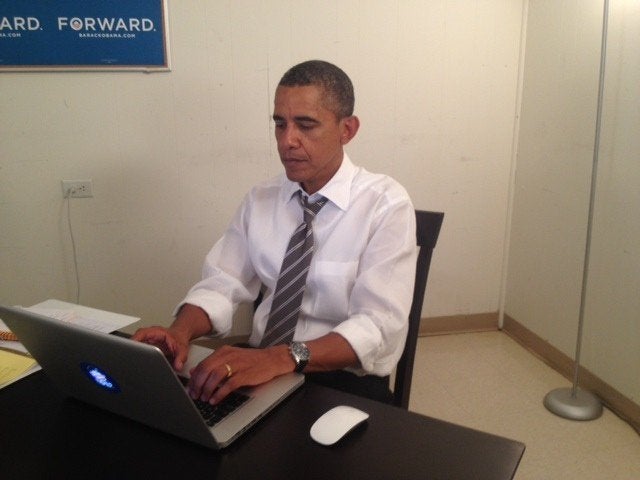 In a reassuring report that proved young people stuck around after the VMAs, President Obama's speech last week at the DNC produced a record of 52,757 tweets a minute on Twitter. The week before, Governor Romney's speech sparked 14,239 tweets a minute. The disparity could be explained a few different ways -- Romney's voters are most likely older while Obama's base is younger and grew up technologically literate, Romney's speech was very similar to his past stump speeches and there was nothing new to tweet about, Romney is really a goof and Obama is far more cool, take your pick.
But setting aside the disparity between these figures, what these numbers mean is that people are watching television differently, and mobile social technology is growing in importance in current events. Rather than waiting to talk around the water cooler the next day, people are picking up their phones and crowding around the virtual water coolers of Twitter and Facebook to talk about it now.
I'm not pointing this out to say that people tweeting are important to politics. I point it out to show how Twitter and Facebook are important as not only social networking sites, but as powerful and influential mobile platforms -- platforms that progressives and Democrats should be seriously looking at as more than just tools for feedback and praise.
Twitter users are more likely than not to be using the site on a mobile device rather than a traditional computer, and Twitter has been proven to drive more sales than Facebook.
This means that to be successful, progressive politicians and advertisers should tailor their message to fit a smartphone app -- what looks good on a computer might not necessarily look good on a phone. And with 25 percent of Internet users relying on smart phones and other mobile devices like tablets and mp3 players rather than computers or laptops, an ad being unappealing on an app mobile platform is, as Biden would term, a BFD.
This visual breakdown of the applications is purely opinion, but the format of the mobile apps for both Twitter and Facebook may be to blame for this disparity in sales. On an iPhone, the mobile Facebook app looks (more or less) like this: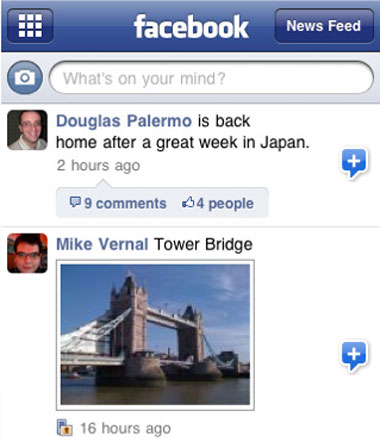 On the app, each message is a small box, within a list of larger boxes, with a toolbar and a sidebar and, yes, more boxes. There's buttons to swap to your friends list, to your news feed, to your events, and to your personal messages. It's a lot happening on a 3.5-inch screen. As the photo shows, advertisements tend to be smaller than status updates, making them difficult to see -- and if you can't see an ad, it's not effective.
The Twitter app is less busy, and looks like this: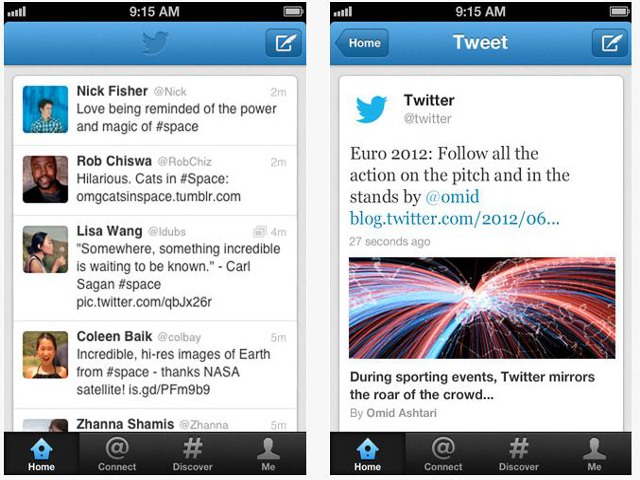 The Twitter app format is really just a list of statuses with links to photos. When you click on the link, the application takes you to a separate screen to see a preview the link or photo it's talking about. This is great for advertisers because the 140-character limit already marries well with short, punchy slogans, and gives you the option of linking to your product site or photo.
I think the key with this one is how easy news and advertisements are to share. On Twitter, you can slide your finger over any given message and hit the "Retweet" button, whereas on Facebook's application, the share button is harder to find. It allows ads and tweets to go viral so much more quickly than on the Facebook mobile app, which makes it attractive to advertisers; essentially, people who like your ad will spread it for you.
It's only a shame so few people use Google+, because in addition to making sharing and commenting easy, the mobile app is visually stunning.
This "viral" element and the ease of sharing is the new way of spreading a message in politics. And the immediacy of social media, coupled with the immediacy of news media, makes social media platforms the perfect venues for a campaign to virtually reach out to voters. With the GOP outspending the Democratic Party by tens of millions of dollars, this viral, user-driven spread of campaign advertisements is cost effective and more interactive than traditional advertising.
By its mobile nature, this strategy targets the millenial generation of voters -- the recently registered first-time voters who live on their cell phones. The voters who are most likely to be helped by Democrats' plans for more Pell Grant funding, student loan reforms, protection of contraceptive rights and health care programs.
More than that, this smartphone-based campaign tactic offers more than the "viral" factor -- they offer progressives a wider socioeconomic base of people looking at their advertisements and campaign material. According to a study by the Pew Research group, more low-income Internet users are purchasing smartphones rather than computers and using them to connect online -- rather than paying for a computer and an Internet bill every month, they simply have to pay a phone bill. And in an election so laser-focused on the economy, welfare and health care, aren't these the very voters that Obama and progressives are trying to reach?
Popular in the Community