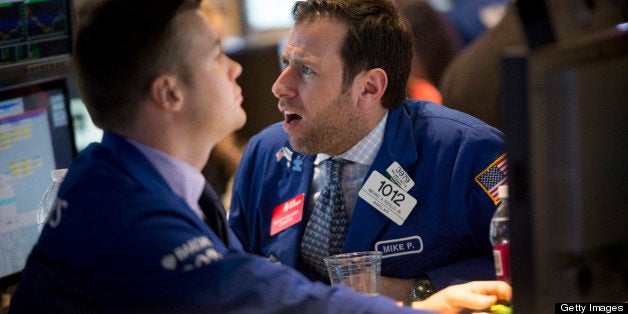 Twitter may have caused a flash crash, but the problem is not Twitter's. Any market so vulnerable to an errant tweet probably has bigger problems.
But the fact that such a thing could happen should maybe lead to a little more soul-searching than that. Markets have been swayed by rumors for decades, even before the advent of Twitter. But those rumors didn't always carve deep, nasty gouges into the charts like the one you saw on Tuesday (as evidenced by the tweet below). Making the AP's Twitter password more secure isn't going to solve anything as long as the market is vulnerable to such freak-outs from other sources.
Such crashes are made worse these days by the predominance of high-frequency trading, which makes up more than half of all stock trading. This includes algorithms that read headlines on Twitter and other news sources and trade immediately based on certain words.
"You're not going to have a market crash without the machines being deeply involved," said Joseph Saluzzi, co-founder of Themis Trading, a stock brokerage firm in Chatham, N.J.
Fans of flash-trading robots say they make the market more "liquid," meaning stocks trade more easily. But they can also make liquidity vanish in an instant, making it harder for the few remaining human beings in the stock market to keep order when things go haywire, as happened on Tuesday. Or in May 2010. Or on the day of the Facebook IPO.
In fact, mini-flash crashes happen all of the time now. Just Monday shares of Google collapsed briefly in a barely noticed flash crash of one of the country's biggest and most important companies.
"Funny how two years ago this would have been a big issue. Now the market has almost become complacent of these errors," Larry Peruzzi, senior equity trader at Cabrera Capital Markets LLC in Boston, told Bloomberg about the Google crash.
The same could be said about the Twitter Jitter, or whatever it is we're going to call Tuesday's flash crash -- if it's even worth taking the time to name. It's already nearly forgotten. You could say that this is a sign that high-frequency trading -- and the flash crashes that come with it -- aren't really such bad things. But these events are steadily chipping away at investor confidence in the markets. And the next crash might not be so easily shaken off.
"It'll happen again," Saluzzi said. "It's a matter of when."
Support HuffPost
The Stakes Have Never Been Higher
Related
Before You Go

26 Economists You Should Be Following On Twitter
Popular in the Community