Hackers gained access to many high-profile Twitter accounts on Wednesday and posted tweets in support of Turkish President Recep Tayyip Erdogan.
Amnesty International, BBC North America, Duke University, Forbes, PBS Food, U-Haul and UNICEF USA were among the verified accounts affected by the hack.
The cyberattack appeared to involve accessing the accounts and posting swastikas, comments in support of Erdogan and the hashtags #Nazialmanya (Nazi Germany) and #Nazihollanda (Nazi Holland). The tweets, which were written in Turkish, also included a link to a YouTube video featuring clips of Erdogan.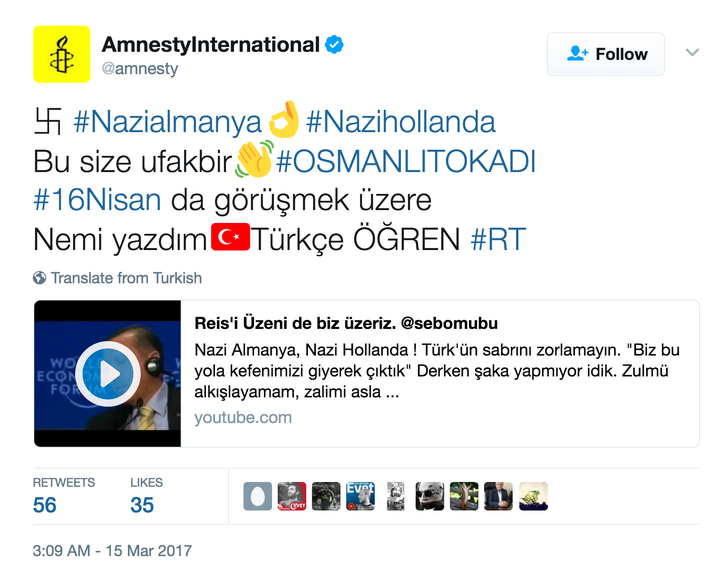 Amid an escalating row over Turkish officials' access to the Netherlands.
Erdogan has suspended high-level diplomatic ties and refused to allow the Dutch ambassador to Ankara to return to Turkey, CNN reported.
According to Reuters, several of the hacked tweets mentioned the phrase "See you on April 16," which is an apparent reference to the date of Turkey's referendum to grant more powers to Erdogan.
At the time of this writing, it's not known who was behind the hack; however, the hackers may have used the third party service Twitter Counter to access the accounts. The company updated customers about the issue early this morning:
On Wednesday morning, UNICEF USA issued a statement in response to the attack:
"We can confirm that our Twitter account was hacked. UNICEF USA is deeply concerned that our social media platforms would be used to promote hate speech. The offensive tweet has been removed. We are investigating the matter and working to ensure it does not happen again."
Related
Popular in the Community