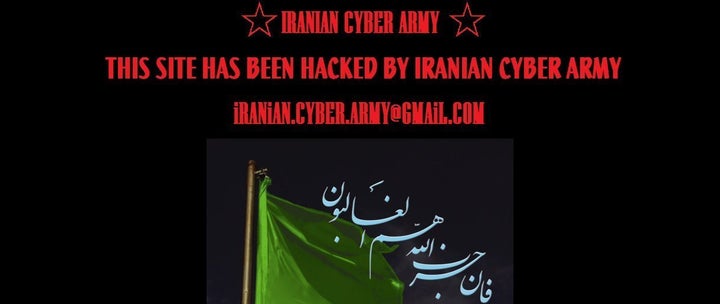 Twitter's DNS records were temporarily compromised but have now been fixed. We are looking into the underlying cause and will update with more information soon.
Tech Crunch also reports that for a period of time following the hack, a Google search for "Twitter" turned up a message in Farsi below the link:
The translation from Farsi/Persian reads: "In the name of God, As an Iranian this is a reaction to Twitter's interference sly which was U.S. authorities ordered in the internal affairs of my country…"
See the screenshot below: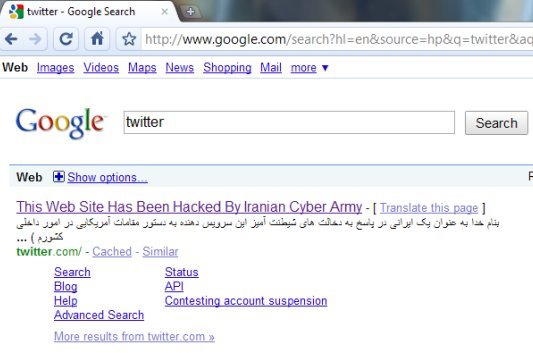 Twitter was hacked early Friday morning. Visitors to its homepage and domain saw a message from a group calling itself the "Iranian Cyber Army":

THIS SITE HAS BEEN HACKED BY IRANIAN CYBER ARMY

iRANiAN.CYBER.ARMY@GMAIL.COM

U.S.A. Think They Controlling And Managing Internet By Their Access, But THey Don't, We Control And Manage Internet By Our Power, So Do Not Try To Stimulation Iranian Peoples To....

NOW WHICH COUNTRY IN EMBARGO LIST? IRAN? USA?
WE PUSH THEM IN EMBARGO LIST ;)
Take Care.

It's not clear who the Iranian Cyber Army is, or if the group is actually responsible for sabotaging Twitter. During the unrest that followed Iran's elections this past summer, people in Iran and around the world used Twitter to organize opposition protests and inspire dissent. At the U.S. State Department's request, Twitter even rescheduled an upgrade to minimize any problems for users in Tehran.
Twitter sent out a tweet at about 2:36 a.m. ET, acknowledging that the site's DNS records were temporarily compromised. It said that the problem was resolved and in a blog post that followed, explained that the site was "redirected for awhile," but that "API and platform applications were working."
Tech Crunch found a second web site that was compromised: mawjcamp.org. As of 3:23 a.m. Friday, the same message that visitors saw on Twitter's homepage was still posted to mawjcamp.org's page.
Related
Popular in the Community