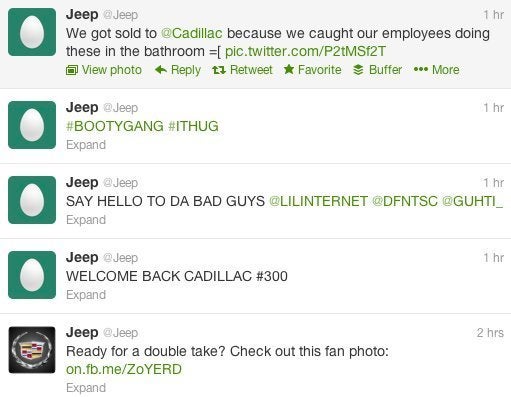 Twitter has had its fair share of security issues. On Feb. 1, it announced in a blog post that user information may have been compromised for 250,000 users and it was resetting all of those passwords.
Today, it happened again. This time @Jeep was the high-profile, verified Twitter account targeted. It was taken over, inappropriate messages were posted, and it said it was sold to Cadillac. The brand said it quickly became aware of the issue and was working to resolve it.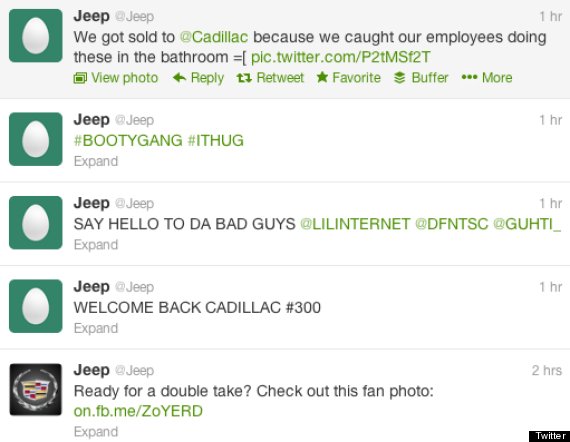 It is unclear if the two incidents are related, but they may be. Messages during the hackings were similar in nature. If another high-profile account is taken over tomorrow, three days in a row, we'll know something is really up.
Some have called for two-step authentication as a way to prevent such attacks. Google and Facebook already offers that feature. (I use it. It's great.) In addition to a password, it requires an additional code be entered to gain access to an account, sent directly to a device in your possession like your mobile phone.
Among those who are chatting about two-step authentication is Reuters Social Media Editor Anthony De Rosa, who tweeted:
It's not a new suggestion. After suffering from phishing attempts, Mike Loukides wrote for O'Reilly Radar in September, "There's a real moral to the story. What if Twitter, like Google and Facebook (and unlike Apple or Amazon) supported two-factor authentication? We'd have a much different picture."
Regardless of the solution, Twitter has to take action and release a statement on the recent hackings soon. Especially before a third high-profile hacking takes place and further psychologically impacts users already nervous about the prospect.
Twitter is not alone in suffering from hackings, but given the focus of real-time publishing on the site and the fact there are prominent accounts with large followings, time is sensitive on this matter.
Related
Popular in the Community