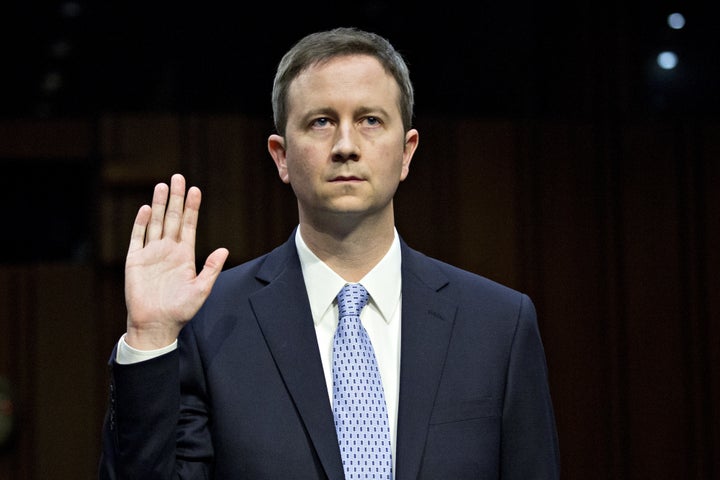 WASHINGTON ― For almost two years, @TEN_GOP masqueraded as the "Unofficial Twitter account of Tennessee Republicans," but in truth it was part of a Kremlin-directed influence operation. Its contents were the stuff of far-right fever dreams. The account hyped Donald Trump and savaged Hillary Clinton while serving up a slurry of racism, Islamophobia and "fake news" to its 136,000 followers. @TEN_GOP attacked mainstream media outlets, demonized anti-fascists and Black Lives Matter activists and insisted Russian meddling in the election was a conspiracy theory.
@TEN_GOP also actively promoted the Trump presidential campaign and was retweeted several times by figures such as Donald Trump Jr. and Sebastian Gorka ― the first evidence that Trump campaign staffers, wittingly or not, assisted Russia's online active measures. The account was even more popular among far-right American propagandists such as Jack Posobiec and Mike Cernovich, both of whom frequently retweeted @TEN_GOP and were in turn retweeted heavily by the account.
Two weeks ago, a Russian news outlet revealed that @TEN_GOP was part of the Internet Research Agency, a troll farm in St. Petersburg that runs online influence operations for the Russian government. The Daily Beast later confirmed the connection. @TEN_GOP operated from Nov. 19, 2015, to Aug. 23 of this year, when Twitter finally shut it down, having ignored multiple previous requests from the actual Tennessee Republican Party to suspend the account.
"You had the president's communications director retweeting this account, Kellyanne Conway. You had the president's son Donald Trump Jr. retweeting this account," Sen. Mark Warner (D-Va.) said during a Senate Intelligence Committee hearing Wednesday morning, upbraiding Twitter's acting general counsel, Sean Edgett. "My question is: Why did it take so long to take this down when the Tennessee Republican Party was asking you repeatedly?"
Edgett didn't have a good answer. Executives from Twitter and other social media platforms are testifying before Congress this week about how Russia used their companies' services to help influence last year's presidential election for Donald Trump, and the smart money says they won't have a lot of good answers.
"That was an absolute miss," Edgett told Warner. "And we've gotten better since. We've refined our policies around impersonation and parody."
But @TEN_GOP should've popped a red flag months ago. In March, I came across it on a list on Reddit of suspected Russian accounts. I shared the list with Susan Bourbaki Anthony, or SBA, a team of data scientists with whom I collaborate to track the spread of propaganda on Twitter. The team began gathering data on @TEN_GOP. While we hardly have everything the Russian account posted, our data collection does include 5,140 direct tweets going back to Dec. 1, 2016, along with several earlier retweets of @TEN_GOP by other "nodes" in our network.
The tweets are revealing, not just for their content but also for how they were shared, how often and by whom. SBA examined 27 significant nodes connected to @TEN_GOP that range from members of Trump's inner circle, to media sources and personalities, to political operatives. These nodes are just a fraction of the number connected to @TEN_GOP. And the number of times they retweeted the account or were retweeted by it represent the lowest possible count ― just what we had in our data collection.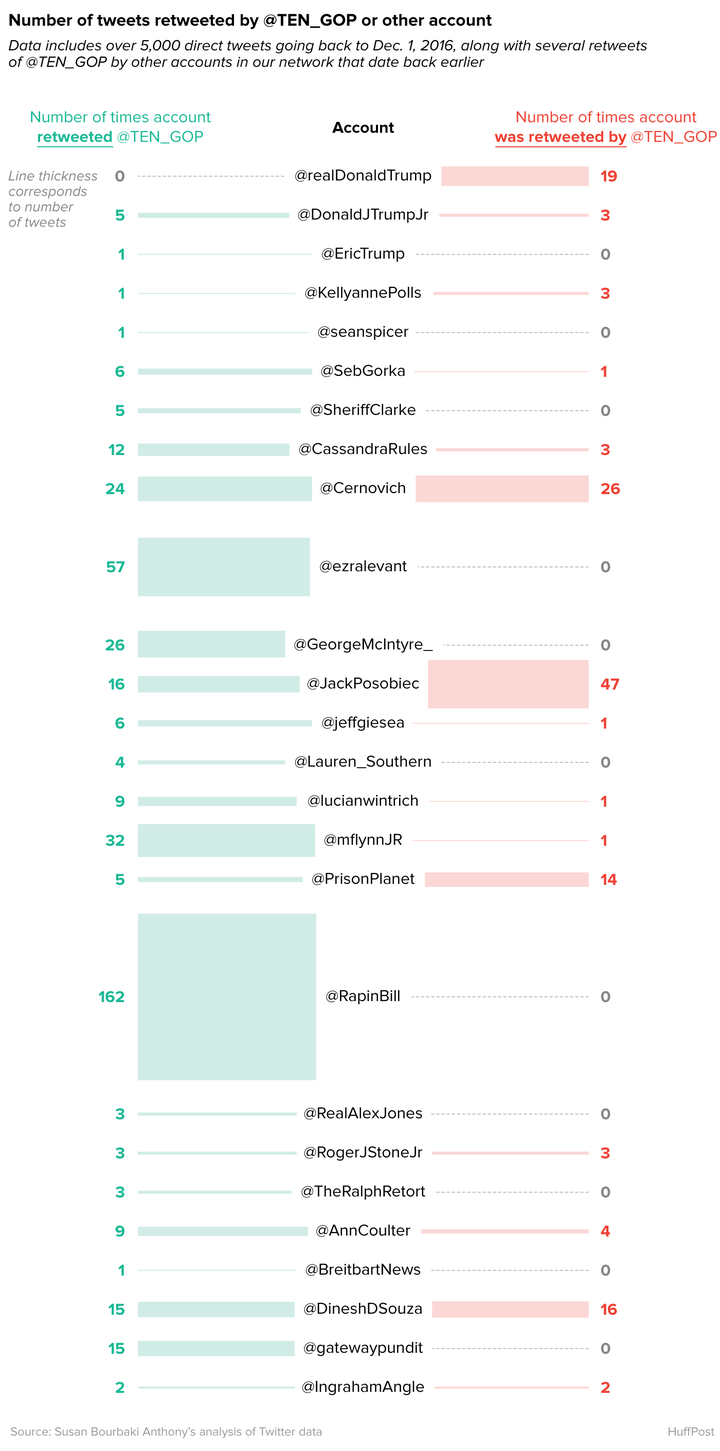 Donald Trump Jr. and Eric Trump both retweeted the account to push a voter fraud conspiracy theory their father began circulating last October in an attempt to undermine confidence in an election he seemed destined to lose. Donald Jr., who was open to colluding with Russia offline and is a subject of the Department of Justice's special investigation, was more active in his engagement with @TEN_GOP, retweeting the account at least five times, including a notable tweet about a riot in an immigrant suburb of Stockholm. (Such messages are designed to stoke anti-immigrant racial tension and are popular among white nationalists.)
Sebastian Gorka, a former foreign policy adviser to Trump with ties to Nazi sympathizers, retweeted @TEN_GOP at least six times. David A. Clarke, the former Milwaukee County sheriff who now works at the pro-Trump super PAC America First Action, retweeted the account at least five times, including when @TEN_GOP quoted Clarke himself on Black Lives Matter: "This is a hateful ideology, a dangerous ideology ― it needs to be opposed."
Far-right media members, who often advance conspiracy theories and racist views, engaged with @TEN_GOP more regularly, the biggest retweeters being Ann Coulter, Dinesh D'Souza and Ezra Levant, the founder of Rebel Media, who retweeted the account at least 57 times but was never retweeted in return. One of his employees, however, was: Tommy Robinson, the co-founder of the English Defence League, a violent anti-Islam group, who earned at least 11 retweets from @TEN_GOP.
Most telling is the relationship between @TEN_GOP and Jack Posobiec, the protégé of Roger Stone and a collaborator with other "alt-lite" dirty tricksters such as Jeff Giesea and Mike Cernovich. As the "special projects director" for a Trump PAC during the election, Posobiec liaised with pro-Russia "alt-right" white supremacists in America. He was at one point the Washington bureau chief for Rebel Media but was reportedly fired for plagiarizing the work of Jason Kessler, a white supremacist and former Daily Caller writer who organized the deadly "Unite the Right" rally in Charlottesville in August.
Posobiec, who has over 219,000 Twitter followers, acted as a bullhorn for the Pizzagate conspiracy theory and in May tried to upset the French presidential election by using his social media reach to create a furor over an email hack that targeted then-candidate Emmanuel Macron's campaign. For months, Posobiec has also tried to cast doubt on the legitimacy of investigations into Russian meddling in the American election. When Twitter temporarily suspended @TEN_GOP in July, Posobiec grew upset. "Why is @TEN_GOP suspended??" he wrote.
When BuzzFeed News' Kevin Collier contacted him for comment after the account was revealed to be Russian-controlled, Posobiec played dumb.
"Fascinating," he told BuzzFeed, waxing professorial. "We have to learn more about their operations. It's been their tactic since the KGB in the '70s to turn Americans against one another."
Posobiec then deleted all his tweets mentioning @TEN_GOP. But we have at least 16 of his retweets of @TEN_GOP. The following graphic illustrates one of them: a @TEN_GOP post from Aug. 7 in which the account linked to an article about a Twitter bot that was suspended after Trump had retweeted it. The headline on the story was "Trump retweeted a Twitter bot — then it got suspended," but @TEN_GOP's tweet suggests that Twitter punished a Trump fan who'd caught the tweeter-in-chief's eye.
The red arrows indicate nodes that retweeted @TEN_GOP. The thickness of the lines connecting accounts indicates how often they retweeted each other.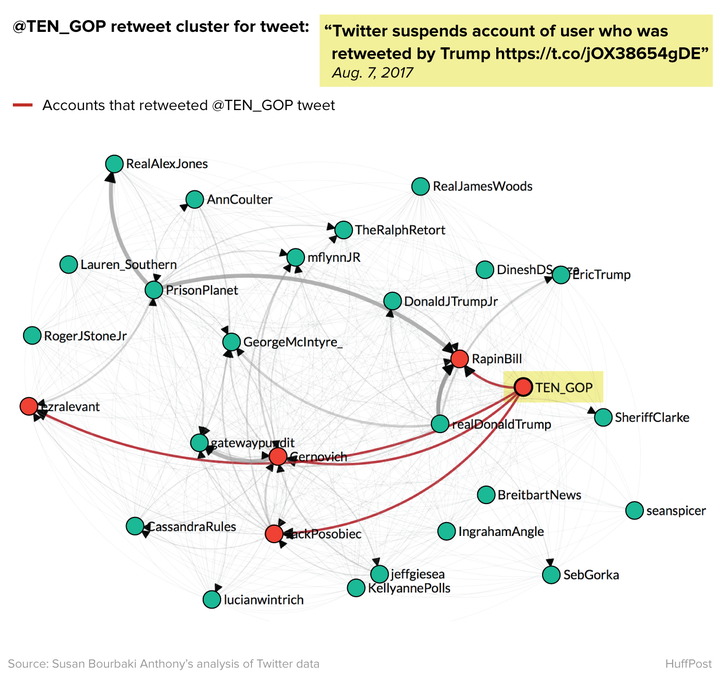 Posobiec didn't just retweet @TEN_GOP frequently. He was also retweeted by @TEN_GOP at least 47 times, the most of any account in our data collection. Clearly, he was doing something the Russian government liked. So was Cernovich, who has the second-highest number of retweets by @TEN_GOP. Mike Flynn Jr., who is friends with Posobiec and Cernovich, is another node of interest and, reportedly, another subject of the federal investigation into Russia's election meddling. Investigators are looking into the work Flynn Jr. did for Flynn Intel Group, the lobbying firm owned by his father, who was forced to resign as Trump's national security adviser after his connections to the Russian government, which he'd lied about, came to light.
Laundering Flynn Sr.'s reputation was one of @TEN_GOP's favorite tasks. Unsurprisingly, Flynn Jr. retweeted the Russian propaganda account over 30 times ― much of it racist, anti-Semitic, anti-immigrant content. In March, Flynn Jr. retweeted @TEN_GOP on a quote the account attributes to Ben Carson: "ISLAM is not Consistent with our Constitution and no Muslim should ever be allowed to be President."
The node in our sample that retweeted @TEN_GOP the most and had the most one-sided relationship with this Russian propaganda hub was @RapinBill, a Twitter account belonging to an unknown American white nationalist troll who last year was named by MIT Media Lab as one of the top 150 influencers on the election. During the campaign, he operated under the handle @Ricky_Vaughn99. As @RapinBill, this mysterious troll retweeted @TEN_GOP 162 times, acting as a force multiplier for Russian-driven racial discord and contaminated political discourse.
But @RapinBill didn't get a single retweet from @TEN_GOP, which could indicate a desire by the Russian government's troll farm to conceal this connection. Instead, retweets were bestowed upon accounts like @polNewsForever, a now-suspended font of racist hate and disinformation fed by 4chan.
The chart below shows the top 15 accounts retweeted by @TEN_GOP in our complete data collection. It is a motley assortment of white nationalists, far-right propagandists, racist trolls, conspiracy theorists and Sean Hannity. It is, in other words, what happens when tech companies let the internet go to seed.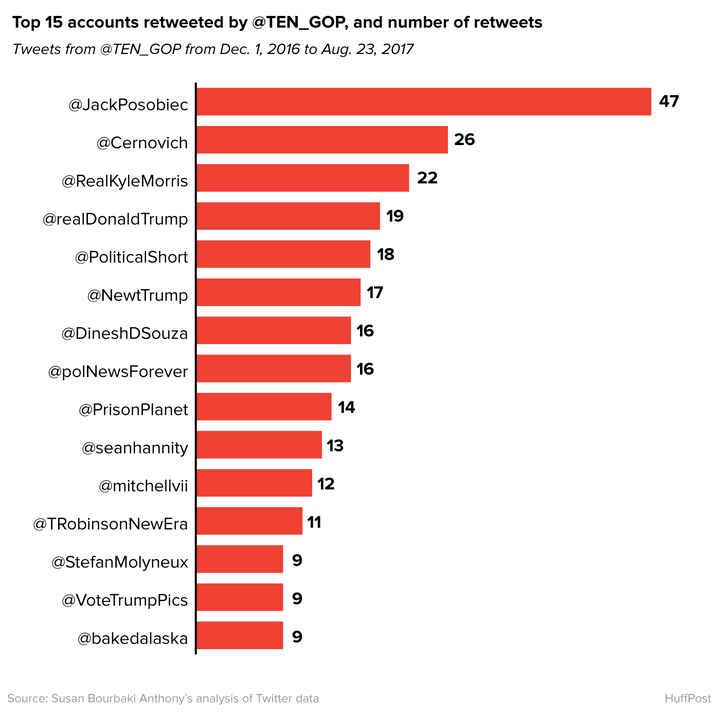 NOTE: Data-driven analysis of propaganda on social media will be an ongoing effort here at HuffPost. We're looking for more information about any of the people mentioned in this story. Or any relevant data. If you can help, please contact luke.obrien@huffpost.com or brigadacapital@protonmail.com.
Popular in the Community