Look no further than Wall Street, where investors were so anxious about the social media company, which disclosed its initial public offering filing on Thursday, that they funneled money into the wrong company. That's right, the consumer electronics company Tweeter Home Entertainment Group saw its stock price rise 684 percent on Friday, according to MarketWatch.
On Friday afternoon, Tweeter's stock was trading at 5 cents, down from 15 cents earlier in the day.
We don't know for sure why Tweeter's stock skyrocketed. But considering the company filed for bankruptcy in 2007 and went out of business in 2008, according to CNNMoney, we're guessing it has something to do with Tweeter's ticker symbol, TWTRQ, which is only one letter off from Twitter's future ticker, TWTR.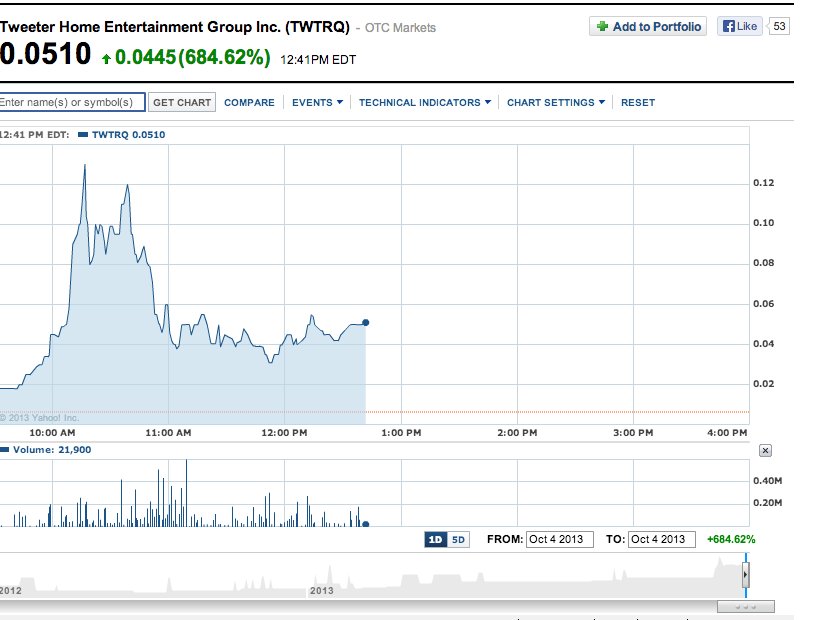 According to CNN Money, the 'Q' at the end of Tweeter's ticker is something that's commonly added to the end of bankrupt companies that are still trading shares.
UPDATE: On Tuesday, the Wall Street Journal reported that Tweeter changed its ticker symbol to THEGQ due to the previous week's trading confusion. The company's stock quickly retreated back to its original share price of a penny, an 84 percent decline from Friday's trading activity.
REAL LIFE. REAL NEWS. REAL VOICES.
Help us tell more of the stories that matter from voices that too often remain unheard.
BEFORE YOU GO
PHOTO GALLERY
19 Tweets You'll NEVER See Again