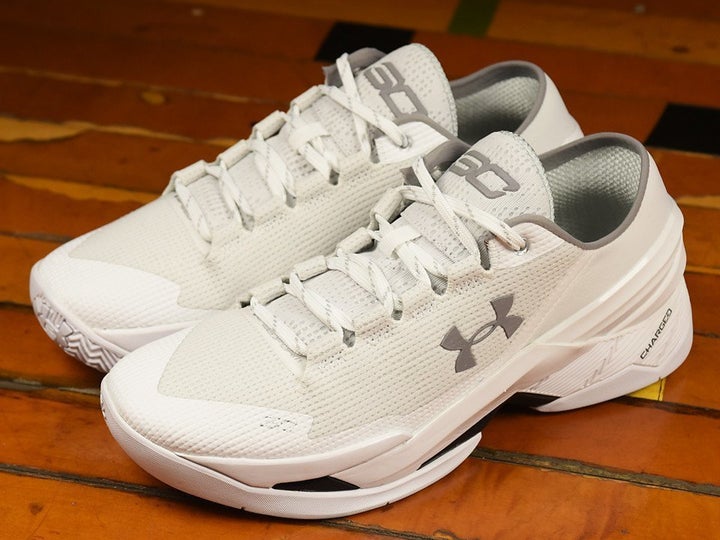 "These $120 sneakers look like they should sport the name of a shuffleboard player, not an NBA superstar," New York Magazine wrote.
The internet's full-court press of barbs intensified after Under Armour released images of the reigning two-time MVP's plain white low-cut model, the Curry 2 Low "Chef."
To understand the scope of the internet's takedown of Curry's new kicks, let's break this down quickly before getting to the memes: Curry, his wife Ayesha, daughter Riley and brother Seth were all involved in a few jokes. Mostly, people burned the Curry 2 Low's for resembling either nursing shoes or a pair of all-white trainers that a stereotypical middle-aged white male with conservative political views would wear, or just a general old person.
Twitter's jokes were ruthless and persistent throughout Thursday, and in a small sample of tweets collected, The Huffington Post counted over 100 hilarious barbs at the two-time MVP's new signature sneaker. They're all funny.
Let's get on with a sampling of the joke breakdown you came here for:
The sneakers are a perfect Father's Day gift if your dad is a regular ol' middle-class white guy
The sneakers are so white that politically conservative white men would wear them
The sneakers are affecting the entire Curry family
The sneakers are essentially expensive nursing shoes
The sneakers were made for really old people
The sneakers are so bad that any joke is possible
And of course, no proper Twitter roast would be complete without the Michael Jordan Crying Face:
You can take your best shot in the comments below.
Before You Go
Stephen Curry: From Rookie To Stardom
Popular in the Community