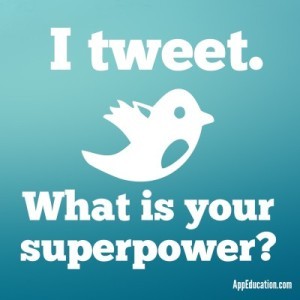 While I can come up with new and innovative ideas inside my classroom, I can gain so much more from sharing and collecting ideas on Twitter (known jokingly as #ideabandits). This movement of becoming a connected educator is known as creating a Professional (or Personal) Learning Network, known as a PLN. I wholeheartedly believe that joining fellow educators on Twitter will impact you and your classroom more than you think. Here are 6 steps to try it yourself: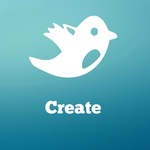 Get yourself logged onto Twitter and sign up for an account using your computer, tablet, or smartphone. It's really easy. You need to pick a Twitter handle. This will look like @______. For example, I am known in the Twitter world as @AppEducationFox. A lot of educators add "edu" to their handle. Try not to have a super long handle like mine since Twitter only allows you to use 140 characters in a tweet. If you already have an old twitter account but you no longer like the handle, you can go into your settings and change it! Easy as pie.
Then add an image and a bio. This step is important since you want others to know that you are on Twitter for the sole purpose of connecting with other educators. Add a little bit about yourself like what grade level you teach and what your special interests in teaching are. If you don't add an image you will look like an egghead (Twitter's default image is an egg). Here is my example: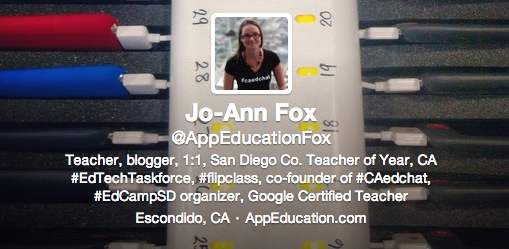 One thing to keep in mind: You can make your Twitter account private so that you have to approve everyone who follows you. However, I keep my profile public and here is why: I am on Twitter to connect with fellow educators and to continue my journey of being a lifelong learner of the teaching profession. If my purpose is to connect with educators, keeping my profile public is the best way for me to accomplish my goal.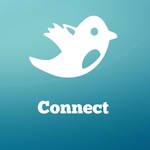 Find other educators to follow! I have curated a list of teachers who inspire me on Twitter. If you follow this link you can begin following these amazing educators as well. This is a great start. Once you start following others, they will begin to follow you back, especially if you are not an "egghead" (have a picture of yourself) and have included a bio.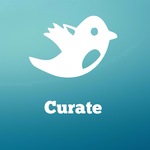 Start watching your Twitter feed. This is also known as lurking and it's perfectly acceptable in the beginning. Those who you follow will be tweeting out links to articles, photos of their classrooms, or quoting speakers at educational conferences. If you find a tweet with a great link you can "retweet" that person's tweet. You can also "favorite" a tweet if you like what someone said. And when you feel really comfortable, you can begin to reply to tweets. Remember, whatever is posted on Twitter is public.
If you happen to read a really wonderful article online, then you can be the one to Tweet that article to your followers. Now you are using Twitter not only to gather new information, but to share it as well.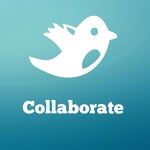 The power is in the hashtag! This is perhaps THE most important part of using Twitter for professional development. The power is truly in the hashtag. Basically the hashtag is the pound symbol followed by words without spaces. For example, #thepowerisinthehashtag. Twitter created the hashtag as a way to categorize tweets and make them searchable. There are four main purposes for the hashtag.
Educational Categories: When I am tweeting about a great app that I use in the classroom, I usually follow my tweet with the hashtag #iosedapp. Many people in education use this hashtag to share apps. So if I want to find all the tweets about this I can go into the search window in Twitter and type #iosedapp, then select "all" and I can see all the tweets on Twitter with this tag. There are MANY educational hashtags out there and I highly recommend visiting @cybraryman1's website here for the full list.
Just for Fun: Sometimes people use the hashtag as a sort of a joke or just to be witty. Here are some examples of "just for fun" tags: #EduAwesome, #EduWin, #SaidNoTeacherEver.
Hashtags for Conferences: If you attend an educational conference there will usually be an official conference hashtag. The truly amazing thing about conference hashtags is the tweets are not only shared with others at the conference, but also reach those who are not able to attend, but are following the tag feed. If you happen to be at a conference that has not created an official tag, be the one to create one and share with others the power of Twitter.
Educational Chats (known as Edchats): On any given day, you will see some educational chat trending on Twitter. An edchat is a group of educators meeting at a certain time on Twitter to discuss educational issues. For example, every Sunday at 8pm Pacific Standard Time, California educators collaborate using the hashtag #caedchat. Again, @cybrayman1 has a webpage with a schedule of all the Twitter chats. You do not need to be invited to join these chats. If you have an interest in the chat, then feel free to join! More on this in step 5.
Step 5: Participate in an Edchat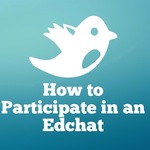 Edchats always have a specific topic. For example, the #caedchat that took place on July 17, 2013 was about student blogging. Edchats have moderators who lead the discussion and pose questions with their tweets. For example, the moderator might ask: "Q1 How has student blogging impacted your students' writing success? #caedchat." The questions will stay live for about 5 minutes as everyone in the chat replies to the question posted. After about 5 minutes, the moderators will post another questions, this time beginning their tweet with "Q2." And so on.
The great thing about edchats is that anyone participating in the chat can answer the questions. Yes, that means you! The answer tweet might look like this: "A1 When students blog, they have a better understanding of audience. #caedchat." The most important thing to remember while participating in an edchat is that every single tweet in an edchat MUST have the chat's tag in it. So don't forget to follow your tweet with the edchat hashtag!
When I am in a Twitter chat, I use a Twitter client called TweetDeck to help me keep up with the many responses. During a large Twitter chat like #caedchat I can have two columns open. One that remains live to keep in time with the conversation, and one that is slower so I can attempt to read all of the tweets for the chat. If this sounds like too much, you can just use the Twitter webpage. In the search window, search your chat and be sure to click on "all" so you can see all the tweets in the chat.
My favorite thing about participating in an edchat is making new connections with educators. If you participate in an edchat, be sure to follow your new #edubuddies.
So now your Personal Learning Network adventure begins and the power is in your hands. I look forward to collaborating with you on Twitter.
Popular in the Community