The launch of Promoted Tweets in April 2010 marked what Twitter hoped would be a turning point for the site's profitability. Twitter later added Promoted Trends as the site continued to grow and, on Monday, Twitter unveiled two new options: Promoted Accounts and Promoted Products for partners.
Twitter's Promoted Accounts will be a part of the existing "Suggestions For You" feature that recommends accounts to follow based on the accounts you already follow. Twitter explains how Promoted Accounts are custom-selected for users:
Promoted Accounts are suggested based on a user's public list of whom they follow. When an advertiser promotes an account, Twitter's algorithm looks at that account's followers and determines other accounts that those users tend to follow. If a user follows some of those accounts, but not the advertiser's account, then Twitter may recommend the advertiser's Promoted Account to that user. For example, a lot of people who follow several gaming-related accounts also follow @xbox. If someone follows gaming-related accounts, but not @xbox, Twitter may recommend @xbox to that person.
Below is a screenshot of what the updated "Suggestions for you" list will look like. A Promoted Account will be featured at the top of the list of suggestions.
Twitter is currently testing Promoted Accounts with only a few companies. Until more partners come on board, some users may not receive any promoted recommendations.
Monday's second big announcement was that third-party apps will now host and benefit from Twitter's "Promoted Products." For example, Twitter explains, HootSuite "will run Promoted Tweets in search and highlight Promoted Trends, sharing in Twitter's revenue for these products." Twitter expects more companies to participate in the future.
In addition to these two changes, Twitter has moved Promoted Trends to the top of the trending topics list. When a brand promotes a hashtag, its tweet will appear at the top of the feed for that hashtag, and related tweets will appear below.
See how Twitter users reacted to these changes (below).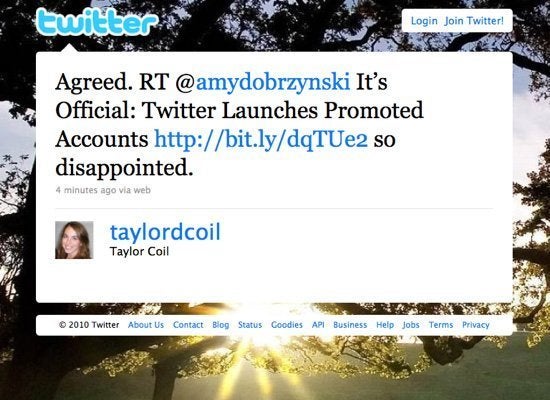 Twitter Users React To "Promoted Promotions"
LOOK: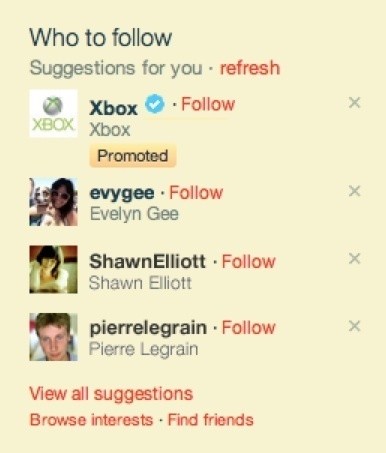 Popular in the Community