Critics were stunned that President Donald Trump skipped a visit Saturday to the Aisne-Marne American Cemetery in France – where U.S. war dead were being honored – because of rain. They zapped him with a a series of tweets showing Barack Obama in downpours honoring those who fought in wars in what was bound to be particularly galling to the president.
As many as 1,800 American soldiers killed in the World War I battle of Belleau Wood are buried in the French cemetery. But Trump ditched his planned visit and stayed in his hotel room because of unspecified "scheduling and logistical difficulties caused by the weather," according to a White House statement. Instead, a delegation led by Chief of Staff John Kelly traveled to the cemetery 50 miles outside of Paris by car. Canadian Prime Minister Justin Trudeau, German Chancellor Angela Merkel and French President Emmanuel Macron were among the world leaders who made the trip.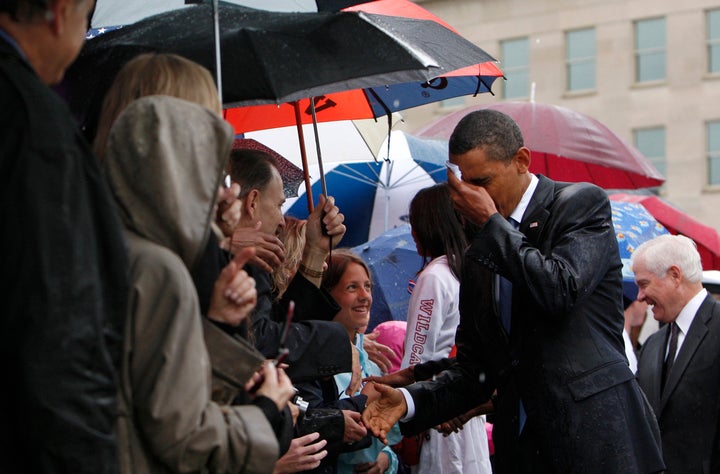 Winston Churchill's grandson Nicholas Soames, a member of the British Parliament, blasted Trump as "pathetic" and "inadequate" for failing to show up.
Twitter responded with scads of photos of Obama campaigning or speaking at various events in the rain. A number of them featured the former president in pelting rain honoring veterans or those killed in battle.
Obama wasn't the only one featured in the rain in Twitter messages attacking the president.
Popular in the Community