Weeks after Facebook announced something similar, Twitter pledged Tuesday to be more forthcoming about political advertising on its site, including identifying campaign ads more clearly.
The company also revealed a slew of other changes designed to make advertising on the social network less ambiguous. Chiefly, a new "transparency center" will act as a centralized information hub for displaying data on every ad currently running on Twitter.
Twitter users will be able to report inappropriate ads and see a personalized demographic breakdown that explains why they're being targeted by certain ads.
Political ads, also called electioneering ads, will be subject to additional reporting requirements, including, according to Twitter:
All ads that are currently running or that have run on Twitter, including Promoted-Only ads

Disclosure on total campaign ad spend by advertiser

Transparency about the identity of the organization funding the campaign

Targeting demographics, such as age, gender and geography

Historical data about all electioneering ad spending by advertiser
Political advertisements on Twitter could also be highlighted as such with the addition of badges: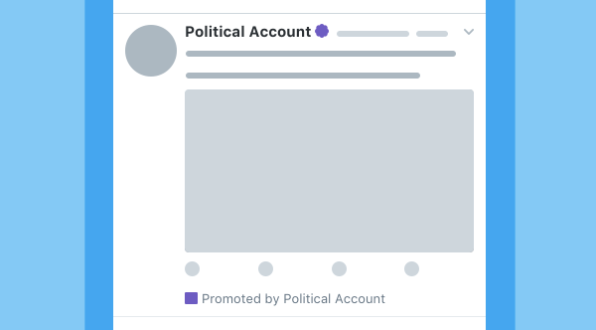 Tempting as it is to applaud Twitter for making the right moves here ― and they are steps in the right direction ― don't mistake it for leadership.
Twitter's actions, and Facebook's before it, aren't noble attempts to do the right thing and lead by example. They're halting steps to stay one foot ahead of government regulation, which Zuckerberg and company fears the most.
Earlier this month, a bipartisan group of senators and representatives introduced the "Honest Ads Act." If passed, it would require online political ads to conform to the same rules as political ads bought in traditional media.
Facebook has hired at least two lobbying firms with the stated goals of addressing "issues ... related to online advertising... and transparency efforts" and the ongoing Russia investigation. It's safe to assume they weren't hired to help facilitate passage of the Honest Ads Act.
Calling all HuffPost superfans!
Sign up for membership to become a founding member and help shape HuffPost's next chapter