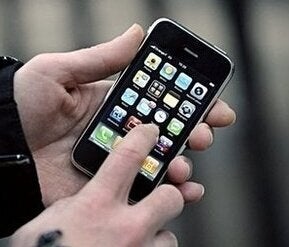 Reporters Uncensored is anchored by journalist and senior advisor to Reporters without Borders, Tala Dowlatshahi and features a team of independent local reporters from around the world. This week, Tala writes about new technologies, civil unrest and censorship in Iran.
I admit I am a bit nervous for tomorrow night's show. Its our second and an important one focused on my native country of Iran. As an Iranian-American, I have a personal interest in what unfolds and what the world thinks of these recent events. Across the globe, I feel like Iranians have been awakened to new future possibilities for our country.
When the struggle for democracy recharged itself in Iran a few weeks ago, after 30 years of repression, many Iranians living abroad flew to their computer screens to get a taste of what was going on inside. The bloody murder of Neda Agha-Soltan, the vast protests on the streets and in the towns, and the assault of the Basij militia upon students were suddenly visible to the rest of the world, and all credit is due to mini amateur phone lenses documenting the crisis. Mobile platforms have already influenced the aftermath of the presidential election and may have forever changed the tide of Iranian politics. But still, the government isn't standing idly by.
As Senior Advisor for Reporters Without Borders, I am accustomed to Iran ranking high on our list of predators of press freedom. In recent weeks, Iran moved into first place to tie with China as the world's biggest prison for journalists. Some forty-two journalists are behind bars without being charged with any legitimate crime. These harsh crackdowns hit cyberspace, Iranian satellites, and all foreign news broadcasts. Some say without Twitter and other online social networking machinery, Nedamyrights would not have mobilized a global movement of expat Iranians, the previously silent, hyphenated ones like myself, to demand justice and a free Iran.
Joining us in-studio will be Hadi Ghaemi from the International Campaign for Human Rights in Iran. Hadi is also coordinating the New York city day of solidarity for the Iranian people. The global rallies will be held this Saturday, July 25 in cities spanning from New York to Ouagadougou, Vienna to Lahore.
Mark Pfeifle, former Deputy National Security Advisor for strategic communication and global outreach at the National Security Council will be also on our show to talk about his support of Twitter's nomination for the Nobel Peace Prize due to its popularity among Iranian protesters:
"Neda became the voice of a movement; Twitter became the megaphone. Twitter became a window for the world to view hope, heroism, and horror."
Pfeifle is not alone in acknowledging Twitter's significance. Some, however, have cast doubt on the role of Twitter in disseminating information and fostering political participation. Trita Parsi, Director of the National Iranian American Council (NIAC) remarked:
"SMS text messaging was the most critical in maintaining channels of communication between Iranians in Iran. Twitter's role has been exaggerated somewhat, and journalists have been calling what's going on in Iran the Twitter Revolution because it is a nice sound bite."
Parsi says people in the country are talking about Facebook more than Twitter because of the thousands of amateur videos Iranians were able to post on Facebook with such swiftness. Parsi admits all forms of social networking tools remain critical to documenting injustices inside Iran, but some, he believes, such as Youtube and Twitter, were not as competitive as Facebook and SMS. He also emphasized that while US-housed social networking tools were an essential part of the coverage, some U.S. companies also supported the muzzling of the press.
"There were severe U.S. sanctions that were imposed by Microsoft MS chat on Iran a few weeks before the election. Facebook was also planning to sign onto the sanctions, but reconsidered."
The technology giant Microsoft announced in May, just weeks before the election, that it was disabling the program's availability in Cuba, Syria, Iran, Sudan and North Korea to come into compliance with a U.S. ban on transfer of licensed software to embargoed countries. Dharmesh Mehta, director of Windows Live Product Management at the Redmond, Washington-based company, said: "Microsoft supports efforts to ensure that the Internet remains a platform for open, diverse and unimpeded content and commerce."
As an Iranian-American victim of Facebook's disabling tactics, I am also not sure that Facebook has been so open inside Iran. The Iranian government blocked Facebook services in the country prior to, during, and following the elections with the objective of thwarting voters from promoting opposition candidates. Whether Facebook voluntarily complied with the Iranian government's crackdown is unclear.
Also joining us is a journalist in Tehran to talk about these technologies' role in shaping domestic policy. If our technology holds up, and someone doesn't pull the plug inside Iran, we will have our Middle East Correspondent and fellow Iranian, Marzieh Vafamehr, via skype.
There is no doubt Twitter, like the other social networking technologies, have changed the way the world views and engages in politics. But they are merely tools, capable of both furthering and endangering democracy, depending on how they are used. Ultimately it is up to the people to bring about change. Whether by a shout, protest, fist pump, or tweet.
Tune in and chat live on Wednesday, July 22 at 6pm Eastern or watch us ON DEMAND. Hear more about Twitter and the latest on the Iranian election outcomes in advance of the global rallies on July 25th. Express solidarity for the Iranian people during these trying times:
http://www.livestream.com/reportersuncensored http://www.reportersuncensored.com/
Global Day of Action for Iran: http://www.united4iran.org
Calling all HuffPost superfans!
Sign up for membership to become a founding member and help shape HuffPost's next chapter