Twitter isn't looking so good lately.
Shares in the social media site dropped almost 6 percent on Thursday, dipping from a onetime high of $69 to just under $26 per share -- below the price it commanded at the company's initial public offering in November 2013.
Over the last month, Twitter has faced a wave of setbacks. Twitter's CEO, Dick Costolo, stepped down in July, leaving Twitter co-founder Jack Dorsey to resume the CEO role in the interim. Later that month, Dorsey reported that growth of Twitter's monthly users was stagnating, even as Facebook's user base had swelled.
Over the last few weeks, Twitter staffers have been taking to the social network to announce their departures in waves. In total, 12 percent of Twitter's staff -- including high-up staffers and members of Twitter's corporate development team -- has left the company over the last year, according to an analysis run by the Financial Times.
Twitter wasn't alone in Thursday's setbacks. On the whole, it wasn't an excellent day for media -- Disney, Time Warner, and Netflix faced similar stock dips.
But for Twitter, this newest trough comes in the midst of a critical transformation period as the company shifts how the site functions.
The benefit of the service has always been its algorithm-free newsfeed, offering its users an unfiltered selection of what everyone in their circle is talking about. As David Pierce wrote in Wired, Twitter "is about a single question, the one you see when you first load twitter.com: 'What's happening?'"
But that's all changed. As Twitter's user base has flourished the social network's newsfeed has become clogged with every thought -- from the profound to the half-baked -- posted by its 316 million active users, who deposit an average of 500 million tweets onto Twitter each day. It's hard to keep up with that, even with a curated list.
This is why Twitter has increasingly experimented with filters, releasing a trending bar onto the site while other companies have pushed out tools, like NewsWhip and Dataminr, designed to sort through Twitter's content.
Last month, Twitter announced it was uprooting its un-curated business model by bringing in a team of editor-curators who will sort through the day's news to bring targeted content to the top of a user's feed. It's a model that's reminicent of a newspaper -- or Facebook.
It's a huge risk to embrace a redesign of Twitter that is decidedly un-Twitter-like. And it's unclear if Twitter's shareholders will have enough patience to allow the company to transform. As the Guardian points out, those unloading Twitter's stock in recent weeks include legacy universities, like Stanford, Yale, and Harvard.
"Twitter is on life support," Trip Chowdhry, a managing director at Global Equities Research told the Wall Street Journal. "You can't fix it."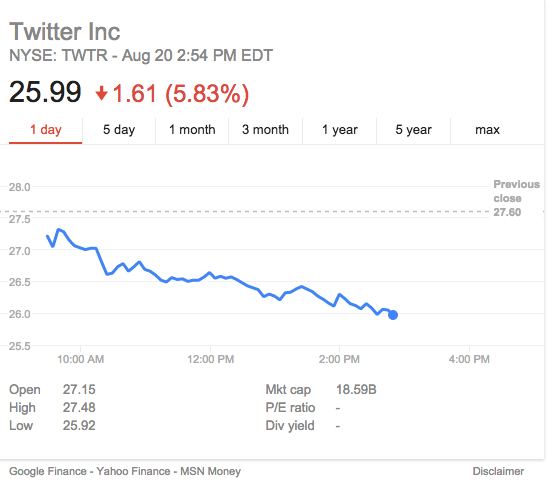 Related
Popular in the Community