UPDATE: 12/2 — A spokesperson told HuffPost that effective immediately, Mashable "has decided to part ways" with the author of the story in light of Thursday's events.
Twitter dragged Mashable on Thursday after the publication ran a story suggesting that #OscarSoWhite was "canceled."
Twitter users went in when Mashable tweeted the story, stating, "We've canceled #OscarsSoWhite for 2017, with half the field poised to be actors of color." People noted that #OscarsSoWhite isn't just about black people's stories being left out ― it's about the continued exclusion and marginalization of people of color, people who identify as LGBTQ and a broader range of groups who have historically been left out in Hollywood and a few possible nominations one year doesn't fix that.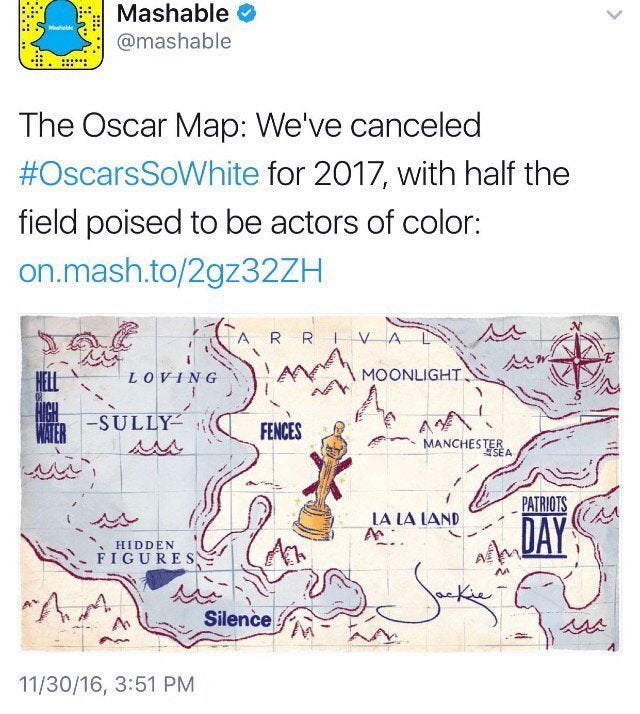 April Reign, who created #OscarsSoWhite, appropriately stepped in to create another hashtag. She created #MashableCancels to "make a point about the patriarchy and white supremacy" in response to the authority Mashable assumed it could take.
Folks chimed in with other things for people of color that Mashable would cancel if it had the chance. Black Lives Matter gets the boot because a cop was nice to some black kids once. The Flint water crisis is no more after one resident bought a bottle of Dasani. And let's forget about racism! We've had a black president for the past eight years, after all.
Get a kick out of some of the things Twitter imagined Mashable canceling below.
They also updated the story with an editor's note, but they still miss the point. One year of black actors potentially getting nominated does not a diverse Hollywood make. The issue is structural and it's going to take way more than a few people of color getting Oscars to fix it. 
When reached for comment by The Huffington Post, a Mashable spokesperson pointed us to a tweet from the site's Executive Editor, Jessica Coen, which said they agree that the story was insensitive.
REAL LIFE. REAL NEWS. REAL VOICES.
Help us tell more of the stories that matter from voices that too often remain unheard.
BEFORE YOU GO
PHOTO GALLERY
Ridiculous Examples Of Accidental Racism