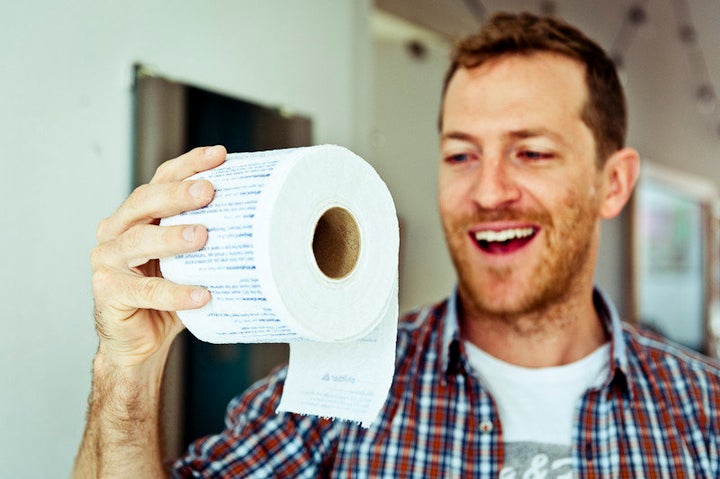 140 characters? Meet number two.
A new service has emerged that allows you to print the entire contents of your Twitter feed onto a white cotton roll of toilet paper. The website is called -- you guessed it -- Shitter, and for just $35, it "will take one or more feeds from your Twitter account and turn it into four rolls of toilet paper, delivered straight to your door."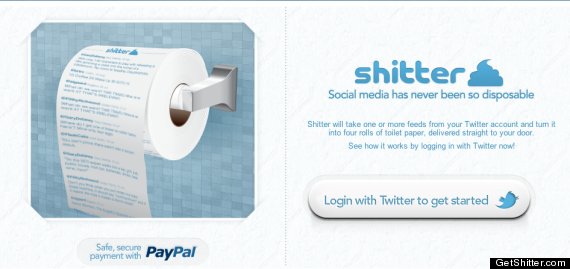 Its slogan is "Social media has never been so disposable," a nod to Twitter's occasional meaninglessness and promotion of ephemera. Some of you, no doubt, will remark that Shitter is putting the output of many tweeters where it belongs.
"We actually talked about that," founder David Gillespie told HuffPost in a phone interview. "We'd been talking about how trivial some of these social networks are ... We were looking at Pinterest and thinking, 'What IS this?'"
Shitter is the brainchild of Gillespie and his friends and former colleagues Johny Mair, Ian Ha and Matthew Delprado, four Aussies who are currently scattered around New York and Australia. But more than some sort of grand statement about Internet frivolousness, Gillespie said that Shitter is designed to put "a smile on people's faces."
The Shitter service launched early Wednesday morning and quickly became an Internet phenomenon, earning profiles on tech sites like The Next Web and VentureBeat. A corporate Twitter account for Magnolia Boxing put in the first order for tweet-decorated toilet paper. Upon being told that it was first, Magnolia sent a celebratory victory tweet (with which one lucky employee will soon be able to wipe himself).
You might be wondering how Twitter -- you may have heard of it, it's the company that inspired Shitter -- feels about all this. Well, at least one employee is loving it:
"OMG I'm so ordering [Shitter] for the @TwitterUK office," wrote Twitter UK (Britter?) office manager Helen Moyes in a tweet.
As for the toilet paper itself, potential buyers need not worry about the quality.
"It's two-ply," Gillespie said, "Kind of standard toilet paper there, nothing funky going on."
So, there you have it: Not only is Shitter fun and Twitter approved -- it's also soft and sensitive where it counts! If you want DMs for your BMs, hashtags on your ass-rags, a micro-blog for your macro-log -- et cetera, et cetera -- you can head over to GetShitter.com and buy yourself a Twitter-fied TP roll.
Below, check out a bunch of photos of the prototypical Shitter toilet paper roll, provided by the guys at GetShitter.com: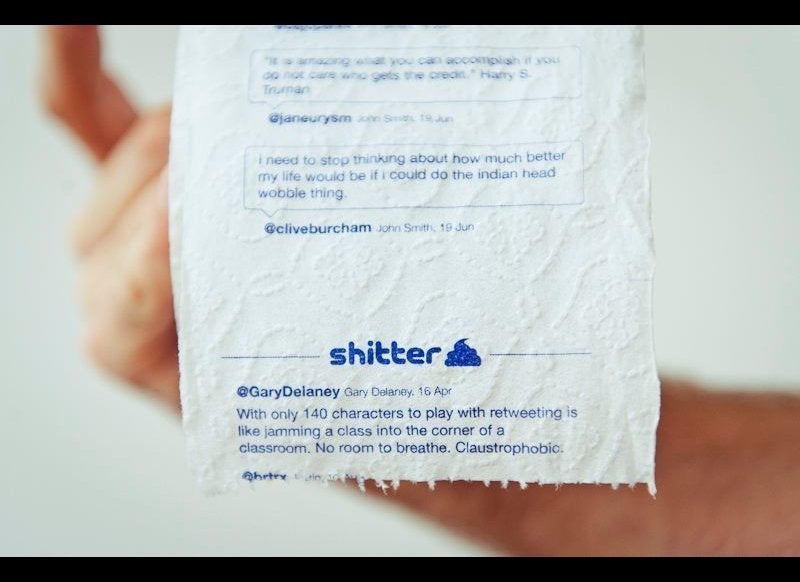 Shitter, The Twitter Toilet Paper
Related