This disruption in communications is the worst Syria has seen since the civil uprising began 20 months ago, according to Reuters.
The news agency continues:
The past two weeks have seen rebels overrunning army bases across Syria, exposing [President Bashar al-Assad's] loss of control in northern and eastern regions despite the devastating air power that he has used to bombard opposition strongholds.

Rebels and activists said the fighting along the road to Damascus airport, southeast of the capital, was heavier in that area than at any other time in the conflict.
As Next Web notes, it's yet unclear as to whether the Internet blackout and breakdown in telephone communication is directly connected to the ongoing civil war; nonetheless, at the time of publication, most of Syria remains without online access.
"All 84 of Syria's IP address blocks have become unreachable, effectively removing the country from the internet," the blog states.
Internet content delivery network Akamai has corroborated Renesys' report of a total Internet blackout in Syria. On Thursday morning, the company tweeted the following: "Akamai traffic to Syria has dropped to zero as well."
Akamai followed that tweet with a chart visualizing the dramatic drop-off in Internet traffic: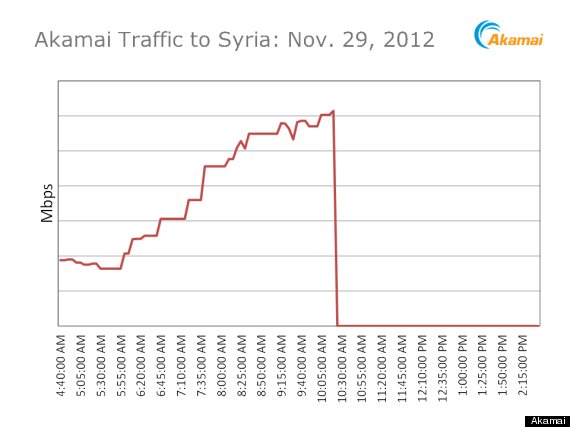 In response to the blackout, Twitter users have been stepping forward with dial-up numbers to help Syrians get online:
But, as one Twitter user warns, this may not be totally secure:
Unfortunately, if Syria's phone lines get cut completely, these dial-up options will also become unavailable.
Popular in the Community