Twitter Chief Operating Officer Dick Costolo hit the stage at the IAB MIXX Conference and Expo this week for an interview with Advertising Age Editor Abbey Klaassen to talk about Twitter's vision for web advertising and monetization.
Costolo emphasized Twitter's commitment to prioritizing users and the user experience over a desire to quickly generate cash revenue.
"We're very careful about how we roll out our monetization products because we put the user first," says Costolo. He cites the company's "nearly religious belief" in an engaged user base, and that the revenue will "follow from there."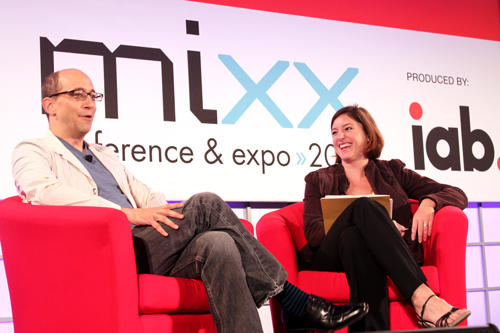 Costolo insists that the day other companies will want to spend millions in advertising on Twitter is just around the corner. "We're growing at just a ridiculous rate" says Costolo, adding "I can tell you right now there's a line out the door to advertise with us."
But for Twitter, Costolo says it's "less about what we can do to monetize, more about what is going to make it a better experience for Twitter users."
Twitter's plan to monetize in advertising centers on its services for promoted tweets, and soon, promoted accounts. Costolo says that promoted accounts will use the same algorithm used for promoted tweets. The features are based partly on Twitter's recent experience rolling out functionality for suggestions of who to follow, which has increased the average followers per account, Costolo reports.
The new features also come alongside the new interface Twitter has rolled out over the past month. As they continue to find more people sharing links, photos, and video on Twitter -- instead of simply text -- Costolo says it's now important for the company to "provide a better way to explore content directly within Twitter."
As for the limited experience with promoted tweets so far, "it's working," says Costolo. He says Twitter will continue to expand the number of advertisers and product areas eligible for promoted tweets, "until we have a robust enough infrastructure for people to self-serve," especially at the local level.
Promoted tweets are priced at a cost per engagement, so advertisers may pay on a combination of clicks and retweets, for example.
How does Twitter decide the length of time given to promoting a single tweet? They measure the resonance of an account's average tweet against the resonance of a promoted tweet from the same account. If the resonance of the promoted tweet falls below the resonance of an average tweet from the same account, the promoted tweet is pulled.
As Twitter continues to grow, the eyes of the business and marketing world are firmly affixed to the company's plan to make money from its services. But for those behind the curtain, it appears the priority continues to be to provide an engaging -- and useful -- service.
As for the cash, says Costolo, "when it happens, it happens."